Week of February 22, 1998
Electric Sandwich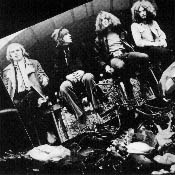 The legendary Brain label was set up in 1971 as a sub-label of Hamburg-based record label Metronome. The German rock music scene was just evolving at that time, and the goal of the Brain label was to further talents in this field. Apart from top selling acts it also signed on bands that may not have got much attention from the broad public but nevertheless have to be counted among the most remarkable and outstanding bands of their times. Among them is Electric Sandwich, a jazz rock/fusion band from the city of Bonn, who released their only, self-titled album in 1973 (Brain catalogue number 1018).
Electric Sandwich were formed in late 1969 out of a loose formation of session musicians. Instead of working out a standard repertoire, they agreed early on to just start playing whatever came to mind. Having fun was the motto of the hour. Out of these sessions, a steady line-up slowly evolved with a complete programme of arranged pieces that left lots of room for improvisation and showed a high degree of vitality, especially on stage.
The band initially consisted of four musicians, all of whom had already played with other bands: bass player Klaus Lormann, a law student, had been playing with "Chaotic Trust"; lead guitarist Jorg Ohlert studied physics and used to be with "Slaves of Fire"; drummer Wolf Fabian, the founder of the band, had been touring with a band called "Muli and the Misfits", and singer Jochen "Archie" Carthaus sang with the "Flashbacks". Fabian confessed: "We were fed up with playing other people's songs so we immediately started to play our own material. Jochen and Jorg were responsible for texts and compositions, but our music is always constructed in such a
way that we have to play together. If one of us is missing, we cannot go on stage."
It was Brain's product manager Gunther Korber who discovered Electric Sandwich on a nation-wide talent festival organised by German TV guide magazine, "Hor Zu", which took place in the Niedersachsenhalle in Hannover. The band had applied to take part in the competition. but did not make it into the final round of the contest. In spite of not being invited and not having rehearsed, the four musicians appeared at the festival and convinced the organiser to let them play - the jury voted them second best band. That same evening, Ohlert, Fabian, Lormann and Carthaus signed a contract with Brain for a trial recording session. The people in charge at Metronome were enthusiastic about the results of that session, and in 1972 Electric Sandwich signed a contract with Hamburg-based Rudolf Slezak Musikverlag (which held the song rights for works by Jane and Epitaph to name but a few). They went into the Dieter Dirks-Studio in Stommeln to record their debut album, which was released in early 1973, comprising seven songs somewhere between jazz, blues, rock and psychedelic rock.
The track "China", for example, (released not only on the album, but as a single B-side to "On my mind" [Brain 507] as well) showed strong influences from German fusion stars like Xhol or Kollektiv and impressed through a wonderful saxophone. Singer Jochen Carthaus sang in a blues-like style that gave the songs their unique touch.
What's so fascinating about "Electric Sandwich" is the fact that each of the seven songs is different from the rest even though the band developed a homogeneous sound concept. Asked about the diversity of styles his band toyed around with, songwriter Ohlert replied: "Electric Sandwich are not limited to one single style of music. We change styles, even in the middle of a song, because we want our music to be alive." To achieve this goal the band not only rehearsed every week but also reserved one evening of the week to discuss their respective creative visions. The lyrics deal with stories that complete a full circle from birth to death. In "Nervous Creek", for example, Electric Sandwich tell the story of a river eventually flowing into the sea. "Material Darkness" deals with the life of a city dweller. In the release information, Wolf Fabian comments: "We deliberately like to create an intellectual attitude. We try to design our lyrics in a way that allows a listener with poor knowledge of English to understand them."
Following the release of their album, Electric Sandwich went on a radio and press tour through Germany. They appeared on the "Saturday Show" on BFBS, and a 45-minute special was shot for the ARD programme, "Rhinozeros". The band then took aboard Ralf Kroczek, an organist and choir leader at the Cologne college of music, and toured with acts like British rock stars Uriah Heep. Kroczek helped fill the gap that saxophone player Carthaus created when his army duty did not allow him to attend a concert. Starting in late 1973, Electric Sandwich worked on their follow-up album which unfortunately was not finished. Disputes over the future direction of the band (Fabian: "Jorg Ohlert wanted the band to become more jazz-oriented whereas I was a committed rock drummer.") and the desire to finish their various career studies led to the split-up of Electric Sandwich.
Today, drummer Wolf Fabian runs a company and a recording studio in Bonn and works as a teacher. Singer Carthaus has a farm in the Eiffel where he breeds horses. Bass player Klaus Lormann is a government official in Cologne, guitar player Jorg Ohlert a senior consultant living close to Lake Constance and organist Ralf Kroczek still works as a music teacher.
Matthias Mineur
Taken from the CD reissue of "Electric Sandwich", Repertoire, PMS7051-WP, 1997
---
Electric Sandwich's only album had a most outstanding opening track, the 8 minute instrumental "China", with a repetitive, percussive rhythm and fuzzy wah-wah guitar. Other tracks had an impressive electronically treated sax style reminiscent of Ian Underwood. The guitar work was fine, but the creaky vocals less impressive! Fortunately, large parts of the album were instrumental. "Devil's Dream" and "Nervous Creek" had a slight blues feel and loud rock arrangements. Side two mellowed a bit, with softer jazz and slow boogie blues styles. Again this was a Dieter Dierks production, and one you should check out! It was released on the green Brain label in 1972 in a funny fold-out cover, picturing a fancy, electric sandwich! The quintet was from Bonn. They were: Jorg Ohlert (guitar, organ, mellotron), Klaus Lormann (bass), Jochen Carthaus (vocals, sax, harmonica) and Wolf Fabian (drums).
Taken from Cosmic Dreams at Play - A guide to German Progressive and Electronic Rock by Dag Erik Asbjørnsen, Borderline Productions, ISBN 1-899855-01-7
---