Week of December 6, 1998
Fruupp

Personnel:
Peter Farrelly - Guitar, Bass, Lead Vocals
Martin Foye - Drums, Percussion
Stephen Houston - Keyboards, Oboe, Vocals
Vince McCusker - Guitar, Vocals
John Mason - Keyboards, Vibes, Vocals
Ian McDonald - Sax
Albums:
Future Legends (Dawn DNLS 3053) 1973 (reissued on one CD (See For Miles C5HCD 646))
Prince Of Heavens Eyes (Dawn DNLH 2) 1974 (reissued on one CD (See For Miles C5HCD 646))
Seven Secrets (Dawn DNLS 3058) 1974 (reissued on one CD (See For Miles C5HCD 646))
Modern Masquerades (Dawn DNLS 3070) 1975 (reissued on one CD (See For Miles C5HCD 646))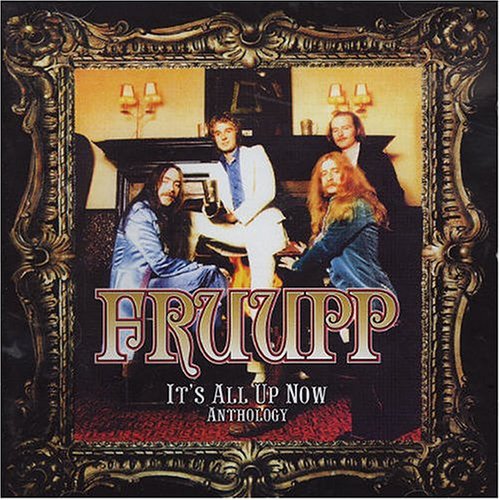 CD compilation:
It's All Up Now - Anthology 2CD, CMDDD 1019, Castle/Sanctuary, 2004
45:
Prince Of Heaven/Jaunting Car (Dawn DNS 1087) 1974
McCusker put this techno-rock outfit together in Belfast in the early seventies although they later relocated to London. They were a popular band in the club/college circuit but never broke into the big league. Musically they were similar to Yes and Genesis, classically inclined progressive pop/rock.
All titles on their first album were composed by McCusker and arranged by McCusker and Houston. It was produced by Denis Taylor. Farrelly was responsible for the beautiful cover painting. All the tracks on the album are good examples of classically-tinged progressive rock, with good string arrangements and often melodramatic keyboards.
Farrelly did the cover artwork for their "Seven Secrets" album too. This was similar in style, although some tracks had a hint of medieval-influenced instrumentation such as the opener, "Faced With Shekinah", which was penned by Houston. There are more fine McCusker songs, too, notably "White Eyes". "Elizabeth" is a predominantly instrumental number with some beautiful piano pieces, penned by Houston, though the final track, "The Seventh Secret" was a throwaway number. Houston left after this album with John Mason coming in as a replacement.
Produced by Ian McDonald, "Modern Masquerades" is a little less classically-influenced than their earlier efforts. McCusker's "Masquerading With Dawn" and "Mystery Might" are excellent tracks with some at times captivating instrumentation. John Mason contributed two tracks, too - the sad "Gormenghast" and the finale, "Sheba's Song".
Taken from The Tapestry of Delights - The Comprehensive Guide to British Music of the Beat, R&B, Psychedelic and Progressive Eras 1963-1976, Vernon Joynson
ISBN 1 899855 04 1
---