Week of September 20, 1998
Gracious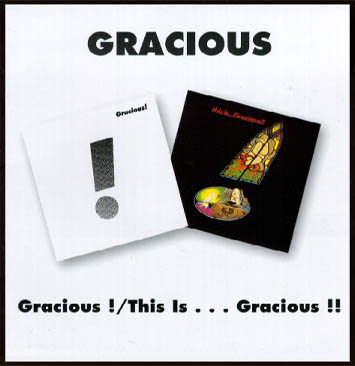 Gracious (or Gracious!) were a British quintet who operated during the early 1970s, when they released two albums, 'Gracious!' (released 1970 on Vertigo) and 'This Is... Gracious' (posthumously released in 1972 on the Philips International label). The band was formed in the mid-Sixties in Esher, a well-to-do spot south of London in Surrey's stockbroker belt, by guitarist Alan Cowderoy and drummer/vocalist Paul 'Sandy' Davis, who were at school together. This was prior to them adopting the name under which they recorded - they were first called Satan's Disciples (many years before punk/metal bands began using similarly lurid names), according to Cowderoy: "It was a Catholic school, so we thought this was the most contentious name we could come up with, and we played a couple of school concerts. It was an out and out pop group - we were just doing other people's songs, and then gradually we started putting in our own tunes. It was all covers in the first school concert - 'Sweets For My Sweet', all the popular hits of the day - and we went down fantastically well. That was probably in 1964 or '65". Schooldays over and several personnel changes later, keyboard player Martin Kitcat (his real name, apparently) joined first on piano and later, as eventual bass player Tim Wheatley recalled, a Hohner pianet, a trendy type of electric piano.
Next, Davis was asked to concentrate on singing and give up drumming (few have mastered such a double act!), and Robert Lipson was invited to join from a rival Esher band. Tim Wheatley first joined the band as road manager, but when original bass player Mark Laird decided to leave Gracious, Wheatley graduated to playing bass. The line-up when they recorded was thus Sandy Davis (vocals), Martin Kitcat (keyboards), Alan Cowderoy (guitar), Tim Wheatley (bass) and Robert Lipson (drums).
By then, the group had been using the name Gracious, which was conceived by their manager, David Booth, for some time. Cowderoy recalled: "I think he dreamt up the name and sold it to a couple of guys in the band, who liked the double meaning of it - it was either an exclamation or an adjective. I hated it, and I'm embarrassed by it to this day, but it stuck, and I was outvoted by the majority - people said if I didn't like it, I should think of something better, and I couldn't". It was, feels Wheatley, "quite a good name, a name with hippy connotations, although at that stage, we were still very much a pop band doing three minute pop songs".
There was a sixth member for a while, Keith Ireland, a back-up and harmony vocalist who also played percussion and was in the band when they went on tour in Germany earlier in 1968. Wheatley, at the time still I a roadie, recalls: "We went out there for six weeks, and we were so green, we knew nothing, just teenagers. Hamburg, The Star Club, the Reeperbahn - we just couldn't believe what was going on". Gracious did record before making their two albums, although the results hardly appeared at the time.
Kitcat - Davis (the only writers of the material on the albums) had written an ambitious conceptual piece about the seasons of the year, and it interested the celebrated Norrie Paramor, producer of Cliff Richard & The Shadows, who financed the recording of an album, which remains unreleased. This "suite" changed the band's musical direction dramatically, moving a long way from three minute pop songs into more complex and ambitious territory, although Lipson feels that working on stage with other young bands on the bill was equally cathartic: "We played a double bill with King Crimson, which was their third gig using that name, and that changed our lives - Martin got this mellotron and we were off!" Kitcat indeed began to use a mellotron, which was perfect for the new musical direction, and is one of several reasons why the group are remembered.
They previewed the lengthy Four Seasons piece to Norrie Paramor and various others in a private cinema in Wardour Street, but as Lipson recalls, the great producer was somewhat underwhelmed: "He was an absolute gem - he said, 'Listen, guys, this is good, but it's not for me.' Tim Rice was working for him at that time, and he produced the stuff we did for Norrie, which, as I recall, was all done in a little studio in Tin Pan Alley, Denmark Street, which doesn't exist anymore. He stuck some violins on it, and a single was released on Polydor, 'Beautiful', with 'Oh What A Lovely Rain' on the other side. Then that ended and Brian Shepherd at Vertigo got involved".
The Vertigo album (known as the Exclamation Mark album) was one of the first releases on that highly collectible label, and it was one of the famous series with the hypnotic swirl in the centre of the disc - original vinyl copies are worth a small fortune today. It was recorded at Philips studios in Stanhope Place, Marble Arch (subsequently known as Solid Bond Studios, which was owned by Paul Weller) and produced by Hugh Murphy - this was a few years before Murphy produced the multi-million selling 'Baker Street' for Gerry Rafferty. While it cannot be denied that the group are now semi-legendary, their debut LP did not break any sales records first time round, and although they had a faithful following, there were too few fans to chart the album. By then the group were being managed by Peter Abbey, and there is a feeling among the three group members who reminisced for this note that had Abbey worked more closely with Vertigo, things could have been very different.
As it was, they recorded a second album for Vertigo which the label put on ice and it was only released after the band folded. Wheatley: "It was recorded with the intention of it coming out on Vertigo, but it became a bit of an afterthought - they had it in the can, and they released it on a mid-price label. On the back of the LP sleeve, there were adverts for LPs in the same series by Val Doonican and The Band Of The Royal Scots Guards". According to Cowderoy, Lipson and Wheatley, it was not the rejection of the album that forced the band to split up, but that they simply weren't earning enough to survive.
Cowderoy: "Frankly, the records weren't selling and when Vertigo declined to put out the second album immediately, it made touring more difficult, because you needed an album to help you with touring. It was very hard getting gigs in those days and we weren't making much money, and people started to leave the band". Lipson was the first to go, and one senses that he and Davis (whose place behind the drums he had assumed) were not the best of chums eventually. Wheatley adds, "We weren't making any progress working live which is what we wanted to do, that was where the band came from. Recording was a necessary chore for us, we would set up in the studio as if we were playing a gig. We hated the studios". Was another part of me problem the material being exclusively written by only two of the five band members? Lipson: "We weren't going anywhere but the material could have been a factor. We took no prisoners and did what we wanted. I think we got to the point where it was time to headline a tour, because we had some following in some places, and if the management and the record label had got together, we would at least have found out whether we could have made it or not. We were playing very much our own kind of music, and some people really liked it - Kid Jensen absolutely adored it and played it all the time. There was The Moody Blues and King Crimson and us using a mellotron, but we were from backgrounds that were giving us pressure, and we didn't have management who could allow us to just work without worrying about money. I got fed up - it was fine when I was playing, but there was too much other stuff, and I think we three and Martin and Sandy were very split. We even went to gigs separately, and we'd just meet on stage. I thought if that was where we were at that point, what would happen later?"
Cowderoy blames the sub-conscious pressure for making everyone in the band argue, and Wheatley confirms: "It was a very argumentative band, and when I joined, I couldn't believe it, but in a way that friction was part of the creativity, there's no question about that". Lipson then gave up being a professional musician: "I didn't join another band, I went into the family business, got married, and did all those peer pressure things. I missed it desperately. We had a reunion about a year later at the Marquee, and it really hurt going home after that gig". It wasn't long after his departure that the group folded completely.
Wheatley: "After Robert left, we had some dates in Germany, and then Martin decided he didn't want to go and was pulling out, and we got Chris Brayne in on drums. Martin said he wasn't going to Germany, but we went anyway, and Sandy played the mellotron and sang as well, but the thing was falling apart. That was in the Summer of 1971".
The various group members thereafter went in different directions after brief and unsuccessful attempts to hold the group together. Wheatley, among other enterprises, went to auditions, as he recalled with a grin: "I was determined to continue playing, and I auditioned for Supertramp, and one of their worst mistakes was not asking me to join them". He later joined a band named Taggett... "Yes, a guy called Colin Horton-Jennings, who had been with a band called The Greatest Show On Earth, was looking to put another group together, and I went to an audition. He was with a drummer called Terry Fogg who had been in Sounds incorporated, and they asked me to join them, and the line-up eventually included Pete Arnesen on keyboards. We did one album for EMI which was released in Britain but didn't sell too well. Much later, it was released in the same form by United Artists in the States, by which time the band hadn't been playing together for a long time. An American A&R man got in touch, said he loved the album and asked what was happening, and was told we were rehearsing - but we hadn't even seen each other for about two years. We got a wonderful deal, but we never actually recorded a track for United Artists. It was a recording band, and we rarely, if ever, played live, so that didn't last long, and after that, I started my own recording studio, Chestnut, down in Hampshire, in 1977, and I've also worked in several local bands since then".
Cowderoy gave up playing professionally but remained involved with the record industry: "I went to work for Decca, on the legit side. Martin, the keyboard player, had got a job as a plugger with Burlington Music, and when he got another job with Capitol, as he was moving on, he suggested I apply for his old job, and I did and got it. That was about 1972, and the irony was that the next job I got was running Vertigo for three years". Later, Cowderoy worked for Stiff Records (in that maverick label's glory years), A&M and in various other executive positions in the music biz - he is now a partner in a company which manages Del Amitri and a number of successful record producers - but Kitcat, who had helped him start his career in the business side of the music industry, gave up playing and after working for Decca and Capitol, moved to America. According to Lipson, "He hasn't touched a keyboard since, and he's sold his gear. His customised mellotron recently changed hands far several thousand dollars".
Sandy Davis made two solo albums during the 1970s, with Cowderoy - playing guitar on one of them. Wheatley recalled: "I heard that at the end of one of his albums, he decided to open a bottle of champagne in a studio and he emptied it over the desk, which caused some consternation. He sang on 'Jesus Christ Superstar', which Tim Rice got him involved in as a session man. After that he didn't do much for a while, although he played in a pub duo with Mike Read, the disc jockey, before Mike Read had cracked it. Then Sandy cropped up on the Guildford scene with a band called Headwaiter who had two drummers and he was back drumming again! They had a couple of tracks on the Guildford LP, "Who Invited Them?" Doug Ferguson, who had been in Camel, was also in that band. I got involved with Sandy again for a little while, and we did some songwriting. We had a single released on Pacific Records - Rob Dickins signed us to a publishing deal with Warner Bros. for a couple of our songs, and a single was released under Sandy's name. We recorded four or five tracks with Rob Townsend from Family on drums, a keyboard player called Billy Livsey who played with Gallagher & Lyle, and the horn section from The Rumour. Then Sandy ran out of people to work with in Britain, and went to Germany, where he's been ever since."
So that' s what happened to the main members of Gracious after the band split up - but there is a brand new album close to completion which features Wheatley and Lipson as musicians, and with Cowderoy peripherally involved. He notes: "We were approached by a Japanese record company to record an album which sounds as though we might have recorded it in the Seventies, and there's a new album that's nearly finished with Tim and Robert on it, plus a keyboard player from Guildford called Sev Lewkowicz and a guitarist called Stewart Turner."
Lipson adds, "We wanted Alan more involved, but he didn't want to do it. Nevertheless, the first track on the album invokes him as a writer and guitarist. All the other songs on the new album were co-written by Tim, Sev and I". But without songs by Kitcat and Davis, it may sound a little different… Yes, but this is a new band called Gracious, with two members from the old Gracious". It will be interesting to compare the forthcoming album with the classic LPs from the past which for the first time appear here on a single CD... Gracious were not a hit band, but the passage of time has been kind to their two LPs of around 25 years ago, which possess the charm of the progressive rock era in all its glory. Gracious!
John Tobler 1995
Taken from the CD reissue of "Gracious!"/"This Is Gracious", BGO, BGOCD256
---