Week of March 8, 1998
Gun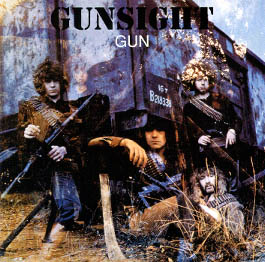 Personnel:
Adrian Curtiss-Gurvitz - Guitar
Paul Curtiss-Gurvitz - Bass
Louis Farrell - Drums
Albums:
Gun (CBS 63552) 1968
Gunsight (CBS 62683) 1969
"Gun" was reissued on CD (Repertoire RR 4013-C) in 1990 in Germany.
Both albums have also been reissued on CD by Sony Special Products, US:
"Gun" - A28906, "Gunsight" - A28907
45s:
Race With The Devil/Sunshine (CBS 3764) 1968
Race With The Devil/Three-Four In The Middle (CBS 3764) 1968
Drives You Mad/Rupert's Travels (CBS 4052) 1969
Hobo/Don't Look Back (CBS 4443) 1969
Hobo/Long Haired Wild Men (CBS 4443) 1969
Runnin'Wild/Drown Yourself In The River (CBS 4952) 1970
Single Reissues:
Race With The Devil/Sunshine (CBS 3764) 1979
Race With The Devil (Old Gold OG 9193) 1982
This heavy rock band's finest moment was undoubtedly the frenetic "Race With The Devil", which was subsequently reissued in 1979 and 1982. It also achieved some chart success. The follow-up, "Drives You Mad", was similar in style. They came from Ilford in Essex.
Their first album's front cover was the first designed by Roger Dean. Musically, it was very much part of the first wave of British hard-rock. Both their albums were psychedelic/progressive crossover items and could potentially also appeal to fans of either of these genres.
The Gurvitz brothers progressed to Three Man Army after Gun's demise, and later, subsequently, to Baker Gurvitz Army. Later on, Adrian Gurvitz recorded solo albums.
They have one cut, "Situation Vacant" (off "Gunsight"), on the "Psychedelic Dream" compilation, which captures them in one of their best moments.
Taken from The Tapestry of Delights - The Comprehensive Guide to British Music of the Beat, R&B, Psychedelic and Progressive Eras 1963-1976, Vernon Joynson
ISBN 1 899855 04 1
---