Week of June 28, 1998
Incredible Hog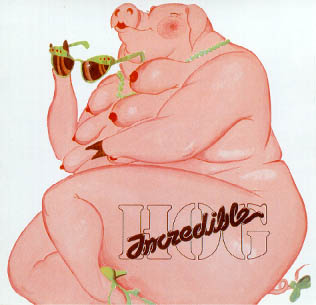 Like so many early 70s bands, the three-piece London-based group Incredible Hog were a by product of the 60s British Blues Boom. In an attempt to mix melodic pop with heavy rock and intelligent, meaningful lyrics, guitarist/vocalist/songwriter Ken Gordon and bassist Jim Holmes, who'd actually been at school together and played in the band Speed Auction, formed Incredible Hog in early 1972, the name actually being a play on the then highly popular 'Incredible Hulk' comic book series.
Various auditions finally brought the group a permanent drummer in the shape of South African-born Tony Awin. However, getting any kind of gigs at the time was not easy, so in an effort to solve the problem the band set up their own club, The Pig Sty, which was based initially in Ilford and then in Forest Gate, East London. By booking adverts in the then prestigious Melody Maker, the band's name started to get known though they still failed to attract the attention of a record company. A determined Ken Gordon then marched into the offices of Dart Records and refused to leave until someone had listened to his band's demo tape. After waiting all day, and having been threatened with ejection by the police, he managed to get the tape heard and within two weeks, Incredible Hog were signed by the label!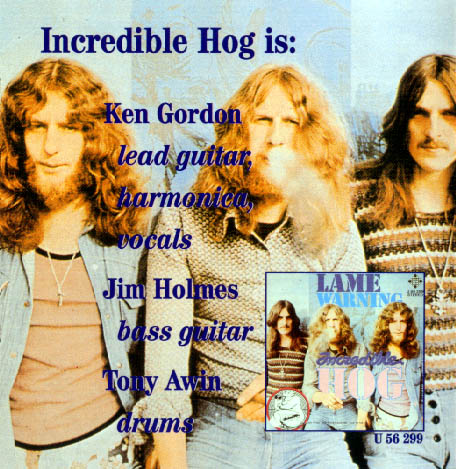 Dart teamed the band with producer Roger Watson who'd previously worked with comedy-rock outfit Scaffold. This unlikely pairing led to many bust ups in the studio over musical direction, with the band wanting to go one way and Watson the other. However, this clash of styles added to the excitement and originality so evident on "Volume I" (DART 65372), and when it was released in mid-73, it received a lot of critical acclaim, but was too ahead of its time to generate acceptance from the general public. Nonetheless, the band toured the UK to promote the album and even started recording a follow-up, before a mixture of record company apathy and lack of commercial success led to the band folding late in 1973.
Ken Gordon turned to session work and helped out on recordings by the likes of The Rubettes, The Tremeloes and the Heavy Metal Kids. Today, he still writes songs but is better known for his acting career, having appeared in TV shows like "The Bill" and "London's Burning". Tony Awin worked with The Crazy World of Arthur Brown and James Last, and today is still involved in live and session work. Jim Holmes moved into production work and started the legendary Scarf Studios where even this writer remembers making a demo! Today, Jim runs a successful theatre production company.
Mark Brennan
Special thanks to Roger Saunders, Ken Gordon, Jim Holmes and Tony Awin.
Taken from the CD reissue of "Volume 1", 1994 Repertoire Records, REP4511-WP
---