Week of May 24, 1998
Killing Floor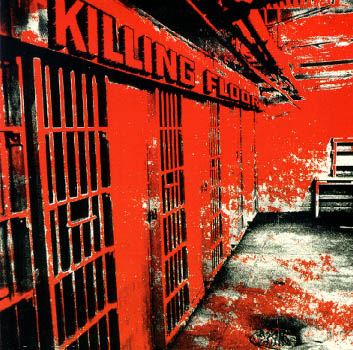 Personnel:
Mick Clarke
Lou Martin
Stuart McDonald
Baz Smith
Bill Thorndycraft
LPs:
Killing Floor (Spark (S)RLP 102) 1970
Out Of Uranus (Penny Farthing PELS 511) 1971
The self-titled album was also released on Sire in the US. Reissued as The Original Killing Floor (Spark Replay SRLM 2004) 1973. Reissued on CD (See For Miles SEECD 355), 1992, as Rock The Blues and on Repertoire (REP 4532-WP); Out of Uranus (REP 4367-WP) - in 1993.
45:
Call For The Politicians/Acid Bean (Penny Farthing PEN 745) 1970

Killing Floor formed in South London in late 1968 when guitarist Mick Clarke, vocalist Bill Thorndycraft, bassist Stuart McDonald and drummer Baz Smith recruited keyboardist Lou Martin and began a bout of intensive rehearsals. After just one gig and after having hawked their demo tape round various agents, Killing Floor were picked up on by ex-Radio Caroline DJ John Edward. Martin recalls, "Edward thought we sounded like Hendrix and as the British Blues boom being in full flow saw us as a chance to get involved in the scene."
Edward booked the band for Dunstable's California Ballroom and so gave Killing Floor support slots to the likes of Ten Years After, Jethro Tull, Chicken Shack, The Herd, The Casuals and Junior Walker And The All Stars amongst others. He also secured the band a deal with Spark Records who released the group's self-titled LP, produced by Edward, in mid-1969 (SRLP 102). Around this time, the band were offered the chance to back Freddie King on two UK tours which helped further their growing reputation. The band also appeared on all the contemporary British radio rock shows and toured solidly around the U.K.
A deal was later struck with Penny Farthing Records who released the single, 'Call For The Politicians'/'Acid Bean' (PEN 745) and the band's second LP 'Out Of Uranus' (PELS 511), again produced by John Edward but with Troggs producer Larry Page acting as executive producer. However, despite numerous European tours the band's line-up began to change regularly and at one point included ex-Juicy Lucy vocalist Ray Owen and future Rory Gallagher drummer Rod D'Ath, as well as bassist Mick Hawksworth, ex-Fuzzy Duck. By mid-1972, Killing Floor had effectively finished when the various members became Toe Fat Mk. III and began backing Cliff Bennett.
Bill Thorndycraft retired from music and became a social worker in South London, whilst Baz Smith continued to play in jazz trios; Stuart McDonald formed a band called Peace with ex-Free vocalist Paul Rodgers before returning to his native Wales and playing in local bands. As mentioned, Lou Martin joined Rory Gallagher's band, toured with Chuck Berry and later played with Blues'n'Trouble. Guitarist Mick Clarke, after a brief stint in the USA, formed legendary pub rockers S.A.L.T. with 'Little' Stevie Smith before in 1983 forming the Mick Clarke Band, and has released ten LPs the latest of which 'New Mountain' has just been put out by Burnside Records.
Mark Brennan
Special thanks to Lou Martin, Mick Clarke and Surfing Reuber for their help.

Taken from the Repertoire CD reissue of " Out of Uranus" (REP 4367-WP).
Source of discography: The Tapestry of Delights - The Comprehensive Guide to British Music of the Beat, R&B, Psychedelic and Progressive Eras 1963-1976, Vernon Joynson ISBN 1 899855 04 1
---

new album - their first in 33 years!
...visit Website - to purchase!..
---