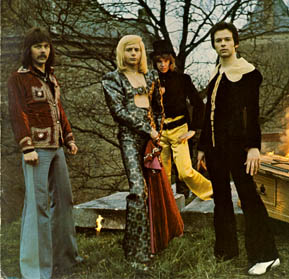 A hard rock group from Rockanje; they became famous through their debut single and their "horror" show with monsters, fire and smoke. The group changed its name in 1973 from Life Color to Lemming; the line-up at the time was: Wally Slot (z), Tony Gloudie (dr, ex-Christie Lane), Hans Vos (v,g,p), Harry Bruintjes (g) and Tinny Durrell (b). In 1974, Hans Vos was replaced by Martin van Wijk (g, ex-Shocking Blue, in 1977 to Udell's People) and in 1975, Tinny was replaced by René Till (for a short time, in 1975) and Dennis Lammers (ex-Sfinx). Harry went to Picture by the end of 1977. In 1980 the line-up was: Wally, Tony, Ton van Driel (o,p), Arjan Boogerds (g) and Marchell Remaeus (b). The group disbanded in 1982.
1973 Lucifera/I feel free					Polydor 2050275
1974 Bangon/No later at all					Polydor 2050312
     Father John/Crazy again					Polydor 2050329
1975 Queen Jacula/Fun with me					Polydor 2050346
     Planet of love/Shout					Polydor 2050370
     LP Lemming							Polydor 2441050
1976 Evelyn/Bangon						Polydor 2050399
     Good morning/Take your time				Polydor 2050425
     Clown/Gypsy eyes						Polydor 2050426
     Rock & roll love/Gypsy eyes				Polydor 2050445
1977 Red river valley/Surfin' love				Polydor 2050466
1978 The last clown/Sally					Philips 6012803
1980 Names and faces/						    RCA PB 4557
1981 I'll take you back/					    RCA PB 4571
     Crazy spider/Don't put your love on me			       CBS 1524
     LP Names and faces [ever released?]
1982 Being alive/Feel so good					Polydor 2050753
---
Group from The Hague featuring Carl van Oostveen (g), Peter van Galen (b), Tony Gloudie (dr, to join Lemming) and John van Katwijk (v). John made a solo single under the name of John Arthur; also, a Christie Lane single was re-released under his own name. Later on, John became the manager of Patricia Paay.
1969	She was a gypsy/I won't hear your footsteps anymore	Relax 45130
	Johnny remember me/I need the sun			Polydor S 1337
1970	Johnny remember me/I need the sun			Polydor 2050003
---
1973	No lady no/Baby take the seat in the middle		CNR 141244
1974	Johnny remember me/I need the sun			Polydor 2050295
---
This hard rock group from Dordrecht was started in 1977 by Ronald van Prooien (v), Laurens Bakker (dr), Rinus Vreugdenhil (b) and Harry Bruintjes (g, ex-Lemming). Harry was succeeded by Jan Bechtum (g) in 1979.
1981	Bombers/Dirty streetfighter	Backdoor 6080014
Unemployed/Out of time			Backdoor 6808018
	LP 1				Backdoor 6350054
	LP Heavy metal ears		Backdoor 6350058
Dutch charts:
LEMMING
8-12-73	SINGLE 19 8	LUCIFERA
14-9-74	SINGLE 15 9	FATHER JOHN
1-3-75	SINGLE 27 3	QUEEN JACULA
9-8-75	SINGLE tip	PLANET OF LOVE
21-8-76	SINGLE tip	GOOD MORNING

---
Submitted by: Adri Verhoef (a3@a3.xs4all.nl-removespam)
Back to Alex's Home Page
Back to the Nederpop index