Week of January19th, 1997
McGuinness Flint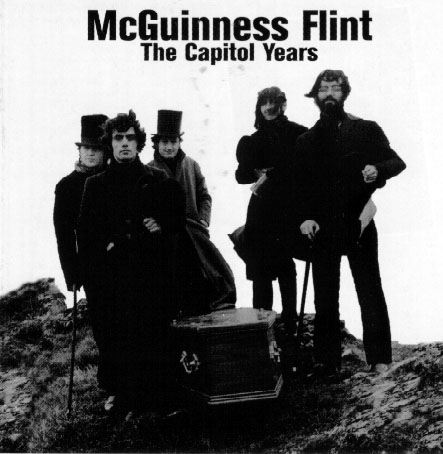 Formed in 1969 by Tom McGuinness (b. 1941, London, bass, ex-Manfred Mann) and Hughie Flint (b. 1942, drums, ex-John Mayall); Dennis Coulson (keyboards), Benny Gallagher (guitar/vocals), Graham Lyle (guitar/vocals) and Paul Rutherford (saxophone) completed the original lineup, although the latter dropped out the following year. The group enjoyed immediate success with "When I'm Dead And Gone" and "Malt and Barley Blues", both of which reached the UK Top 5 and established their brand of light, folksy pop.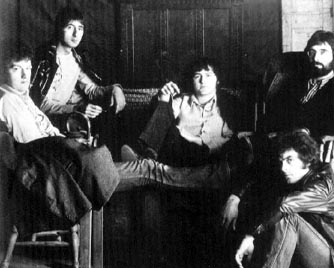 Two excellent albums confirmed their undoubted promise, although a succession of disastrous live performances undermined progress. Further problems occurred in 1971, when principle songwriters Benny Gallagher and Graham Lyle left to pursue a career as a duo, but although Dixie Dean (bass/harmonica), John Bailey (guitar) and Neil Innes (piano, ex-Bonzo Dog Doo-Dah Band) replaced them, the group broke up at the end of the year. A resurrection of sorts occurred in 1972, when Coulson, Dean, McGuinness and Flint recorded "Lo & Behold", a selection of Bob Dylan songs unavailable commercially. Coulson was then replaced by organist Lou Stonebridge (ex-Paladin, later to join Uriah Heep's ex-vocalist David Byron on his solo project, "Take No Prisoners"), and with the addition of guitarist Jim Evans, a revamped McGuinness Flint re-emerged the following year. Two more albums were completed, but the unit was unable to recapture that first flush of success and broke up in 1975. Flint, Stonebridge and McGuinness later enjoyed fruitful periods with The Blues Band, albeit at different times.
Meanwhile, Gallagher & Lyle enjoyed commercial success throughout the 70s, culminating in the 1976 chart hits, "Heart on my Sleeve" and "I Wanna Stay With You".
Tom McGuinness and Hughie Flint have recently reunited with their former bandmates from Manfred Mann as The Manfreds and have been touring for the last several years on the European oldie circuit under that moniker.
---
McGuinness Flint (1970)
CD: EMI Holland, 724357632225, 2001
Happy Birthday Ruthie Baby (1971)
(the above two re-released on one CD in 1996 as "The Capitol Years",
EMI/Capitol 7243 852766 2 0)
Lo & Behold (1972)
CD: Raven RVCD - 62, Australia, 1996
Rainbow (1973)
C'Est La Vie (1974)
(the above two re-released on one CD in 1993, Castle CHC 7111 CR)
Malt & Barley Blues, BBC 1970-1974
CD: HUX 029, 2002
Stonebridge McGuinness
Corporate Madness, RCA Records, PL25275, 1980
Musicians:
Lou Stonebridge - Vocals, Keyboards, Guitars, Harmonica
Tom McGuinness - Guitars, Vocals
Roy Morga - Drums
Paul Karas - Bass
Mo Foster - Bass
Mike Moran - Keyboards, Vocals
Nicky Payne - Tenor Sax
Maurice Pert - Percussion
Dick Henson - Trumpet
Chris Gower - Trombone
John 'Irish' Earle - Saxes
Ray Beavis - Saxes
Frank Ricotti - Percussion
Charlie Fawn - Vocals

Lyle McGuinness Band
Acting on Impulse, Cool King, CKLP03, 1983
Re-released on CD as "Elise, Elise", Diamond GEMCD015, 1997
Single: Elise, Cool King, CK011, 1983
Musicians:
Graham Lyle - Vocals, Guitars, Mandolin, Banjo
Tom McGuinness - Guitars, Keyboards
Alan Dunn - Keyboards, Tin Whistle, Accordion, Glockenspiel
Chrissie Stewart - Bass
Hughie Flint - Drums, Bodhran
Maire Ni Bhraonain - Vocals
The Dance Band
"Dance Band" (1979)
"Fancy Footwork" (1980)
(both feat. Lou Stonebridge, Rob Townsend)

Tom McGuinness also played on the following Blues Band albums:
"The Official Blues Band Bootleg Album" (1980)
"Ready" (1980)
"Itchy Feet" (1981)
"Brand Loyalty" (1982)
Hughie Flint played on all of the above except "Brand Loyalty", on which Rob Townsend (ex-Family) took over the drumstool.
Thanks to Dave Smith for the info
---