Week of September 12, 1999
Armageddon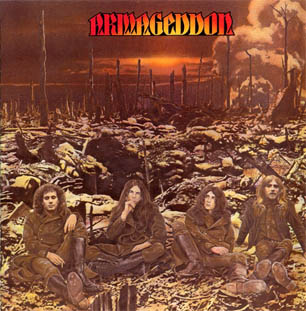 Armageddon - the last battlefield! Yes, that was the Biblical meaning of a phrase that still strikes fear in the hearts of men. According to Revelations 16:16 in the New Testament, Armageddon is the place designated as the scene of the final battle between the kings of the Earth at the end of the world. It has since come to mean any catastrophic and destructive conflict. Many viewed World War 1 as a contender for this dubious accolade and the more recent Gulf War/Desert Storm came pretty close. So, what better name for a heavy metal band?!
Yet Armageddon was the brainchild of a gentle, peace-loving musician whose previous band had represented the ultimate in hippie idealism. So what led mild-mannered Keith Relf into this battleground of musical militancy? It seemed we should never know the answer, for the vocalist and harmonica player who put the band together died in 1976. However, new research reveals that it was never Keith's intention to go back to truly heavy rock.
Relf had been the lead singer of The Yardbirds throughout the Sixties. He was the frail, blond-haired youth who shook his maracas defiantly in the teeth of an uproar of lead guitar solos from the likes of Eric Clapton, Jeff Beck and Jimmy Page. The road to Armageddon began in Richmond, Surrey, England, where Keith Relf was born on March 22, 1943. Keith was a founder member of the Metropolis Blues Quartet, one of Britain's earliest R&B groups. While a student at Kingston Art College, he merged his band with another local outfit, which led to the creation of The Yardbirds. During 1963, the new band began to rival the popularity of Rolling Stones.
The Yardbirds, with Keith at the helm, went on to become one of the most creative and progressive groups of the day. They had a succession of hits like 'For Your Love', 'Heart Full Of Soul', 'Shapes Of Things' and 'Over Under Sideways Down'. The group, with Chris Dreja (rhythm guitar), Paul Samwell-Smith (bass), Jim McCarty (drums), and a series of celebrated lead guitarists, endured all the highs of the frantic Sixties, until their hits began to miss. The final years proved such a traumatic period for the young musicians, that when the band broke up in July 1968, Chris Dreja gave up music to become a professional photographer. Keith and Jim McCarty vowed to carry on, but with a new band devoted to a style diametrically opposed to the loud and raucous blues they had been playing for so many years. They formed an acoustic group called Together that recorded two singles, before Keith and Jim formed Renaissance in 1969. This group, too, would have a long and chequered history, told in depth in the notes to Repertoire's Renaissance CD box set, 'Da Capo' (REP 4571 -WL). The first version of the band included vocalist Jane Relf (Keith's sister), Louis Cennamo (bass), John Hawken (keyboards), Jim McCarty (drums) and Keith on guitar and vocals. Explains Jim McCarty: "We got fed up with The Yardbirds and thought we'd do something more melodic and away from the blues. Me and Keith were getting into the music of Bob Dylan and Paul Simon. We called it Together and did three or four tracks which Paul Samwell-Smith produced for EMI and were released as singles. Then we decided to get a band together, rather than just do recording. We got Jane Relf in to make it a bit more folksy. John Hawken played classical stuff and we did all these long arrangements."
Renaissance recorded their eponymously titled album for Island Records in 1969 and the band went to America. Before long, Renaissance underwent a sea change. Keith and Jim quit and a whole bunch of new musicians came in. The ex-Yardbirds were exhausted by the latest bout of touring and didn't care if somebody else wanted to take over. The group had recorded another album called 'Illusion' but it was only released in Germany in 1970. After this, Keith played for a while in Medicine Head before he and Louis Cennamo decided to go their own way and form Armageddon.
Recalls Chris Dreja: "At first both Jim and Keith desperately wanted to get into softer based music and cut out the crashing lead guitars. Renaissance was a great idea and very original. But I always found it so odd that Keith was later involved in this band called Armageddon, which by its very name meant a return to heavy rock! Whether that was a commercial decision because things had got desperate, I don't know, but I found it ironic."
It did seem odd, but the truth can now be told. The line-up of Armageddon included Keith (vocals, harmonica), Martin Pugh (electric and acoustic guitars), Bobby Caldwell (drums, vocals and percussion) and Louis Cennamo (bass). Martin Pugh had previously been in the group Steamhammer with Louis, while Bobby Caldwell was an American who had previously worked with Johnny and Edgar Winter.
Armageddon's one and only album was released on A&M in 1975. It has since become hailed as a classic. Critics raved over its often eerie and sometimes freaky mixture of hard rock and melodic Sixties psychedelia. Long and exciting compositions like 'Basking In The White Of The Midnight Sun' mixed rock, jazz, blues and even classical influences.
Explains Louis Cennamo: "The album has become something of a collectors item. What happened was Keith rang me up one day while I was with Steamhammer, which was just about breaking up. He asked what I was doing and the answer was "Not a lot!" So he asked if I fancied trying out a couple of songs. What finally made me decide to join him was the fact it was a cold English winter and he just wanted to get away to the sun. He suggested going to California, because we had toured there with Renaissance. Keith felt there would be a better opportunity for a new band over there."
In the winter of 1973, Louis was sharing a flat in Harrow with Steamhammer's guitarist Martin Pugh, who was keen to join the expedition. "We decided to take a chance and base ourselves in California. We only had an idea and our past experience to go on. The Yardbirds had been pretty huge in America and Keith having been their lead singer helped. So we arrived and sort of hung around in bars! We lived on our savings and took a real risk. We had an economy return ticket that ran out after six weeks. By the end of the month, we still didn't have a contract. But then Peter Frampton gave me the phone number of a guy at A&M. In the meantime, we had found Bobby Caldwell who had been playing with Captain Beyond and Johnny Winter and was a very good drummer. He came up to us in one of those bars we had been hanging around and said, "Do you need a drummer?" He was quite a heavy player and he influenced us quite a bit. We still had very spiritual ideas and wanted to produce something more gentle and esoteric, but it sort of evolved into a bit of a mixture. The songs probably sound heavy now because we had such a heavy drummer. He got Martin involved in his style too, so although it started more in the Renaissance style vocally, it came out very heavy when we played, which didn't really suit Keith and myself, but we gave it a try. It never really sat comfortably with us, but it was an experimental band. We'd take some of Keith's lyrics and then arrange them to suit the style of the musicians."
The new band stormed into A&M's offices armed only with their ideas and enthusiasm. They didn't even have any demo recordings, but the label gave them some space on the sound stage at Charlie Chaplin's old film studio. "We steamed in and did nothing more than a glorified jam," recalls Louis. Jerry Moss, the head of A&M, was there listening and so was Dee Anthony, who managed ELP, J.Geils and Peter Frampton. "Suddenly we had Dee Anthony offering to manage us and A&M offering us a contract! It was incredible because our savings were almost finished and our ticket had expired. But I had a message from a clairvoyant who said wait until April - and it transpired that's when we signed the contract with A&M - on April 2 in the Beverly Hills Hotel." It seemed like all their dreams had come true and the way was open for big time rock'n'roll success. However, it didn't quite work out that way, as Louis relates. "I don't know why, but things weren't quite gelling with the band. We did some rehearsals, but there were some drugs floating around and without mentioning names, the band got ruined by drug indulgences. Also, Keith's health wasn't very good by this time. He had emphysema and was finding it harder to get the wind in his lungs to sing."
Despite these problems the fledgling band had some fun along the way. "We went camping in the desert and played cowboys at a place called Pioneer Town. At the same time we got into meditation and spiritual pursuits. It was quite an exciting time. The record company paid our bills and Jerry Moss had us lined up for stardom. We had everything we wanted including nice apartments and swimming pools. But we had to come back to England to record the album. We stayed in Hollywood for six months then came back to London and booked into Olympic Studios in Barnes." The album was recorded in the Autumn of 1974. At the same time Jimmy Page (ex-Yardbirds and now with Led Zeppelin) was recording in the next studio and stopped by to hear what his old friend Keith was up to. A few months later the band went back to California for another six months stay. "We did two nights gigging at a Hollywood Club when the album came out in 1975. We intended to promote the album, but things were getting a bit tricky with the group's discipline and we only did a few more rehearsals, before it gradually faded out. Keith had been getting sick and we'd had enough by the end of the year and so we came back to London. Keith decided he couldn't go on anymore and he died a few months later."
Keith was busy planning a new group, Illusion, with his old pal Jim McCarty, when he was tragically killed while practising his guitar at home on May 14, 1976.
Louis: "Although Keith was electrocuted, if he had been strong in his body he would probably have survived the shock. He had the emphysema, and he had some personal problems going on in his life as well, and I think the shock was probably the last straw for him. We were actually getting a new band together and I was with him the day before he died. We were talking about forming Illusion with Keith, myself, his sister Jane, John Hawken and Jim McCarty. We were in the early stages of a Renaissance-style revival and then Keith died. We decided to carry on as Illusion in his memory."
The music on 'Armageddon' consists mainly of long tracks, rather in the Renaissance style with introspective lyrics from Keith, powered up by driving drums and guitar. "It was quite a baffle really!" chuckles Louis. "When I look back at the image of the band, the description of heavy metal is probably right, but the music had a message and wasn't designed to be just headbanging stuff. Martin and I worked out some nice riffs and chord sequences like 'Buzzard', which we had from Steamhammer days and used in Armageddon with soul-searching lyrics over the top. 'Basking In The White Of The Midnight Sun' was in four movements. We put the music around some of Bobby Caldwell's lyrics, but Keith wrote the lyrics to the 'Brother Ego' section. "We never did any live gigs in Europe but we did get a lot of airplay and the album got into the lower reaches of the charts. I don't suppose the record company were too pleased that we broke up, but we did sell quite a few albums over the years. They expected more, but sadly we couldn't resolve the problems within the band."
There was a last ditch attempt to keep going. "Bobby and Martin asked me to go back to California and start something up again, but I decided to stay in the UK." The survivors of Armageddon tried out a new vocalist called Jeff Fenholt, but after recording some tracks for a proposed second album, A&M lost interest and the group finally split up. The battle was over. "The choice of the name Armageddon was very symbolic," muses Louis. "It was born out in the way the band lived its life. It does symbolise the final battle between the forces of good and evil or, in our case, the positive and the negative. The story seems to repeat itself in all the great scriptures of the world. We didn't choose the name from any great religious commitment, although it did turn out that way for me in particular. It was the beginning of my own spiritual journey. But at the time it was just a name that had a really powerful image."
CHRIS WELCH, London 1998
Taken from the CD reissue of "Armageddon" (Repertoire, PMS-7089-WP, 1998)
---