Week of November 21, 1999
Cirkus
Album:
Cirkus One 1971
Future Shock (Shock 1) 1977
(Cirkus One reissued on Five Hours Back (TOCK 1) 1986 and also on CD with bonus tracks taken from the Melissa EP plus two extra tracks recorded in 1971 (Audio Archives AACD 009) 1995).
EP:
Melissa / Amsterdam / Pick Up A Phone (Guardian GRCA 4) 1976 R2
The album is a significant collector's item among fans of progressive music. This Geordie band financed the album themselves and paid for 1,000 copies to be released. Musically it's competent progressive symphonic rock with mellotrons, etc., very much in the mould of bands like Yes. The later reissue on Five Hours Back should be easier to obtain and will save you quite a lot of money. It retained the original gatefold sleeve and more recently the album has been issued on CD with bonus tracks. They also recorded a second album Future Shock (Shock 1) 1977.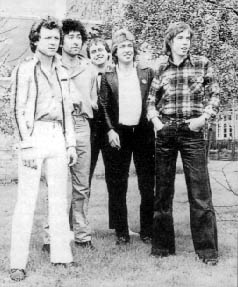 Amsterdam, which dates from 1976, can also be found on Circus Days, Vol. 2 (LP) and Circus Days, Vol. 3 (CD). It's certainly worth a spin - attractive vocals and good choppy guitar work.
---
Taken from The Tapestry of Delights - The Comprehensive Guide to British Music of the Beat, R&B, Psychedelic and Progressive Eras 1963-1976, Vernon Joynson ISBN 1 899855 04 1