Week of October 24, 1999
Junior's Eyes


Personnel:
John Cambridge
Steve Chapman (drums)
Grom Kelly
John Redfern
Tim Renwick (Guitar)
Mick Wayne (Guitar, Vocals)
Album:
BATTERSEA POWER STATION (Regal Zonophone SLRZ 1008) 1969 R1
NB: Reissued on CD (Worldwide Records SPM-WWR-CD-0025) 1991.
45s:
Mister Golden Trumpet Player/Black Snake (Regal Zonophone RZ 3009) 1969 
Woman Love/Circus Days (Regal Zonophone RZ 3018) 1969 
Sink Or Swim/Star Child (Regal Zonophone RZ 3023) 1969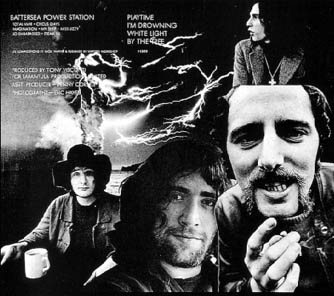 A rather short-lived heavy rock band, whose members backed David Bowie on his first album. Their album, which features some fine guitar work from Mick Wayne, is well worth hearing. They sound like they're enjoying themselves on this collection of imaginative songs with plenty of weirdness. Side one is the side-long suite, Battersea Power Station, actually more an unbanded collection of songs, that evokes a great amount of different atmospheres and yet manages to sound quite coherent. Great guitar work is to be found on Imagination. Side two consists of four tracks, all with an interesting bend to them. Listen to the lyrics of the Tyrannosaurus Rex - soundalike I'm Drowning and the musical diversity of White Light. Undoubtedly this comes recommended. One of their forgotten flip sides, Black Snake, can also be found on Psychedelia, Vol. One and the equivalent CD compilation Hen's Teeth. It typified their rather offbeat style.

Wayne, who'd earlier been with The Hullaballoos, The Bunch Of Fives and The Tickle went on to The Pink Fairies briefly and Renwick was later in Quiver and then The Sutherland Brothers and Quiver. Mick Wayne died in the USA in 1994.

An underrated band who deserve more credit. (Vernon Joynson / Mike Warth).
Taken from The Tapestry of Delights - The Comprehensive Guide to British Music of the Beat, R&B, Psychedelic and Progressive Eras 1963-1976, Vernon Joynson ISBN 1 899855 04 1
---
Founded by Mick Wayne in London, 1968, with Steve Chapman (drums) and Honk (John Lodge) on bass, they quickly signed a record deal with Denny Cordell/Tony Visconti Productions. They were managed by Blackhills (T.Rex, Pink Floyd, etc.), who organized the Hyde Park concerts, and Junior's first gig with Traffic. Many other gigs and benefits followed closely, such as the Marquee, Roundhouse and Middle Earth in London and then various venues and festivals up and down Great Britain and Europe including Star Club Hamburg and Beat Club TV in Bremen.

In 1969, they recorded their only album 'Battersea Power Station', followed by some singles. Grom (Graham Kelly) joined on vocals and Rick Wakeman was added on keyboards. John Cambridge who had earlier been in the Hullaballoos with Mick Wayne, and later with Mick Ronson, replaced Steve Chapman on drums, whilst Tim Renwick was added on guitar.

Mick had been playing sessions for various people, including James Taylor, Joe Cocker, David Bowie ("Space Oddity"), etc. On advice of his managers, he moved to Los Angeles to continue his career. At Leon Russell's studio he recorded a new album. This master tape contained performances by various L.A. musicians, but was subsequently stolen from Island Studios, London.

In 1972, Mick came back to London and recorded with Joe and Sandy Denny, Steve Winwood and Ringo. Subsequently, he joined Pink Fairies (1975), and Tim Hardin (1976). He is at present working on a new album with Phil Collins on drums, and some other notables.

SPM/Claus Kriebitzsch 1991
(Taken from the CD reissue of Battersea Power Station - NB: not up to date info!)
---