Week of February 23, 2003
Kerrs Pink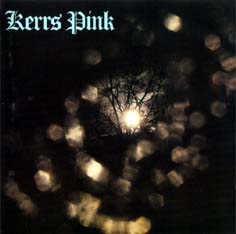 From The Origins To The First Album

The origins of the band go back to May 1972 when Jostein Hansen (born 1956) decided to form a band with some friends, raised, as he was, in Tromborg, a parish of Eidsberg county. Tromborg is a farming district surrounded by forests some 70 km South-East of Oslo, Norway.

The line-up included Jostein Hansen on guitar and vocals (later also on bass), drummer Tommy Knudsen (born 1955), lead guitarist Leif Hansen (born 1955 and a cousin of Jostein's) and on bass Frank Johnsen (born 1957).

Tommy, a Dane who had just moved to Tromborg, supplied the group with rehearsal room in his own house where they could play and practice whenever they wanted without disturbing anyone. Soon they required instruments and a more powerful PA system which would generate more power for and impact on their still somewhat amateur and imitative music. Self-taught, being between 15 and 17 years old, the musicians sought their musical direction, while building a repertoire made of cover versions of hits from that period (C.C.R., Frijid Pink, etc.)
However, by the end of 1972, Leif, bored with the rehearsals and lack of musical direction without real results, decided to leave the group. A short time later, Frank Johnsen was forced, for professional reasons, to leave Tromborg.

In January '73, the two survivors recruited as lead guitarist/singer Kay-Gunnar Lodengen (born '58 and another cousin of Jostein's) and as a keyboard player - a friend of Kay-Gunnar's, Kjell-Arild Austad (born '58). The group took on the name Memories and appeared for the first time on stage in February '73 at a Tromborg school without a bass player; Jostein played rhythm guitar, but with a bass-like sound. Some months later, bass player Odd Frydenlund (born '52) reinforced the group which now began to play local dance halls. Their ambition, however, was limited to pleasing the local crowds and improving technically. The group changed its name at this point into Cash Pink, named so by Jostein, alluding to a variety of potatoes, Kerrs Pink, grown in Norway. But deliberately, he spelt the name incorrectly, thus making it a satire of all the groups using the word 'pink' as part of their name (something that was very fashionable at that time, by the way).

Nevertheless, in the Autumn of '74, Jostein and Tommy were left alone to pursue their musical careers, Kjell-Arild was the first to leave due to a musical disagreement. In spite of this departure, Cash Pink thought it could play without an organist. Then, however, Kay-Gunnar and Odd left the group for other activities.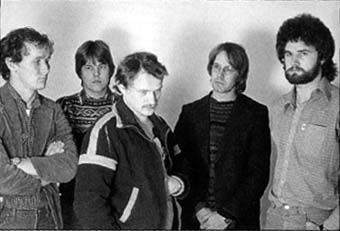 Despite these defections, Jostein and Tommy never gave up, and in February 1975, they reformed the group with Tore Johansen (born '57), joined a month later by his sister Torild (born '59) on guitar and vocals.

A new and promising guitarist/flutist, Harald Lytomt (born '58), reinforced the group, playing in unison and complementary harmonies with Tore and Torild, while Jostein switched from guitar to bass. If the musical direction and choice of repertoire were determined by the whole group, Jostein and Harald, with their energy and determination, pushed the band forward, stimulating it to move towards music dominated by the sound of guitars.

During this period, Cash Pink worked enthusiastically to compose a personal repertoire, mainly made of Harald's compositions, at the same time continuing to play cover versions of the Shadows, Blue and Wishbone Ash. The musical direction was consolidated by Jostein, Tore and Harald. Harald imposed his ideas and musical style, and a very inventive guitar sound. As a talented composer, his inspiration expressed itself through romantic themes and sophisticated melodies. The development of the themes was a common effort, starting with a melody, brought by one of the musicians, and then modified, improved and polished by the ideas of everybody. The arrangements were a result of collective work which sometimes gave birth spontaneously to certain titles.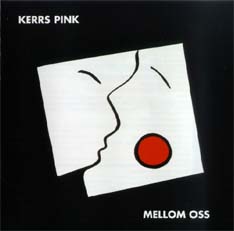 In March '76, Jostein left Cash Pink to perform his military duty, and, in order to replace him during this period, the group summoned bass player/singer Tom Lunde (born '57). Tommy was forced to leave Cash Pink in order to finish his studies in another town. Jonny Klemmetsrud (born '60) replaced him on drums. Now it was Tore's turn to leave, and Per Frydenlund (born '60), Odd's brother, replaced him, thus carrying on the experimentation of the formula of three guitarists, already tested out with Tore, elaborating on personal compositions built around the harmonies divided by two or three lead guitarists.

The first concert appearance of the new line-up took place on 27th April 1976 in the town Rakkestad close to their home base. The local press present at their concert gave their performance good reviews. The public especially appreciated their own compositions. These enthusiastic reactions strengthened Cash Pink's belief in their music. In May, the group mailed a tape recorded during a rehearsal to the National Swedish Radio. This cassette included the title "Hverdag"/"Workingday", a tune composed by Harald and lyrics - written by his elder brother Ole-Johan and sung by Torild. The tune was played in a programme called Bandet Gar, and for the first time their music was on the air. This inspired the group to develop its talents as composers.

In January '77, Jostein rejoined the group and filled the gap left by Torild, then Tore was also reintegrated into the group. Cash Pink decided with this changed line-up to stop playing local dance halls and concentrate instead solely on giving concerts, focusing mainly on band's original compositions. At this stage, they'd changed their name to Kerrs Pink, pronounced as before, but now spelt like the potato brand name. This name conveyed the association of being between the underground and folk styles, a reference to the roots being to the people's basic article of food and yet linked to the Norwegian folk tradition.

In the Spring of 1977, Tore left to do his military service and the group looked in vain for a keyboard player to enrich and modify its style. Finally, Tore was replaced in June by guitarist Per Kvaerner (born '54). The tradition of being a guitar group was once again strengthened.

However, in the beginning of 1978, Kerrs Pink was able to satisfy its desire for musical change when Halvard Haugerud (born '57) joined the group on keyboards and vocals. This outfit was enabled to blend its folk-orientated rock with more sophisticated and airy music, coloured by the veils and chords of Halvard's multiple keyboards. He asserted himself as a perfectionist and an inspired composer, creator of intimate and delicate themes. He also accentuated their symphonic inclination by using mellotron, organ and other keyboards.

In concert, in the large assembly halls, the group used slides and other light effects, even projecting a film made by Halvard showing a sunset which visually illustrated their music. In smaller halls, they abandoned the projectors for the effect of candlelight, more adapted to the intimacy of the venue.

The band was beginning to build a certain reputation, and this was reinforced when it organized an alternative free festival with local artists in Tromborg in 1977. It continued to run this festival for five successive years. This had great impact on local musical life. In 1978, the National Norwegian Radio broadcast parts of the festival, emphasizing the contributions from Kerrs Pink, thus giving it a certain national recognition. Later that year, former professional drummer Terje Solas (born '51) replaced Jonny. The new line-up played at Fredrikstad's festival on 28th January 1979, in front of an audience of 500 people.

During the Summer of 1979, Kerrs Pink decided that the time was ripe to record their music and settled for a self-produced single, not searching for a record company contract, thus attaining freedom and musical independence. At this time, the group founded its own label, giving it the name of Pottittskiver, meaning potato-slices, since "skiver" in Norwegian means both slices and records. The single was recorded on 9th July at Roxy Studio, Fredrikstad, by sound engineer and co-producer Svein Ronning, former member of the heavy rock group Host, the first one of its kind to sing in Norwegian. Svein generously gave them all technical guidance and helped them out with his own experience at this delicate stage of recording for the first time. The single, reference number POS01, includes two instrumental tracks: "Kong Edvardt", and "Feberlaten". On this record, the group presented some original music through blending Norwegian and Swedish folk music and symphonic rock.

An issue of 1000 copies of the single was released on 13th December '79 and was soon sold out, distributed directly by the group itself and by the intermediary independent record company Mai from Oslo. Curiously, only 40 copies of the record had a cover hand-designed (silk-screened) personally by Halvard - in 3 different versions!

With this single, Kerrs Pink tested the reaction of the public and got the much-needed feedback. The acceptance of the public encouraged them to continue their musical quest.

The personality of the group had became more established and sophisticated at this stage, and Kerrs Pink decided to record an album. However, Per Kvaerner and Per Frydenlund left the band and were replaced by multi-instrumentalist Trond Böhn (born '57) on keyboards and guitars, and Tore Johansen, who once again rejoined the group. Tore, a respected musician, much-sought by local groups, chose to leave and return intermittently as he was at those other groups' disposal.

The group recorded their first album, once again self-produced, between June and August '80 at Roxy Studio, under the supervision of the same sound engineer and co-producer. The album includes ten titles, of which "Velkomst", composed by Tore Johansen, gained some success in Norway, even entering the national Top 10 in June '81. On this album, Kerrs Pink were helped by singer Steinar Straumdal, and they utilised their range and musical palette to the fullest. Unlike on the single, the group featured few vocals. They chose to record the most recent titles and consequently the most homogeneous ones in their repertoire.

The photo on the cover represents the weak beams from a wintry sun penetrating the naked branches of trees, symbolizing the positive and reproductive forces, able of transcending man facing his depressing environment. This image refers to the music of Kerrs Pink, consisting of the same virtues and conveying the same force and vitality.
The album was officially released on 19th January '81 on the group's own label, with the catalogue number POT02, and was distributed by the group and Polygram in Norway. With only 1,000 copies having been pressed, the album received favourable reviews from the national press and some radio airplay.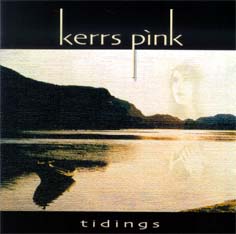 Discography:
1980 Kerrs Pink - CD reissue by Musea, FGBG4027.AR
1981 Mellom Oss - CD reissue by Musea, FGBG4069.AR
2002 Tidings - Musea, FGBG4451.AR
Taken from the CD reissue of "Kerrs Pink" - CD by Musea, FGBG4027.AR
---