Week of March 30, 2003
Madder Lake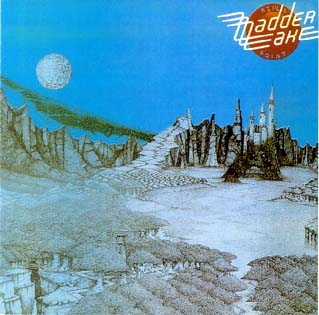 Personnel:
Mick Fettes - Vocals
Jack Kreemers - Drums
Brendon Mason - Guitar
Kerry Mckenna - Bass
John Mckinnon - Keyboards
Andy Cowan - Keyboards

Albums:
Stillpoint (Mushroom MRL 34915) 1973
Reissued on CD (Mushroom D 19529) 1991
Butterfly Farm (Mushroom L 35090) 1974
Reissued on CD (Mushroom D 19760) 1993
There was also a Best Of (Mushroom) 1978 compilation, later reissued on CD (Mushroom D 19226) 1991

45s:
Goodbye Lollipop/Bumper Bar Song (Mushroom MRK-4986) 1973
12-Lb Toothbrush/Country Blues (Mushroom K-5230) 1973
Butterfly Farm/Back Seat Song (Mushroom K-5453) 1974
Booze Blues/One Star And The Moon (Mushroom K-5516) 1974
It's All In Your Head/Slack Alice (Mushroom K-5732) 1974
---
A Melbourne band, was formed in 1971 and lasted until 1978. They played inventive progressive rock, which was full of great guitar work and complex arrangements, though weak vocally.

Their debut album, "Stillpoint", was adventurous and owed its unique sound to Mick Fettes' unique vocals, John McKinnon's sparse keyboards and the blues-tinged guitar playing of Brendon Mason. Highlights include the eight-minute moody opening cut, "Salmon Song", the funky "12-lb Toothbrush" and "Goodbye Lollipop", a neat balance of commercial pop and progressive rock. The two aforementioned tracks were also released as singles, though in the case of "12-lb Toothbrush", the six-minute album track, was re-recorded as a four-minute version.

As Ian McFarlane pointed out in 'Freedom Train', their second album, "Butterfly Farm", may well have been technically superior to their debut but lacked the band's infectious live dynamism. It was full of tightly-structured songs like the boogie-ish "Back Seat Song", the heavy progressive "One Star And The Moon" and "Ride On Fast" and the spacey "Mothership", and the musicianship was difficult to fault. It sold quite well but the two singles culled from it failed to chart. Even "It's All In Your Head", which was specifically tailored for radio audiences, missed out, and when their contract with Mushroom expired at the end of 1974, it wasn't renewed by mutual consent.

They commenced work on a new concept album based around Aldous Huxley's Brave New World with conductor David Meecham. Unfortunately for them, due to financial constraints and other commitments on Meecham's time, it ended up getting shelved. Still they soldiered on. Fettes left in 1975, issuing an album with his new band Bandicoot in 1976 on the Rainbird label.

Several of their songs have been featured on various compilations. You'll also find "12-lb Toothbrush" on "Mushroom Evolution Concert" and "Sunbury 1973", "Booze Blues" on "Great Aussie Rock", "Bumper Bar Song" and "Rodney's Birthday" on "Garrison Unit 1", "Down By The River" on "Sunbury 1973", "Goodbye Lollipop" on "20 Years Of Australian Rock" and "Mushroom Evolution Concert", which also includes "Song For Earnest", and, finally, "Lizards" on "Highlights Of Sunbury '74 Part 1".

They re-formed briefly in 1983.

(Vernon Joynson/Ian McFarlane)

Taken from "Dreams, Fantasies and Nightmares" by Vernon Joynson, an extensive guide to Canadian / Australian / New Zealand and Latin American psych and garage music 1963 - 1976.
---