Week of December 30, 2001
Rainbow Band/Midnight Sun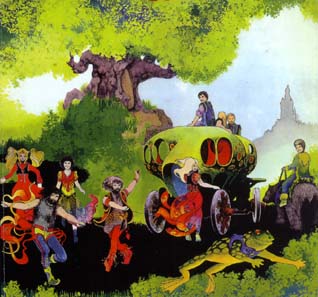 Line-up:
Lars Bisgaard - Vocals
Allan Mortensen - Vocals
Peer Frost - Guitars
Niels Brønsted - Piano
Bent Hesselmann - Sax, Flute
Bo Stief - Bass
Carsten Smedegaard - Drums
Frank Lauridsen - Vocals
Tom Heath - Bass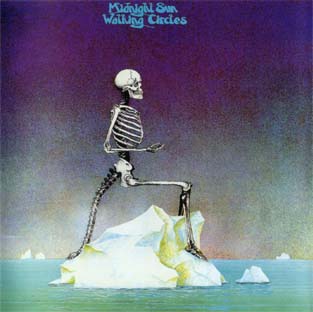 Denmark's Rainbow Band was formed in late 1969 as a supergroup consisting of Peer Frost (ex-Young Flowers), Lars Bisgaard (ex-Maxwells), Carsten Smedegaard (ex-Beefeaters), Bent Hesselmann and the former jazz players Niels Brønsted and Bo Stief (they had backed American jazz musicians at Copenhagen's Café Montmartre). The idea was to play jazz-influenced progressive rock in the style of Burnin' Red Ivanhoe and Traffic's second album. These influences were strongly evident on their 1970 album. It's a very good effort, still very indicative of the hippie era. The rhythm section still produced the powerful 60s beat, forcing Peer Frost to squeeze out some of his best guitar solos. Lars Bisgaard was replaced by Allan Mortensen (ex-Tears) at the end of 1970. A Canadian group was already using the name Rainbow Band, which forced the Danish group to change their name into Midnight Sun in July 1971. Surprisingly enough, they decided to remake their first album instead of moving on to new material.

The second version of the album is less powerful and stylistically creeping towards Blood, Sweat & Tears, mostly due to the vocals and supplementary electric piano. Only the second version of "Living On The Hill" was on par with the previous recording.

With another new vocalist, Frank Lauridsen, Midnight Sun made two more albums of jazzy progressive rock.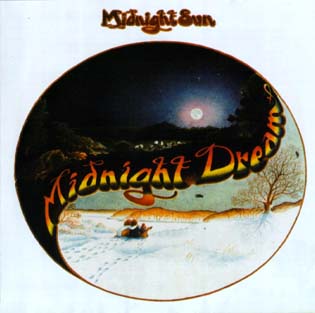 Albums:
Rainbow Band:
Rainbow Band, 1970 Sonet SLPS 1523
(Released in the UK as the first album by Midnight Sun(!) on MCA (MKPS 2019) in 1971)
Midnight Sun:
Midnight Sun, 1971 Sonet SLPS 1523
(CD - Black Rose Records, 1999, BR139)

Walking Circles, 1972 Sonet SLPS 1536

Midnight Dream, 1974 Sonet SLPS 1547

Dansk Beat (Compilation), 1975 Sonet SLP 2411

"Rainbow Band" and "Midnight Sun" reissued as a double album on Sonet (SLP 1619) in 1979
"Walking Circles" and "Midnight Dream" reissued on Sonet (SLP 1625) in 1980 and on CD - Green Tree Records, Germany, 2000, FR2009
Taken from Scented Gardens of the Mind - A guide to the Golden Era of Progressive Rock (1968-1980) in more than 20 European Countries, by Dag Erik Asbjørnsen, Borderline Productions, ISBN 1-899855-12-2
---