Week of July 17, 2005
Necromandus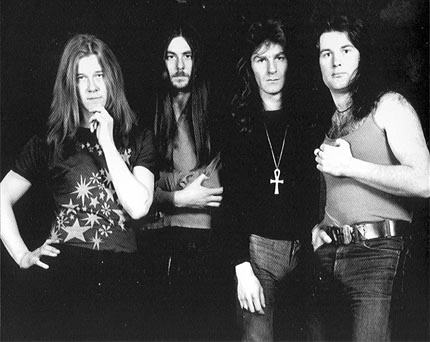 The early 70s downer rock outfit Necromandus are perhaps primarily remembered for two main reasons. The first of these is that the group, through their dynamic live performances early on, came to the attention of Black Sabbath's Tony Iommi, who would later see fit to offer them some much needed managerial guidance. Secondly, the band were to be handed a recording contract in early '73 for a proposed album and single deal scheduled for release on Phonogram's prestigious Vertigo label, and, as many of you will already know, neither record appeared.

Yet although everything seemed to be coming together nicely for Necromandus, as you will discover, with the best will in the world things don't always go according to plan and, in their case, optimism would give way to frustration and disillusionment, ambitions thwarted, hopes dashed.

However, several years before the gloom finally descended, reminiscent of the swirling mirk which surrounds the craggy peaks of their native Cumbria, four young and talented musicians had joined forces with sights set high, and rightly so, as each individual was on the fast track to becoming a highly accomplished musician in his own right.

Whilst still gigging under the name of Hot Spring Water, vocalist Bill Branch introduced the band as follows in a hand-written letter he sent from his home in Egremont to Birmingham-based promoter Norman Hood.

"The group is a four-piece unit comprising lead and bass guitars, drums and a vocalist doubling on mouth harp. We have been together for a period over two years and have in that time graduated from a band playing Negro blues such as that of John Lee Hooker and Sonny Boy Williamson, etc. to the present stage where we are now playing entirely original material.

The band was formed from the splitting up of two local bands in our area, and two members of the present line-up come from each of these. Barry Dunnery, the lead guitarist and myself (vocals), come from a band called Jug, a blues-orientated four-piece. Dennis, the bass player, and Frank, the drummer, come from a similar outfit, called Heaven.

We began composing our own material just a short while after our formation and have now composed thirty or more songs, probably about half of which we use on stage at the present time. The more recent compositions have a jazzier leaning than before, comprising some out of the ordinary time signatures and incorporating many tempo changes, etc. to give what we hope is a nice variation in material.

The personnel of the group is as follows: the lead guitarist is Barry Dunnery, who, in my opinion, his 20 years is of exceptional ability. He has been playing for some six years alongside myself in various different bands, and I have the opinion that he could eventually become nationally recognised as he is far superior to many people who already are. He plays a Rickenbacker 1998 three-pick-up and uses a Marshall stack of 100 watts. He composes all the group's material apart from the lyrics.

The bass guitarist is Dennis McCarten who is 22 years old and has been playing for some five years and plays some beautifully complementary bass guitar woven into Barry's lead guitar very thoughtfully. He plays a Rickenbacker two-pick-up bass guitar and also uses a 100-watt Marshall stack. An interesting point is the unusual sound of two Rickenbackers together - has a nice ding to it.

The drummer is Frank Hall and he plays a midnight blue kit of George Hayman. He is 22 years old and has a very strong, spectacular style and is very entertaining to watch as he is covered from head to foot in hair and looks like a mad gorilla when he plays!

The vocals are taken by myself, Bill Branch, and I, too, am 22 years old and tend to rasp rather than sing, although it suits what we do very well. I also write the lyrics to Barry's music.

We have spent most of our time together playing clubs and colleges, etc. in the North of England and, in the North-West particularly, have amassed a considerable following. We did spend a couple of fruitless and frustrating months in London, but it is very much a closed shop and work is very hard to come by."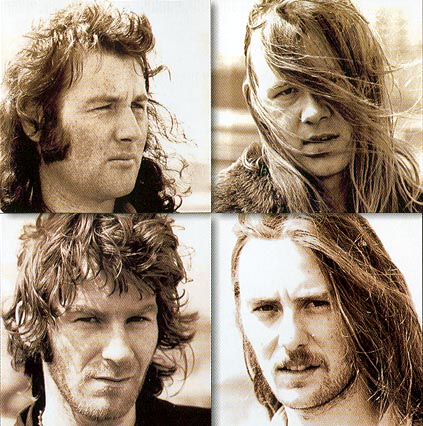 On the strength of Branch's introductory letter, the way was paved for a string of gigs in the West Midlands courtesy of Norman, who was in the process of setting up Tramp Entertainment, an agency promoting other small bands such as Bullion, Flying Hat Band, Orphan, Bulldozer and Judas Priest.

Within a matter of months, following a non-stop schedule of gigs at which they were going down a storm, it was deemed a good idea for them to actually move down to Birmingham, a much more central location and closer to the very people trying hard to raise their profile, including, of course, Tony Iommi.

Said Iommi of his Cumberland proteges, "We used to play up that way quite a lot and we played with Necromandus several times. We became friendly and when we set up the agency, it seemed an ideal way of helping them, so I became their manager. In many ways they are like Sabbath both musically and as far as their background goes. They write and play very technical material and always keep it heavy, even though some of their songs are soft rock. For me, managing Necromandus gave me the opportunity to see what life is like on the other side of the fence. Apart from anything else, it was a challenge to pick up an unknown band and try to get them off the ground. One good thing which has come out of the operation already is the agency, as after I took the band on we built the agency around them."

Being away from the band while he's on the road can have its drawbacks for Tony, but it also has its advantages. "Wherever we go on tour, I always make a point of personally meeting the promoter and the agent and trying to fix something up for the band. That way I can pick the right venues for them."

Towards late '72, when Dunnery, Branch, McCarten and Hall uprooted themselves from their native Lake District to hole-up in Brum, they were still going under the dubious moniker of Hot Spring Water, which was almost unanimously considered a name hardly appropriate for their solemn image, let alone their dark, heavy sound. A more heavy-duty, eye-catching name was urgently needed, and before Necromandus was suggested (surely one of the meanest names of all time), they were temporarily booked out as Taurus.

In fact, a suitable title always appeared to be something of an issue up to that point. With earlier suggestions including the likes of Urinal and Heavy Hand, it's little wonder that the search was getting to the desperation stage! The band did actually use the Heavy Hand suggestion for a short while, the name apparently derived from drummer Frank's somewhat 'heavy-handed' style!

So exactly how did the name Necromandus come about and what is its origin? Well, much controversy surrounds this. Norman Hood recalls: "There was a radio programme called Heavy Pressure on BBC Radio WM. It used to go out from Pebble Mill Studios on a Tuesday and it was hosted by Malcolm Jay. As I remember it, listeners (and it was a popular show) were told about the band, I think they were Taurus at that stage, and asked to write in with suggestions for a new name. Although Necromandus wasn't suggested, a few came in with things like Necromancer (and Necrophilia probably!) and somehow Necromandus evolved from that."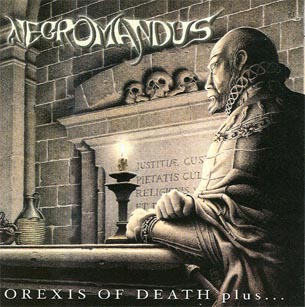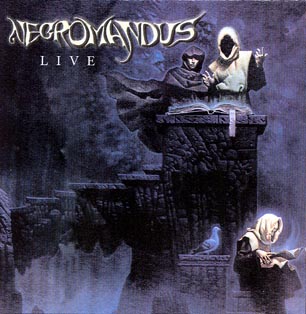 So the boys from the Lakes, oft-hailed 'A Second Sabbath', at last had a name with all the right connotations to match their sombre disposition. Mystical and foreboding, the name fitted what they were all about right down to the ground. Necromandus had arrived.

As 1972 wore on, and the band continued on the club circuit, a recording session was arranged at nearby Zella Studios in Edgbaston. Norman Hood was present, along with the boss of Zella, Johnny Haines, but Tony Iommi was in charge and took care of production duties. Only one song was laid down, the choppy, riff-laden "Judy Green Rocket", and a handful of seven-inch acetates were cut. Norman recounts: "My contribution was holding Frank's drum kit down when it threatened to walk across the studio floor, so I deserve a credit!"

The trip to Zella wasn't their first visit to a recording studio, according to Barry Dunnery. In an interview I held with the lead guitarist in 1998, the axe man stated that the band had actually recorded some tracks at London's Marquee Studios, but that the outcome was less than satisfactory. Several acetates were rumoured to have been cut, some even accompanied by mock sleeves, but sadly there is no evidence of anything having survived today. With things gathering pace, early '73 became a hectic period for the group, and in February, Necromandus were booked into London's Morgan Studios to lay down material for an album. Once again the sessions were overseen by Iommi, who produced the album and who also contributed some deft guitar work to what became the title track, 'Orexis Of Death'.

The sessions went well with everyone pleased with the results. Iommi was able to use his considerable influence to gain a deal for them with Vertigo, who by then had already released four LPs by Sabbath. Tony's doomy prog-rock fledglings Necromandus were lined up as the next exciting young act to grace the already highly acclaimed label.

Interestingly enough, as they resumed live work, one of their gigs took place at Wormwood Scrubs!

The following month, Necromandus were invited as set openers on a high-profile, prestigious UK tour by Black Sabbath. Also on the bill were Tony Kaye's Badger who, by all accounts, had more than a little difficulty following them. The tour began at Green's Playhouse in Glasgow on March 9th, and other notable venues included the Mayfair Ballroom in Birmingham and London's Rainbow Theatre. Reviews of Necromandus were largely favourable, with Melody Maker journalist Michael Oldfield saying they 'should go far', but rather curiously calling them 'a sort of Black Sabbath play Yes's greatest hits band!'

Meanwhile their album's release date was put back until late April, but they followed up their successful tour backing Sabbath with a solo tour of clubs and colleges throughout the land. Unbeknown to many of you, one of these gigs, at the Casino, Blackpool, was privately recorded on 30th March and thirty two years later, its release on CD has finally become possible.

By high summer '73, there was still no sign of the album, despite reports in the music press that it had been due to hit the racks as early as March. At this time, Sabbath were at their peak, and their workload - enormous, they were also spending an ever-increasing amount of time outside of Britain and had largely relocated to the States. With Tony Iommi unable to dedicate himself continually to all of the managerial commitments necessary to ensure that Necromandus's affairs ran smoothly, it was inevitable that something had to give. The impetus of promoting the LP was lost. But it didn't end there. Tony's massive obligations to Sabbath resulted in the agency closing down too.

With frustration obviously running high within the band, Necromandus carried on regardless, hopeful that things would right themselves soon.

The next major event for the group was back on home territory. They were invited to play at the Kendal Festival, which was to take place on August 26th at the County Showfield and would be headlined by The Groundhogs. The location was situated in a perfect setting surrounded on all sides by mist-enshrouded mountains (actually heat mist), and for once it didn't rain! The day began with the little-known outfit called Cosy Mole, and other acts included Hackensack, who managed to get most of the crowd up on their feet, Brewers Droop, England, Aqua Vibra, Greenslade and a special appearance by saxophonist/poet-extraordinaire, Lol Coxhill.

Necromandus had gone on early, and Melody Maker writer Irene Reed reported, "Necromandus, a local band, were dogged by poor acoustics and fuzzy mikes. They weren't playing under the best of conditions, but even when the singer managed to get his voice through the fuzz, he wasted his time. The words were, to say the least, paltry and insignificant." Funny how hardly any female critics approved of loud, heavy bands. Yet, an all-girl outfit, namely Bitch, who closed the event, were, according to Miss Reed, the best thing that happened the whole day, this despite them being a noisy hard-rock quintet!!

The only hassle of the day came with the Darlington chapter of Hell's Angels, who turned up, but it wasn't serious enough for the police to be called.

By September, there were still sporadic reports circulating about the forthcoming Necromandus album. However, Baz Dunnery was about to drop a bombshell to his band mates that would seal the group's fate forever. According to Frank Hall, Barry announced that he was leaving the band due to conflict over musical direction. Devastated by his untimely decision to quit, Bill, Dennis and Frank nevertheless wanted to carry on and offered to try and find a replacement. However, Tony Iommi, who was a great admirer of Dunnery's fretboard mastery, thought that without him the group were dead in the water, and he was right. Everything then just ground to a halt, the LP and single axed.

However, they certainly were not forgotten by all. In fact just a few years later, by a strange twist of fate, they were remembered by Ozzy Osbourne who was finding the constraints placed upon him in his role as Black Sabbath's front man increasingly restrictive. Seeking to find new avenues, he invited Barry and the rhythm section of Dennis and Frank, who had all been mates of his for years, down to his cottage in Staffordshire to enable him to play with some different musicians and experiment by rehearsing new material.

Naturally enough, it never got off the ground properly, and the sessions, some of which were apparently captured on a reel-to-reel tape machine, slowly deteriorated into a massive piss-up!

Baz Dunnery did go on to play on an album called, "No Cause For Alarm" in 1979 by Violinski, and this time it was released! In fact, it appeared on the Jet label, which was also the same label as Ozzy's first solo record, "Blizzard Of Ozz".

Now, sadly, two former members of Necromandus have since been taken from us. Brilliant vocalist Bill Branch passed away first, some years back, and he has now been joined by bassist Dennis McCarten, who died recently.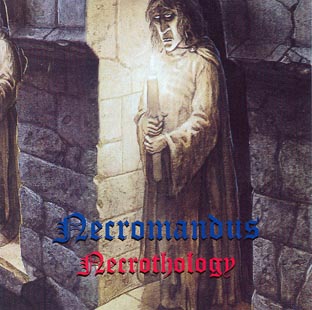 Fortunately, you can still hear much of what they left behind in a series of three CDs available via Audio Archives.
"Necrothology" (AACD 030) features extended and alternate versions of songs from the Morgan Studios sessions together with some otherwise unavailable tracks, a very rare live number from 1971 and a special tribute song which serves to illustrate just what an impact the band have made on various recent heavy rock bands.

"Orexis Of Death plus..." (AACD 051) is a newly re-mastered and repackaged edition of the studio album that now boasts two monstrously rare bonus tracks never previously available. Two versions of the doomy, riff-laden "Judy Green Rocket" now augment this abandoned Vertigo masterpiece.

Finally, we are proud to present "Live" (AACD 050), which offers you the chance to hear the full performance of the powerhouse set as it happened on March 30th, 1973 at the Casino, Blackpool.

Necromandus were most certainly a gifted young band made up of talented individuals, highly rated by Tony Iommi and Vertigo, who both signed them up. Through no fault of their own they failed to get any of their recorded work released in the early 70s, when it should first have been heard and when it really mattered.

The band, who possessed an acute awareness of their musical exploration used a unique combination of unlikely styles from technically challenging progressive jazz-rock to doom-laden power chords in order to forge their own mysterious sound and identity.

Now, three decades on, they surely deserve their place in the annals of British Rock. If only one could turn back the clock perhaps...

Pete Sarfas
March 2005
Taken from the CD reissue of "Orexis Of Death plus..." (AACD 051), Audio Archives 2005
---