Week of June 4, 2000
Nicky Hopkins "Tin Man Was A Dreamer"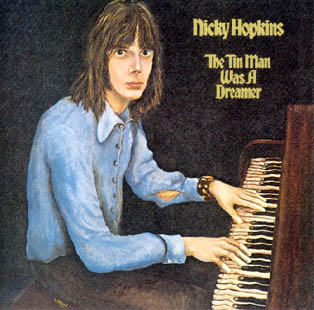 Albums:
Revolutionary Piano (CBS 62679) 1966
(reissued on Columbia (478502-2) 1995)

Tin Man Was A Dreamer (CBS 65416) 1973
(reissued on CD (Columbia 480969 2) 1995)

Nicky also recorded a US-only album, "No More Changes" (Mercury SRMI 1028) in 1975.
45s:
Mr. Big/Jenni (CBS 202055) 1966
Mister Pleasant/Nothing As Yet (Polydor BM 56175) 1967
(Credited to Nicky Hopkins And His Whistling Piano)
Top Pops No.1 (Medley: Cinderella Rockerfella, Lady Madonna, Congratulations/Part 2) (MGM MGM 1419) 1968
Speed On/Sundown In Mexico (CBS 1328) 1973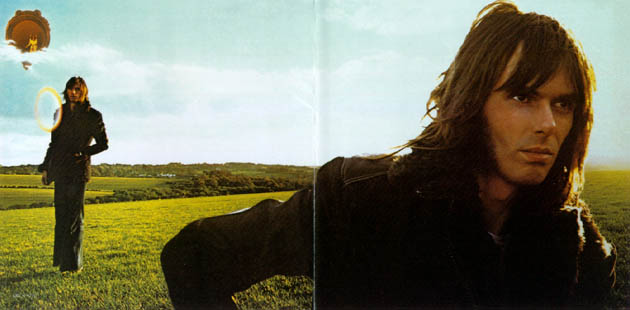 Hopkins was undoubtedly one of the most talented piano players to have graced British rock during this era. A South Londoner, he was born there on 24th February 1944, he was playing piano before he went to school. He later trained at the Royal Academy of Music. His first big band was Screaming Lord Sutch's Savages, then in late 1962 he progressed on to Cyril Davies All Stars - a pioneering R&B band. You can hear him on piano on their Country Line Special album.

His career was often hampered by bad health and his spell with Cyril Davies culminated in a period of hospitalisation partly as a result of exhaustion. When he recovered he resumed his career working as a session-man rather than as a full-time group member in the hope that this would prove less exhausting. Top sixties bands he recorded with included The Who (on their My Generation album), The Kinks, The Rolling Stones and The Easybeats. In 1968 he joined The Jeff Beck Group after working with them on their Truth album. When he left them in the Summer of 1969 he moved to California (he'd already guested on Jefferson Airplane's Volunteers album whilst with Beck), first sessioning with The Steve Miller Band on Your Saving Grace then joining Quicksilver Messenger Service (though he continued to do session work for The Rolling Stones among others. Indeed he turned down an offer to join them in 1969).

Earlier in 1966 he'd recorded his Revolutionary Piano album and a couple of singles. Highlights of the Revolutionary Piano album were cover versions of Yesterday, Goldfinger and Satisfaction as well as a rockin' rendition of Tchaikovsky's Piano Concerto No.1, on which he is assisted by The Mike Sammes Singers. The second, released in 1967, was produced by Shel Talmy and credited to Nicky Hopkins and His Whistling Piano. The 'A' side was a Ray Davies number and consisted of Hopkins on piano, a drummer and an anonymous whistler. He also collaborated on a one-off project called Aquarian Age. The High On A Hill 45 credited to him was actually by Nigel Hopkins.

In 1973 he not only put out his second solo album, on which he was assisted by George Harrison, Mick Taylor and Klaus Voormann. With the benefit of hindsight many now regard the album, which sold poorly, as a prototype power-pop album. He also recorded an album for CBS with several other musicians under the collective title, Sweet Thursday.

He continued to be a highly respected keyboardist whose individual achievements have in no way reflected his very considerable talent.

He recorded a third album, Long Journey Home, which remains unreleased. In 1974 he moved back to the UK from California, settling in Egham, Surrey. He died on 6 September 1994 after an operation for a stomach illness. At the time of his death he was working on his autobiography with Ray Coleman, which will hopefully appear in print soon.
Taken from The Tapestry of Delights - The Comprehensive Guide to British Music of the Beat, R&B, Psychedelic and Progressive Eras 1963-1976, Vernon Joynson ISBN 1 899855 04 1
---