Week of December 28, 2003
Nirvana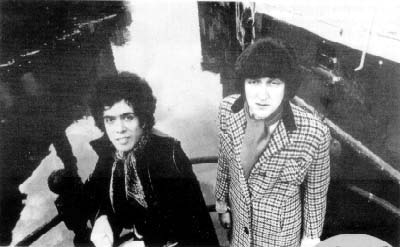 Personnel:
Patrick Campbell-Lyons
Alex Spyropoulos

Albums:
The Story Of Simon Simopath (Island ILPS 9059) 1967
reissued on CD (Edsel EDCD 465) 1995;
IMCD301/980 001-0 Universal Island, 2003

All Of Us (Island ILPS 9087) 1967
reissued on CD (Edsel EDCD 466) 1995;
IMCD302/980 001-1 Universal Island, 2003

Dedicated To Markos III (Pye NSPL 28132) 1970
reissued on CD with two additional tracks (Demon) 1993;
IMCD303/981 245-7 Universal Island, 2003
also issued in Brazil as a very limited promo edition (Continental/Metromedia MMLP 35007) 1970

Local Anaesthetic (Vertigo 6360 031) 1971
reissued on CD (Repertoire REP 4109-WP) 1991

Songs Of Love And Praise (Philips 6308 089) 1972
reissued on CD (Background HBG 123/9) 1995 with two previously unissued tracks: the blues-tinged "On The Road" and reggae-influenced "OK For Kay".

Chemistry – Box Set, Edsel, FBOOK24 (3CD)

Also of interest is "Black Flower" (Bam Caruso KIRI 061) 1987, a compilation of album cuts, singles and previously unreleased material. "Orange And Blue" (Edsel EDCD 485) 1996 contains marginally rockier and later material they recorded for Island, with a few more modern recordings thrown in. This is best avoided.

45s:
Tiny Goddess/I Believe In Magic (Island WIP 6016) 1967
Pentecost Hotel/Feelin' Shattered (Island WIP 6020) 1967
Rainbow Chaser/Flashbulb (Island WIP 6029) 1968
Girl In The Park/C Side In Ocho Rios (Island WIP 6038) 1968
All Of Us (The Untouchables)/Trapeze (Island WIP 6045) 1968
Wings Of Love/Requiem To John Coltrane (Island WIP 6052) 1968
Oh! What A Performance/Darling Darlene (Island WIP 6057) 1969
The World Is Cold Without You/Christopher Lucifer (Pye International 7N 25525) 1970
The Saddest Day Of My Life/(I Wanna Go) Home (Vertigo 6059 035) 1971
Pentecost Hotel/Lazy Day Drift (Philips 6006 127) 1971
Stadium/Please Believe Me (Philips 6006 166) 1971

Reissue:
Black Flower/(Flip by different artist) (Bam-Caruso OPRA 45) 1988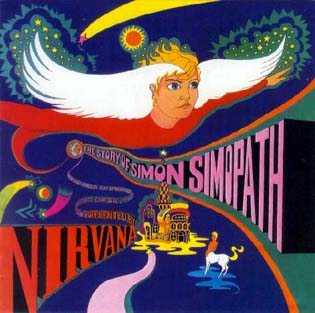 In view of the commercial appeal of much of this multi-instrumental duo's music, it is surprising they did not achieve greater recognition. Campbell-Lyons, who came from Ealing, had previously been in pre-July band Second Thoughts.

Their debut album, "The Story Of Simon Simopath", a science-fiction pantomime, was an early attempt at a rock concept album. It contained some finely constructed pop songs, including the harmonious "Pentecost Hotel" (later issued as a single), "We Can Help You" (issued as a single by the Alan Bown Set), the catchy "Satellite Jockey","Wings Of Love", which was later issued as their sixth single and a couple of more mellow songs: "Lonely Boy" and "Never Found A Love Like This Before".

The follow-up, "All Of Us", was an even more poignant collection of often dreamy pop songs. Two tracks, the sad but beautiful "Tiny Goddess", which was issued as the group's first single, and "Rainbow Chaser", one of the early examples of phasing which actually climbed to No. 34 in the Spring of 1968, were outstanding. This song was later included on "You Can All Join In", Island's 1969 sampler. Also of note were the heavily orchestrated "Melanie Blue","All Of Us", and "Girl In The Park".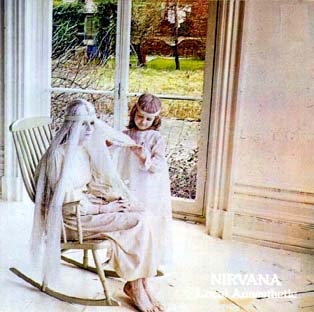 The group increasingly became a vehicle for Campbell-Lyon's musical journeys, with Spyropoulos eventually opting out and going into TV and film work after the "Dedicated To Markos III" album, which only sold a few hundred copies and is consequently their hardest one to track down. It was originally leased to the US label Metromedia, but the label went bust before it could be issued, so only 500 copies of the album appeared here in promo-only form. One track, "The World Is Cold Without You", was culled for 45 release but met with a similar fate. "Local Anaesthetic" contained just two tracks, "Modus Operandi" and "Home". The latter can also be heard on "Heads Together, First Round", a compilation which Campbell-Lyons compiled for Vertigo in 1971. "Songs Of Love And Praise" contained re-recordings of "Rainbow Chaser" and "Pentecost Hotel", along with some fine new material, notably "Please Believe Me","I Need Your Love Tonight" and "Stadium", which were all written by Campbell-Lyons. On this and all Nirvana albums, he was assisted by a flexible group of close friends. Campbell-Lyons later made a solo album, "Me And My Friend" (Sovereign) 1973, but this sold poorly and was quickly deleted.

"Dedicated To Markos III" was reissued on CD by Demon in 1993, and this release includes a re-recorded 1993 version of the second "Pentecost Hotel" single by Campbell-Lyons and Spyropoulos and one new song, "Shine".

They also had a couple of 45s released as Pica in 1970 and 1971.

In 1976, a Patrick Campbell-Lyons and Alex Spyropoulos had a further 45, "Two Of A Kind" (from the musical 'Secrets') (Bradley's BRAD 7602), which contained a grand ballad with choral backing in the style of early Nirvana.

In 1978, the pair reverted to the Nirvana name for another 45 called "Love Is" (Pepper Records/United Artists UP 36461), which has a very strong tune and 'psychedelic' production. The pair also used the Nirvana name in the eighties.

Other compilation appearances have included: "June" (prev. unreleased) on "Rubble, Vol. 14 - The Magic Rocking Horse" (LP), "Rubble, Vol. 8" (CD) and "The Best Of Rubble Collection, Vol. 4" (CD); "Excerpt From The Blind and The Beautiful" on "Illusions From The Crackling Void" (LP); "Satellite Jockey" on "It's Only A Passing Phase" (LP).
(Vernon Joynson / Vaughan Green / Chris Elliott)
Taken from The Tapestry of Delights - The Comprehensive Guide to British Music of the Beat, R&B, Psychedelic and Progressive Eras 1963-1976, Vernon Joynson
ISBN 1 899855 04 1
---