Week of February 27, 2000
Southern Comfort

Personnel:
Carl Barnwell - guitar, vocals
Ray Duffy - drums
Mark Griffiths - guitar
Gordon Huntley - pedal steel guitar
Andy Leigh - bass, vocals
Albums:
Frog City (Harvest SHSP 4012) 1971
Southern Comfort (Harvest SHSP 799) 1972
Stir Don't Shake (Harvest SHSP 4021) 1972

Distilled (Compilation) (Harvest SHSM 2009) 1976
NB: Also of interest is "Matthews Southern Comfort Meets Southern Comfort" (See For Miles SEE 85) 1987.
45s:
Willie Hurricane/Berkshire Berk (Harvest HAR 5035) 1971
I Sure Like Your Smile/Return To Frog City (Harvest HAR 5039) 1971


Morning Has Broken/Cosmic Jig (Harvest HAR 5047) 1971


Wedding Song/Stir Don't Shake (Harvest HAR 5054) 1972


I Sure Like Your Smile/April Lady (Harvest HAR 5115) 1976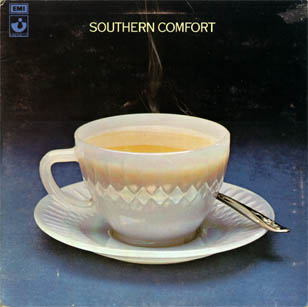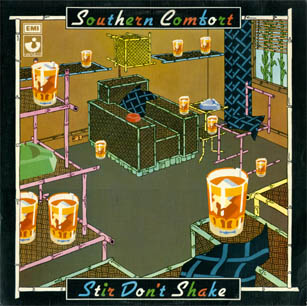 This was basically a later version of Matthews Southern Comfort after Ian Matthews had left to sign to Vertigo as a solo artist.
Southern Comfort's three albums and their 45s were all quite good but eventually the band split due to the lack of public interest.
Carl Barnwell went on to form his own group, Ray Duffy played with Gallagher and Lyle and the rest went into session work.
The "Meets Southern Comfort" compilation which features Matthews Southern Comfort on side one and Southern Comfort on side two sorely demonstrated how anonymous Southern Comfort sounded deprived of Ian Matthews' quavering vocal style.
You can also hear "River Woman", which captures their melodic guitar work at its best, on the "Harvest Bag" compilation.
Taken from The Tapestry of Delights - The Comprehensive Guide to British Music of the Beat, R&B, Psychedelic and Progressive Eras 1963-1976, Vernon Joynson
ISBN 1 899855 04 1
---
I'm in major disagreement with the above assessment by the honourable author of "Tapestry" In my humble opinion, the three albums released by the band during its lamentably short lifespan in the early 70s have more than amply demonstrated that Southern Comfort could easily hold their own, despite the recent departure of the group's acclaimed mainstay and mastermind, Ian Matthews. I would describe their post-Ian style as simple, laid-back, yet extremely enjoyable country-rock, in the best 'traditions' of such contemporaries as Cochise, Coast Road Drive and pre-Sutherlands' Quiver. No longer relying heavily on folk influences - invariably, Ian's constant trademarks - the band produced three now sadly forgotten gems.
Alex Gitlin
2000
---