Week of May 16, 1999
Slik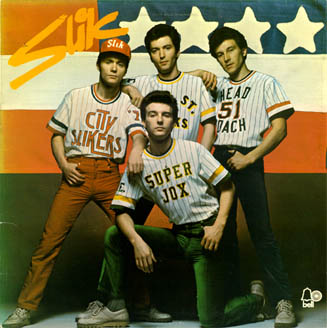 In the 1970s, the London based music business was used to new groups popping up each week, clamouring for attention. But Slik seemed to come out of nowhere, practically overnight. The origins of the famed teenybop quartet lay in a group called Salvation, formed in Glasgow in 1970 by two brothers, Kevin and Jim McGinlay. Their simple intention had been to create a hard-edged guitar rock band very much in the style of Ten Years After. But the harsh commercial world wanted pop hits, and by 1972, the brothers had decided to drop the other members of Salvation and form a more viable version of the band, to include James Ure (born October 10, 1953, Cambuslang, Lanarkshire), of course better known as Midge Ure, later hero of Ultravox and Band Aid. But all that lay in the future. In the meantime, Midge was accompanied by further addition, drummer Kenny Hyslop (born Kenneth John Hyslop, February 14, 1951, Braeholm, Helensburgh). Together with Billy McIsaac on keyboards (born William McIsaac, July 12, 1949, Rothesay), the new Salvation did quite well, and in November 1973 they supported glam rock sensations, The Sweet, at the Glasgow Apollo.
But by April 1974, Kevin McGinlay decided to leave. A few months later, in November, 1974, Salvation changed their name to Slik and their management involved them with the expert songwriters who would transform their career. In January, 1975, as Bill Martin and Phil Coulter came on the scene, the group released its first single, 'Boogiest Band In Town', a lively ditty written by Bill and Phil. 'Boogiest Band In Town' was actually used in a teenage pop movie called 'Never Too Young To Rock' (starring The Glitter Band, Rubettes and Mud) in which the band also had a cameo role. By now the band were signed to Bell Records, which, in the early seventies, had David Cassidy among their clients and their British artists included the hugely successful Bay City Rollers, Gary Glitter, The Glitter Band and Mungo Jerry. Bell later evolved into the Arista label under Clive Davis. Slik were among the last of the Bell boys to prosper.
Their second single, 'Forever And Ever', shot to the top of the British charts in February, 1976. At last it seemed as the Scottish band's prayers were answered. This important song by Martin and Coulter now takes pride of place in our Slik collection. Dressed in their distinctive baseball shirts, Slik could be seen smiling triumphantly from the pages of every young girl's pop magazine. The word was out.
Eagerly anticipating a long and prolific career, the band hastily put out a follow-up record. 'Requiem', their third single release, was another Martin and Coulter song which did quite well and got to Number 24 in the UK charts in May, 1976. Then it all went pear-shaped. Bell became Arista and the next single, 'The Kid's A Punk', was not a hit. The song was doubtless intended as a response to the impact of the Sex Pistols on the scene, but fans were clearly unimpressed. Suddenly, in the midst of much spitting, swearing and the new fashion for ripped T-shirts and safety pins, well-groomed pop combos like Slik became decidedly passe. Nevertheless, the band soldiered on. They continued recording well into the following year, producing such optimistically titled items as 'It's Only A Matter Of Time'. As well as their output of singles, we have included five tracks from the band's sole album, 'Slik' (1976), which give a good idea of the band's work and progress during what must have been a frustrating time.
The band struggled on for a while, but as Slik became defunct, the various memders went off to work on different projects. Midge Ure and Kenny Hyslop put out a single of their own called 'Put You In The Picture' under the name PVC2. Hyslop later played drums for Simple Minds, replacing Brian McGee. Midge Ure went on to play in Visage and then joined Billy Currie in Ultravox, fronting the band who created one of the first great video hits, 'Vienna' (1980). However, whenever his past experiences and Slik were mentioned, he seemed pleased and proud of his early days.
Chris Welch, London, England, 1999
Taken from the CD compilation, "The Best of Slik" - Repertoire, 1999, REP-4721-WG
---