Week of December 10, 2000
Third World War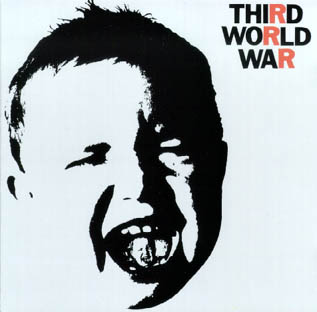 If any one terror haunted the generation growing up in the years after 1945, it was the threat of a Third World War. It was discussed in books and articles for years, and only the age of Glasnost and the end of the Cold War seemed to signal a new age of peace. However, the very phrase was locked into the consciousness, bringing in its wake the threat of nuclear annihilation. This is probably why it seemed such an attractive title for an army of musical foot soldiers who seemed bent on annihilating their listeners with the most powerful weapon of mass destruction known to science, heavy metal rock! Third World War perhaps didn't realise that their choice of a name would put off many people who dreaded a life hiding in a nuclear fallout shelter. Maybe the band thought it was all clean fun, and that the public would come flocking to their siren call.

However, in the early seventies, hippie values of peace and love still held sway. Those of us still clinging to our joss sticks, beads and bells were more interested in self-sufficiency and living a peaceful life in the country growing cabbages and listening to Donovan EPs. The aim was to avoid the horrors of war at all costs. But there was an alternative movement among the young, who were eager on tougher musical fare. They wanted their rock loud, brutal and violent. Third World War was ready to give it to them, with all the explosive force of a hand grenade tossed into a pillbox.

The band's line-up featured Terry Stamp (guitar and vocals), Jim Avery (bass) and Fred Smith (drums). Hailed by critics as fantastic, loud, exciting and full of power", they are fondly remembered as pioneers of British heavy metal. With Terry Stamp's guitar work well to the fore, they tore into such songs as "Ascension Day", "M.I.5's Alive", and "Working Class Man".

Their song titles all have an uncompromising ring, like "Get Out Of Bed You Dirty Red" and "Preaching Violence", all of which were featured on their eponymous debut album, released on the Fly label in 1971. "Ascension Day" was released as a single, which they followed up with another single cut, "Little Bit of Urban Rock".

The band gigged quite heavily on the circuit and built up a reasonable following, which encouraged them to record one more album. "Third World War 2" was released on Fly in 1972, with Craig Collinge on drums. Many felt the band should have enjoyed greater success and recognition. However, they bowed to the pressure and the band split in 1973. Nothing daunted, Terry Stamp went off to release a solo album, "Fat Sticks" released on A&M in 1976. The war was over - it was time to "give peace a chance".

Chris Welch, London, 1995
Taken from the CD reissue of Third World War 2", Repertoire, REP 4566-WP - 1995.
---

Personnel:
Tony Ashton - Keyboards
Jim Avery - Bass
Bobby Keys - Sax
Mick Lieber - Guitar
Peter Martin - Guitar
Jim Price - Horns
Fred Smith - Drums
Terry Stamp - Guitar, Vocals
Craig Collinge - Drums
John Hawken - Piano
John Knightsbridge - Guitar
Albums:
Third World War (Fly HIFLY 4) 1971 SC
Third World War II (Track 2406 108) 1972 R1
Both reissued on CD (Repertoire REP 4560-WP and REP 4566-WP respectively) 1995
45s:
Ascension Day/Teddy Teeth Goes Sailing (PS) (Fly BUG 7) 1971
A Little Bit Of Urban Rock/Working Class Man (Fly BUG 11) 1971

This political underground band played at the Oz Police Ball benefit for the Oz obscenity trial with Arthur Brown, Viv Stanshall, Pink Fairies, Egg, Roy Harper and Gnidrolog, but this group was different. They were singing about the rebels, the poor and uneducated people: the working class, the semi-skilled labourers, the yobos and the Hell's Angels. They were able to write excellent, sensitive melodies but in general their music and lyrics were ugly and real - like life itself. No punk band seven years later would have dared sing lyrics like:

"Let's free the working class
We're tired of licking the government's arse
We're tired of kissing the Monarch's arse
Letting its bad air out"
(from "M.I.5's Alive")

or

"Get your arse down to Hammersmith town
Join the urban guerrillas
Take up arms against the crown
...Don't talk about the wrong and right
Get out and fight"
(from "Hammersmith Guerrilla")

Although their first album is essentially raw punk, on tracks like "Ascension Day", "M.I.5's Alive", "Working Class Man", "Shepherds Bush Cowboy" and "Preaching Violence", it does contain two purely acoustic tracks - "Teddy Teeth Goes Sailing" and "Get Out Of Bed You Dirty Red". "Stardom Road Part 2" predates the eighties psychobilly bands! Hearing Terry Stamp's harsh voice singing:

"Power to the people
Power to the poor
Power to the workers
Power to us all
And don't you know I feel proud
Just to shake your hand
Don't you know I feel proud
Just to make a stand when the old man dies
On Ascension Day when we rise"
(from "Ascension Day")

is certainly an exciting experience.

Their second album is better musically, though the ingredients are similar. There's some good heavy rock'n'roll with fine guitar leads ("Yobo", "Urban Rock", "Rat Crawl"). The bluesy "Coshing Old Lady Blues" deals with Hell's Angels lifestyle, though not in the romantic Roy Harper way. The mellow "Factory Canteen Mews" with its fine guitar leads is a masterpiece and "I'd Rather Cut Cane For Castro" and "Hammersmith Guerrilla" are very good heavy rock (not rock'n'roll) numbers.

These two albums hold an exceptional place in early seventies rock.

Costas Arvantis
Taken from The Tapestry of Delights - The Comprehensive Guide to British Music of the Beat, R&B, Psychedelic and Progressive Eras 1963-1976, Vernon Joynson
ISBN 1 899855 04 1
---