Week of July 6, 2008
Fire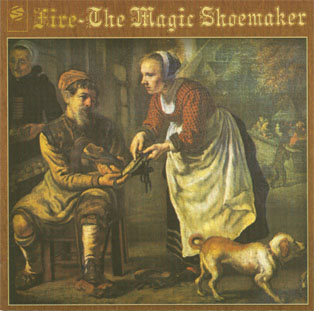 Personnel incl.:
David Lambert - Vocals, Guitar, Keyboards
Dick Dufall - Bass, Vocals
Bob Voice - Drums, Vocals

Albums:
The Magic Shoemaker (Pye NSPL 18343) 1970
Reissue: Limited reissue by PLM records, Germany
Reissue: See For Miles SEE 294 LP/CD, 1990
Reissue: Castle/Sanctuary CMRCD 620, 2002
Underground And Overhead: The Alternate Fire (Tenth Planet TP 029) 1997
Limited edition retrospective including alternate versions, demos etc.
Reissue: Wooden Hill WHCD010

45s:
Father's Name Is Dad/Treacle Toffee World (Decca F 12753) 1968
Round The Gum Tree/Toothie Ruthie (Decca F 12856) 1968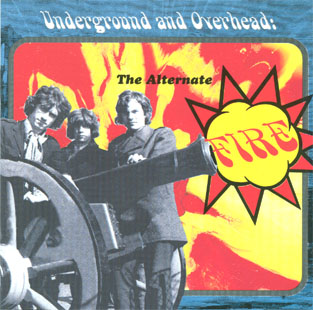 Formed in Hounslow, Middlesex, in 1966, and originally known as Friday's Chyld, their first 45 was a fine slice of pop psychedelia complete with frantic chord changes and a catchy tune on the A-side, whilst the B-side was almost as good. Their second 45 lacked the sparkle of the first, however, and is consequently far less sought-after and expensive to obtain.

Prior to recording their first 45, they cut some demos in early '67 at R.G. Jones' Morden studio, and auditioned for Decca with demo versions of "Father's Name Is Dad" and "Treacle Toffee World". Suitably smitten, Decca offered them a deal, and on the strength of the recordings, they were also signed by Apple Publishing.

Their first 45 was released in March '68, many months after it had been recorded, and two versions exist - after Paul McCartney heard it on the radio, he arranged for the band to re-cut the A-side with backing vocals and doubled guitar riffs an octave higher... It didn't make much difference, however, although both versions have now been preserved on the "Underground And Overhead" album. Following this failure, the band recorded a number of demo tracks, many of which are again featured on the "Underground..." retrospective, before being forced into recording the second 45.

Rather inexplicably, both sides of the "Round The Gum Tree" single were written by Mike Berry, head of Apple Publishing, after he had rejected all of The Fire's demos as 'unsuitable'. The band refused to play on the disc, and The Fire's contribution to the 45 is limited to Lambert's vocal on the A-side.

With their relationship with Decca and Apple Publishing damaged, the band set about demoing tracks for what would become "The Magic Shoemaker" - a concept album that revolved around a cobbler and a pair of magic shoes.

In January 1970, they started work on the album with the aid of Strawbs frontman Dave Cousins and Velvet Opera guitarist Paul Brett. It was composed and narrated by David Lambert who was very much the brains behind the group. The album's finer moments include the opening cut, "Children Of Imagination"; the R&B-tinged "I Can See The Sky" and the experimental passage between "Reason For Everything" and "Only A Dream". However, buy one of the reissues, as it's not good enough to justify the ridiculous price originals now command.

Even better is the retrospective "Underground And Overhead" album which contains both alternative versions of "Father's Name Is Dad", the B-side, plus many excellent demo tracks. As always with Tenth Planet releases, there are excellent sleeve notes as well.

After the band's demise in 1970, Voice and Dufall joined Paul Brett's Sage and Dave Lambert later joined The Strawbs in 1972 and recorded a solo album, "Framed" (Polydor) in 1979.

Compilation coverage has included: "Father's Name Is Dad" on "The Freakbeat Scene" (CD), "The British Psychedelic Trip" (LP), "Broken Dreams, Vol. 1" (LP), "Chocolate Soup For Diabetics, Vol. 1" (LP), "Chocolate Soup" (CD), "Rubble Vol. 5: The Electric Crayon Set" (LP) and "Rubble Vol. 3" (CD); "Treacle Toffee World" on "Rubble Vol. 11: Adventures In The Mist" (LP) and "Rubble Vol. 6" (CD); "Man In The Teapot" on "Psychedelia, Vol. 3" (LP) and "Hen's Teeth, Vol. 3" (CD).

Dave Lambert now divides his time between teaching music at his home studio and working as a ski instructor in Austria.
Taken from The Tapestry of Delights - The Comprehensive Guide to British Music of the Beat, R&B, Psychedelic and Progressive Eras 1963-1976, Vernon Joynson ISBN 1 899855 04 1
---