Week of September 30, 2007
Goma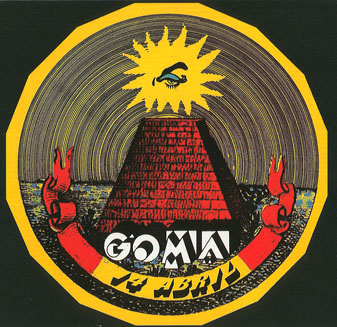 Personnel:
Alberto Toribio - keyboards, vocals
Manuel Rodriguez - guitars, vocals
Pepe Sanchez - alto & tenor sax
Pepe Lagares - bass, vocals
Antonio S.Rodriguez - drums, vocals

Albums:
14 De Abril, 1975 Movieplay
CD: DRO East West S.A., 5046703342, 2003
Goma 2, 1979 Movieplay

Their first album displayed some influences from British bands such as King Crimson, Pink Floyd and Yes, but added a passionate sax player and characteristically Spanish acoustic guitar and folk tunes. The four tracks twist and bend in unforeseen directions, ranging from a quiet section played by a solo instrument to complex ensemble parts with honking sax, electric guitar treated with various effects, sweeping organ and even some vocals (English on one track). This is an intriguing and quirky album. However, the follow-up, "Goma 2", released four years later, had a far more ordinary heavy rock sound.
Taken from Scented Gardens of the Mind - A guide to the Golden Era of Progressive Rock (1968-1980) in more than 20 European Countries, by Dag Erik Asbjørnsen, Borderline Productions, ISBN 1-899855-12-2
---