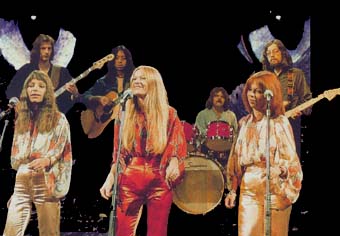 Tonny Willee (v), Betty Dragstra (v, g) and Marianne Hensen (v, b) started the band around 1965, led by their guitar teacher Werner Theunissen, performing as Sweet Reaction. From 1975, the three Limburg singers performed under the name Pussycat, accompanied by Loulou Willee (g), Theo Wetzels (b), John Theunissen (g), Henk Hochstenbach (ex-Sharon, to Gold Wings), Hans Lutjens ('til 1973), Theo Coumans (from 1973) and again Hans Lutjens. Their first hits were written by Werner Theunissen. In 1981, the group was reduced to the three ladies + Loulou Willee (g).
1975	Mississippi/Do it EMI 5C 006-25312
1976	Georgie/Take me EMI 5C 006-25361
	Smile/What did they do to the people EMI 5C 006-25520
	Ein altes Lied/Pasadena EMI 5C 006-25537
	LP First of all EMI 5C 064-25419
1977	My broken souvenirs/Nothing to hide EMI 5C 006-25449
	Abschiedssouvenir/Nur dir geh÷ren EMI 5C 006-25671
	I'll be your woman/Just a woman EMI 5C 006-25676
	If you ever come to Amsterdam/You must have been a beautiful baby
	EMI 5C 006-25771
	LP Souvenirs EMI 5C 064-25565
1978	The same old song/Stupid Cupid EMI 5C 006-25876
	Wet day in September/I remember springtime EMI 5C 006-25956
	Hey Joey/Love in September EMI 5C 006-26127
	LP Wet day in September EMI 5C 062-25989
1979	Daddy/Three steps and then EMI 5C 006-26316
	Let freedom range/Don't love him EMI 5C 006-26392
	LP The best EMI 5C 054-26201
	LP Simply to be with you EMI 5C 062-26364
1980	Doin' la bamba/On the corner of my life EMI 5C 006-26518
	Doin' la bamba/On the corner of my life [12"] EMI 5C 052-26518
	LP Pussycat (Mississippi) Music For Pleasure 1A 022-58023
1981	Then the music stopped/Cha cha me baby EMI 5C 006-26648
	Une chambre pour la nuit/ EMI 5C 006-26679
	Teenage queenie/Une chambre pour la nuit EMI 5C 006-26692
	Teenage queenie/ EMI 5C 006-26741
	Blue lights in your eyes/I don't wanna rock & roll [Engeland] EMI 5208
	LP Blue lights EMI 5C 062-26656
	LP Gouden successen van BZN, Cats, George Baker Selection en Pussycat
	MFP 1A 022-58169
1976	Daddy/Tell again Killroy KR 2181
1978	Daddy/It's long ago Ariola AT 11371
Maastricht trio, consisting of Harry Heltzel (v, g), Peter Beckers (b, v, to Opus) and Jo Robers (v, dr, replaced in 1968 by Henk Hochstenbach, later drummer in Pussycat). The group existed from 1966 to 1969. Was later expanded to include Erwin Musper (v, g, p, later in Windmill).
1966	All I've got to do/All of the time Telstar TS 1225
	Handle with care/I can't leave Decca AT 10230
1967	It's a wonder/Weekend in the wood Decca AT 10278
1968	Turn on the colored lights/That's my world Decca AT 10331
	I can't believe/Mother buy me a gun Decca AT 10347
The members of the Gold Wings dance orchestra from Sittard and Geleen were: Ron Goulding (v, g, ex-Highlight), Ingrid Goulding (v), Lonnie Cox (v), Harry Hovens (v, o, ex-Eepee Band, Circle and Roly Poly), Gus van Haze (b) and Henk Hochstenbach (dr, ex-Pussycat and Game). The group was founded in 1978 disbanded in 1980.
1978	Where the sun always shines/Lydia Killroy KR 2679
	Blanket by the riverside/Everybody join hands Killroy KR 2731

1982	We'll put the world together again/ EMI 5C 006-26784
This Limburg group was formed in 1971 by members of Opus. They were recording their own music as well as doing session work (as a backing band for Armand). In 1977 they changed their style and their name to Partner. The line-up was: Pierre Beckers (b, v, Sharon and ex-Opus), Jo Robers (dr, v, ex-Opus, in 1974 replaced by Ab van Goor), Bert Bessems (v, g) and Erwin Musper (v, k, ex-Sharon).
1973	For you to remember/Back to the Mississippi Killroy KR 1873
1974	Angeline/There's only you Killroy KR 1920
	Rainy days/Lelia Killroy KR 2041
Formed in 1977 by members of Windmill, a group active since 1971 (which was created as a merger between Sharon and Opus). The line-up was: Pierre Beckers (b, v), Bert Bessems (v, g), Ab van Goor (v, dr) and Erwin Musper (v, keyb).
1977	Kayuta hill/City lights Philips 6012761
1978	A part of my life/ Philips 6012822
	Home again [recorded live at Pinkpop '78, distributed as a free single] 
	/ [Southern Harvest Band] Pinkpop's Happy New Year Marlstone MR 87,911 
	LP A mansize job requires a mansize meal Philips 6410755
1979	Pictures/Won't you let me try again Philips 6012862
	Throw it all away/A song may tell Philips 6012903
	Running around/I'll be waiting for you Philips 6012939
	LP On second thoughts Philips 6423141
1980	Your smile/Quitting the fools' parade Philips 6017028
	LP The sky is the limit Philips 6423400
1981	Get it right/Sky is the limit Philips 6017143
EDDY HILL
Eddy Hilberts from Laren, producer of, amongst others, Neerlands Hoop and Pussycat. It is apparent from his records that he admired Cliff Richard.
1973 Nothing really changes/Woo oh Negram NG 356
1974 Every nickle/Dry your tears [als Hillbird] Negram NG 442
1980 One more kiss for my baby/I'll put my arms around you EMI 5C 006-26443
Created in 1975, this Limburg group had a similar sound to Pussycat and Teach-In. Singer Gaby Denneman went solo in 1979 and was succeeded by Jutta Eichorn.
1977	California/Growing circles EMI 5C 006-82364
	Hello how are you/Rainmaker EMI 5C 006-82409
	LP EMI 064-82421
1978	One, one and one/Traffic jam EMI 006-77006
	Round in circles/Weekend in the woods EMI 006-77023
Limburg group consisting of Wim Kleinen (g, fl, to Circle), Harry Hovens (o, to Circle and Gold Wings and replaced by Theo Breuls), Piet Oldies (tr) Fred Askamp (g, b), Jos Hahn (dr) and January 1973 Grela (v, g, to Rainbow).
1972	Hou toch op/Wakkedie wakkedoe Park BP 1043
1973	LP E.P. Band Killroy KT 7683
1974	Say what you have to say/No no I don't wanna go home Killroy KR 1946
Group from Maastricht, founded in 1973. Line-up: January Grela (v, g, ex-Eepee Band, to Chaplin Band), Peter Groenendaal (v, b, s, harp, ex-Fresh Garbage, to Circle), Jan Dutz (dr, ex-Fresh Garbage), Fred Muys (keyb, tr, v). Later joined by Leon Haines (ex-Band Bartel, solo from 1977) and Floor Minnaart (keyb, Blow Job, to Walkers). Among other things, the group was known for their jury role on the NCRV talent show.
1974	Morning light/Without you Killroy KR 1964
1976	Blue angel/I'm gonna make it Killroy KR 2210
1979	Van Eijsde to de Mookerhei/Es 't Limburg vastelaovend is Killroy KR 2433
Dutch rock group from Limburg, founded in 1973 by future members of Rainbow, Peter Groenendaal (b, v, s, harp) and Fred Muys (o, p, v, tr). Rene was also with Innemee (v, g, ex-Blitz, Whom, to Walkers).
1972	Milly/De put van Vrouw Holle Killroy KR 1763
Dutch chart information:
HIGHLIGHT
4-6-77 SINGLE 10 9 CALIFORNIA
22-4-78 SINGLE 20 7 ONE ONE AND ONE
2-9-78 SINGLE 33 3 ROUND IN CIRCLES

PARTNER
28-1-78 SINGLE 23 5 KAJUTA HILL
27-5-78 ALBUM 21 8 A MAN SIZE JOB REQUIRES A MAN SIZE MEAL
27-1-79 SINGLE tip PICTURES
5-5-79 SINGLE tip THROW IT ALL AWAY
8-12-79 ALBUM 36 4 ON SECOND THOUGHTS [Album v/d week op 24-11-79]

WINDMILL
25-8-73 SINGLE tip FOR YOU TO REMEMBER

TONY WILL╔
13-9-86 SINGLE tip OUT OF REACH

PUSSYCAT
29-11-75 SINGLE 1 13 MISSISSIPPI
21-2-76 SINGLE 4 10 GEORGIE
24-4-76 ALBUM 3 44 FIRST OF ALL [Album v/d week op 17-4-76]
28-8-76 SINGLE 2 12 SMILE
2-4-77 SINGLE 1 10 MY BROKEN SOUVENIRS [Alarmschijf op 26-3-77]
14-5-77 ALBUM 6 13 SOUVENIRS [Album v/d week op 7-5-77]
27-8-77 SINGLE 11 7 I'LL BE YOUR WOMAN
10-12-77 SINGLE 20 7 IF YOU EVER COME TO AMSTERDAM
18-3-78 SINGLE 10 9 SAME OLD SONG
29-7-78 SINGLE 7 9 WET DAY IN SEPTEMBER
16-9-78 ALBUM 25 8 WET DAY IN SEPTEMBER
13-1-79 SINGLE 21 5 HEY JOE
1-9-79 SINGLE 14 8 DADDY
27-10-79 ALBUM 38 5 SIMPLY TO BE WITH YOU [Album v/d week op 13-10-79]
24-11-79 SINGLE tip LET FREEDOM RANGE
19-7-80 SINGLE 6 9 DOIN' LA BAMBA
18-4-81 SINGLE 11 9 THEN THE MUSIC STOPPED
13-6-81 ALBUM 12 13 BLUE LIGHTS
1-8-81 SINGLE 25 5 UNE CHAMBRE POUR LA NUIT
21-11-81 SINGLE 36 3 TEENAGE QUEENIE
12-2-83 SINGLE 15 8 LOVERS OF A KIND
5-3-83 ALBUM 30 5 AFTER ALL
14-5-83 SINGLE tip CHICANO
4-8-84 SINGLE tip LIGHT OF A GIPSY
29-10-94 ALBUM 49 7 THE COLLECTION AND MORE
Submitted by: Adri Verhoef (a3@a3.xs4all.nl-removespam)
---
The name of Pussycat will always be connected to Toni Wille. The group from Limburg was build around the Kowalczyk-sisters, daughters of a Polish miner who migrated to the Netherlands, and had successes between 1975 and 1984, with their debut, Mississippi, as the biggest hit single. Of that song, there are about 7 million copies sold worldwide. In 1975, it didn't only became a #1 in the Netherlands, but everywhere in Europe, Australia, New Zealand and Africa it reached the same position on the charts. In South America it even was charted for 129 weeks, and in the as chauvinistic known country of Great Britain it was a #1 single.
In 1994, Toni Wille can very well remember the commotion around their debut: 'The success overwhelmed us. We were more or less knocked out by it, because we never dreamed that the debut was such a strong one. As a matter of fact, we weren't ready for it. Pussycat was a kind of a hobby for us then. For instance, I was still working then.'
The beginning was fairly innocent. The three Kowalczyk sisters Toni, Betty and Marianne began their career when they formed the "Zingende Zusjes" (Singing Sisters). Their German songs were welcomed into a willing audience, which led to a bigger area to perform. When the beat-era came, they changed their music. A female drummer came, and changed their name into "The BG's (Beat Girls) from Holland", one of the first female groups in the Netherlands. Toni even recorded her first solo single as "Sally Lane" with "Let me live my life" as the title. The first single as a group was recorded in 1973, "Tell Alain" was the song of the "Sweet Reaction". It was on the "Telstar" label owned by Johnny Hoes. It didn't sell well, but it was the first step on the road to the big success.
Early 1975 the name was changed for the last time, now into Pussycat. The group, that was formed by four men and three women, signed a contract with EMI, which let to the million seller "Mississippi". During the following 10 years 6 hit albums and 17 singles, all of them almost equally successful. The follow-up for "Mississippi", "Georgie" was a #4 in the Netherlands, and "Smile" (also in 1976) even went to #2. Both of these songs also charted in Great Britain. In the early 80's, the Kowalczyk sisters had to split from their musicians.
Toni: 'Although we started as a hobby, we had to build a professional organization due to the success of "Mississippi'. That wasn't so easy, especially when they started touring. We even went to South Africa! But after some time it came out that couldn't finance to work with that size of group. In that time it also became popular to work with a tape instead of live musicians. With pain in our heart we left our musicians.'
The success continued a few years, but in 1985 the group decided to split up. Toni: 'My sisters wanted to spent more time for themselves, and they began hating to tour with the band. We all agreed that stopping with Pussycat was the best thing to do.' For Toni it was a good opportunity to spread their wings and work on a solo-career. It resulted in the album 'Privilege', with songs that were well-chosen, and were sung with Toni's powerful and recognizable voice. Although there were many positive reactions, the album didn't chart. It was no reason for Toni to sit down after this, because two years after that, she released a second album entitled 'Working girl' and again two years later the country album 'New words to an old love song'.
The Dutch magazine "Country Gazette" awarded her in 1989 as "Best female country singer of the year". The following year had the same result, and 'New words to an old love song' became the best Country CD of that year. In 1991 she became best female singer for the third time in a row. Nowadays, Toni Wille often performs in Germany, where she's very successful with both old as new hits. She also gives concerts in Bulgaria, Slovenia and Greece. In her own country she often works with the country group "Major Dundee". Looking back on an imposing career: 'What a profession! But very fascinating!'
Especially for this album "Pussycat - The collection and more" Toni recorded the biggest hits of Pussycat, with "I'll be your woman" as her favorite, but also some new songs, like the ballads "Desperado" and "Still on my mind" and her own version of the big Elkie Brooks hit "Pearl's a singer". Toni: "A long time I didn't want to re-record that old Pussycat hits. I'm glad that I did it, the result satisfied me very much."
With "Pussycat - The Collection and more" she proves once again that she is a unique singer in the Netherlands with an international sound; solo and with Pussycat.
Translated by: Eric van Gorkom (ericg@stack.urc.tue.nl)
To The Official Pussycat Web Site
Back to Alex's Home Page
Back to the Nederpop index