Week of August 10, 1997
Plastic Penny

Plastic Penny originally came together in the summer of 1967 when ex-Universals members vocalist Brian Keith, organist Paul Raymond and bassist Tony Murray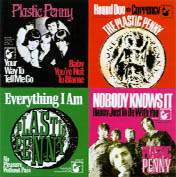 decided to form a new band with guitarist Mick Grabham and drummer Nigel Olsson. The Universals had released two singles on producer Larry Page's Page One Records ("I Can't Find You" and "Green Veined Orchard") before disbanding and so it was to Mr. Page that the newly named Plastic Penny turned to form a contract. The band's debut single was "Everything I Am"/"No Pleasure Without Pain" (POF 051). Released in December 1967, the A-side was a cover of a song originally released by The Box Tops and Plastic Penny took it straight into the UK top ten, reaching No.6 and spending ten weeks in the charts. However, the follow-up single "Nobody Knows" (written by Bill Martin and Phil Coulter)/"Just Happy To Be With You" (POF 052) failed to chart and the various members began to indulge in other activities.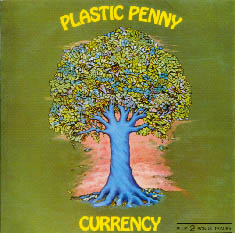 Vocalist Brian Keith already had a lot of session experience and he left in mid-1968, later turning up in Congregation, Big Balls and The Great White Idiot and Screaming Lord Sutch amongst others.
The remaining members soldiered on, with Raymond taking on vocal duties. In mid-1968, they released the album "Two Sides Of A Penny" (POL 005) and followed it with the single "Your Way To Tell Me To Go"/"Baby You're Not To Blame" (POF 079). November 1968 saw a cover of Leiber/Stoller's "Hound Dog"/"Currency" (POF 107) followed by "She Does"/"Genevieve" (POF 146) in mid-1969 by which time the group existed only in name as the various members decided to go their separate ways.
Tony Murray joined The Troggs and also contributed bass to Elton John's "Empty Sky" album. Paul Raymond joined Chicken Shack for two years and then played with Savoy Brown between 1971-76; heavy metal band UFO was his next step between 1977-79, and he was also a member of the Michael Schenker Group. Mick Grabham formed Cochise with Rick Willis, released a solo LP "Mick The Ladd" in 1972, and was a member of Procol Harum between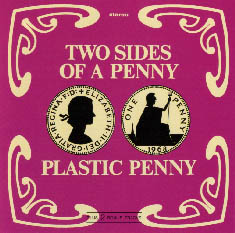 1973-77. Since then he's been an in-demand session guitarist working with the likes of Bandit, The Dukes, Yvonne Elliman, Dave Greenslade and Micky Jupp amongst others. Nigel Olsson's post Plastic Penny career reads like an A-Z of Rock! He provided the drums for Uriah Heep's debut LP "Very 'Eavy Very, 'Umble" and then worked with Elton John on a permanent basis between 1969-74. He also released five solo albums ("Drum Orchestra", "Nigel Olsson", "Drummers Can Sing Too", "Changing Tides" and "Nigel") and has worked with the likes of Eric Carmen, Spencer Davis, Kiki Dee, Randy Edelman, Linda Ronstadt, and the Who to name but a few. History may remember Plastic Penny as 'one hit wonders' but there's no doubting the excellent musicians training ground it provided!
Mark Brennan
---
[Taken from the Repertoire CD reissue of "Currency": REP4369-WP]