Week of September 27, 1998
Barry Ryan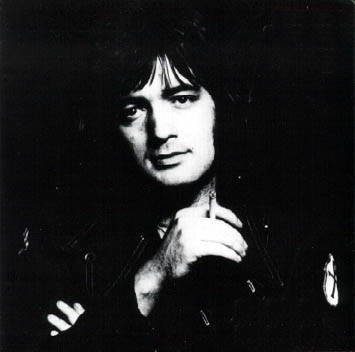 Albums:
Sings Paul Ryan					(MGM MGM-C(S) 8106) 1968
Barry Ryan					(Polydor 583 067) 1969
Eloise						(Polydor 2872 109) 1982

45s:
Goodbye/I'm So Sad				(MGM MGM 1423) 1968
Eloise/Love I Almost Found You			(MGM MGM 1442) 1968
Love Is Love/I'll Be On My Way Dear		(MGM MGM 1464) 1968
The Hunt/Oh, For The Love Of Me			(Polydor BM 56348) 1969
Magical Spiel/Caroline				(Polydor BM 56370) 1970
Kitsch/Give Me A Sign				(Polydor 2001 035) 1970
It Is Written/Annabelle				(Polydor 2001 154) 1971
Can't Let You Go/When I Was A Child		(Polydor 2001 256) 1971
From My Head To My Toe/Alimony Money Blues	(Polydor 2001 335) 1972
I'm Sorry Susan/L.A. Woman			(Polydor 2001 362) 1972
Do That/Summer's Over				(Dawn DNS 11 09) 1975
Where Were You/Making Do			(Private Stock PVT 70) 1976
Brother/Life's So Easy				(Private Stock PVT 87) 1977

Reissues:
Eloise/Love Only Comes Tomorrow			(Polydor 2001 630) 1976
Eloise/(Flip by different artist)		(Old Gold OG 9440) 1984

Barry along with his brother, Paul, who were both identical twin sons of Marion Ryan, a fifties pop singer, were signed by Decca in 1965. With neat long hair and carefully selected fashionable clothes they were skillfully marketed by Decca. In 1968, Barry Ryan went solo and Paul took to songwriting. An early result of this new partnership was "Eloise", a stunning single with its melodramatic vocal style and heavily orchestrated backing. This was certainly Barry's magnum opus and he soldiered on for several years after without achieving the same heights again.
Source: The Tapestry of Delights - The Comprehensive Guide to British Music of the Beat, R&B, Psychedelic and Progressive Eras 1963-1976, Vernon Joynson ISBN 1 899855 04 1
---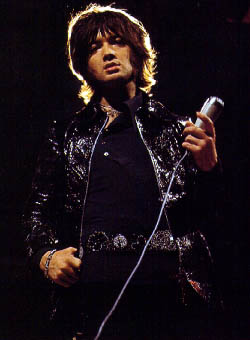 In 1986 the airwaves were filled with the dramatic sound of "Eloise" performed by former punk idols The Damned. The sheer power and scale of this track written 18 years previously was there for all to hear. "Eloise" was one of many classic songs written by Paul Ryan, but it was his brother Barry who performed on the original version.
Twins Barry and Paul were born on 24 October 1948 in Leeds, England. Their mother was singing star of the 50s Marion Ryan and step-father - show business impresario Harold Davidson. They grew up using their real surname Sapherson; by the time of their fifteenth birthday the twins had entered show business and taken their mother's name - Ryan. Under the full glare of media publicity they released their first single "Don't Bring Me Your Heartaches" which reached the UK top twenty. Follow-up singles all fared well and under the direction of top writer and arranger Les Reed, they filled a niche left vacant by UK acts aiming at the US market.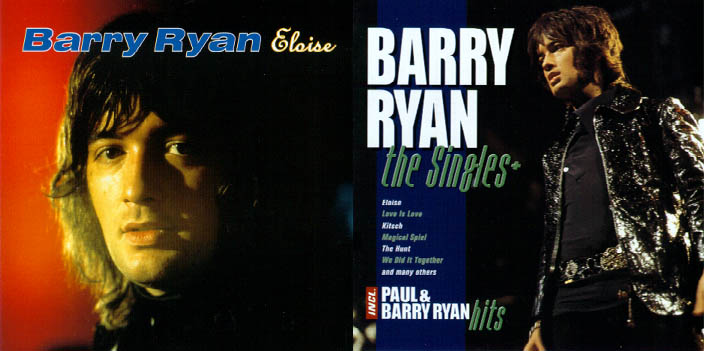 The Ryans were groomed for stardom. Top designers ensured their photogenic looks were seen in all the pop papers but the constant tours and TV appearances were starting to have an effect on Paul who suffered a near-nervous breakdown. After a brief lull in chart action the pair decided to split in 1968. This took the pressure off Paul who could now spend more time writing. Barry signed to MGM Records and the single "Eloise" became the label's first release. Promoted with one of the first full videos, this dramatic, powerful song was an instant smash, selling 3 million copies and reaching number 1 in six countries.

This unusual arrangement of one brother writing for another certainly worked and with further hits "Love Is Love", "The Hunt" and "Kitsch". Barry ended the 60s as one of the top pop performers in Europe, despite never playing a solo concert outside the UK. Paul was also having huge success as a writer, having written "I Will Drink The Wine" for Frank Sinatra. Sadly, Paul died of cancer in 1992, aged only 44.
Taken from the CD compilation, "Eloise", 1995, Karussell, 550 385-2
Ian Fowler, Oct. 1994
---