Week of June 8, 1997
Stretch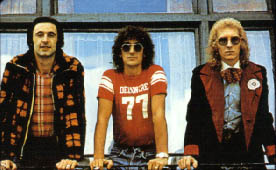 They were wild days, back in the mid-Seventies, when bands were tough, hard rocking and determined to carve out a piece of the action. Those were the days when record
companies were falling over themselves in the rush to sign new outfits they hoped would compete with mega-successful outfits, like Free, Bad Company, and Deep Purple. There was plenty of money around, and loads of clubs, festivals and tours, enough to support scores of musicians who could expect to make a reasonable living, plying their trade. Throughout Germany, Britain and America, there was a rich variety of hard rock bands who relied on the power of screaming vocalists, wailing guitarists and super charged drummers to kick ass. Night after night on the road they got the fans up on their feet, cheering and waving their blazing cigarette lighters in support. There was no need to worry about the horrors to come - punk rock, disco, rap and dance music. Rock bands were kings of the road, and even the least famous could live out dreams of stardom. Among those hard working dreamers was a band called Stretch, a British outfit who recorded for the Anchor label. Their first LP was in fact "Elastique", produced by Martin Rushent, and now re-issued by Repertoire, enabling whole new generations to rediscover the power of a band once hailed as one of the hottest new names of 1975.
Stretch featured the fine vocal talents of one Elmer Gantry (who named himself in honour of the character in the Burt Lancaster movie Elmer Gantry). Elmer had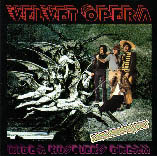 previously led an outfit called Elmer Gantry's Velvet Opera, which released three singles in the late Sixties on the Direction label. They were "Flames", (1967), "Mary Jane", (1968), and "Volcano", (1969), all now collector's items. He also recorded a song called "Psychobabble", featured on an Alan Parsons Project Album "Eye In The Sky". They all helped establish Elmer's reputation as a fine, expressive singer and imaginative composer. Stretch was a much more bluesy kind of band and featured a hot young guitarist, and songwriter simply known as "Kirby". Elmer was the lead vocalist and also played some guitar. They made a strong team, ably backed by Steve Emery (bass guitar), and Jim Russell (drums), who also played with rock'n'roll revival band The Wild Angels. Stretch was augmented on the album by horn players Mike Bailey and Ron Carthy, saxophonists Mick Eve and Chris Mercer, and keyboard player John Cook.
The band had made a promising start and enjoyed the thrill of a hit single, when "Why Did You Do It" (written by Kirby and featured on this CD) got to Number 16 in the U.K. in November 1975. It spent nine weeks in the charts and seemed to signal the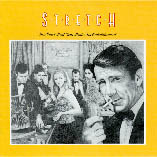 start of a hugely successful career.
The band followed up "Elastique" with "You Can't Beat Your Brain For Entertainment" (1976), and "Life Blood" (1977), all on Anchor, by which time drummer Jeff Rich had joined the band. The blond-haired young sticksman was later to find job security with Status Quo. The final Stretch record, "Forget The Past" was released on the Hot Wax label in 1978. Alas, none of these last two quite matched up to the power of their debut album and they couldn't manage to find the panacea of another hit single.
By the time they released "Forget The Past" the band had virtually disintegrated. One music expert described the last album, rather cruelly as 'pure trash'. Only Kirby and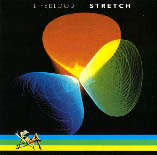 Steve Emery remained, using session men like Nicko McBrain (drums), from the Pat Travers Band and Trust, who went on to fame with heavy metal gods Iron Maiden. The writing was on the wall for the kind of rock band Stretch typified. Soon they would be replaced by much heavier metal bands like Iron Maiden, or the combined forces of punk and New Wave. Soon, it would no longer be enough simply to get on the stage, yell 'Rock on!' and play the blues all night. Bands needed an image, lots of special effects, dry ice and rings through their noses (not always in that order of course!). At their peak critics rated Stretch as 'the greatest British blues and boogie band of the era', and many spoke in whispered reverence of the crazed night in 1976, 'when they nearly blew Ritchie Blackmore's Rainbow
off stage'. With the miracle of the CD re-issue we can now once again enjoy the excitement of the band 'at full stretch', on their first album as they stomp through Elmer Gantry compositions like "Miss Jones", "Miss Daisy", "Snakes Alive", "Write Me A Note", "Tomorrow's Another Day", and "Buzz Fly". Most of the rest of the material was written or co-written by Kirby, including "Why Did You Do It?", "Down Home", and "Slip Away". "Navy Blues" was contributed by another bass guitarist, Paul Martinez (later with Paice Ashton & Lord).
It was all vibrant, pulsating stuff. Now if only they'd got another hit…
Chris Welch, London 1995
Taken from the CD reissue of "Elastique" (1975) - Repertoire, REP 4522-WY
---
DISCOGRAPHY
Elmer Gantry's Velvet Opera
Flames/Salisbury Plain		CBS 3083	(11/67)
Marie Jane/Dreamy		CBS 3481	(5/68)
Volcano/A Quick "B"		CBS 3924	(1/69)
Elmer Gantry's Velvet Opera(LP)	CBS 63300	(1968)

Velvet Opera
Anna Dance Square/Don't You Realize	CBS 4189	(5/69)
Black Jack Davy/Statesboro Blues	CBS 4800	(2/70)
She Keeps Giving Me These Feelings/ 
There's A Hole In My Pocket		Spark 1045	(11/70)
Ride A Hustier's Dream (LP)		CBS 63692	(1969)

Stretch
Why Did You Do It/Write Me A Note	Anchor ANC 1021	(l0/75)
That's The Way The Wind Blows/Hold On	Anchor ANC 1027	(4/76)
Love's Got A Hold On Me/ 
If The Cap Fits				Anchor ANC 1034	(12/76)
Forget The Past/Fooling Me		Hot Wax WAX 2	(8/78)
Elastique (LP)				Anchor ANCL2014	(1975)
You Can't Beat Your Brain
For Entertainment (LP)			Anchor ANCL2016	(1976)
Life Blood (LP)				Anchor ANCL2023	(1977)
Forget The Past (LP)			Hot Wax HW 1	(1978)

Kirby Gregory (solo)
Love Letters/Flasher			Anchor ANC 1031	(1976)
Bottom Line/That's Some Dream		Hot Wax WAX 1	(1978)
Composition (LP)			Hot Wax HW 2	(1978)

---
Back to Alex's Home Page