Week of November 16, 1997
Stud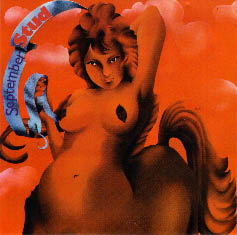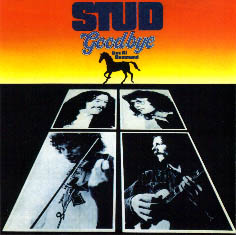 Personnel:
Jim Cregan - Guitar, Vocals
Charlie Mccracken - Bass
John Wilson - Drums
John Weider - Guitar, Vocals
Andrew Sneddon - Bass
Snowy White - Guitar
Albums:
Stud (Deram Sml-R 1084) 1971
September (BASF 20 29054) 1972
Goodbye - Live At Command (BASF 20 29117) 1973
This outfit could never really get established in the UK and its last two releases were German-only affairs. McCracken and Wilson had previously been in Rory Gallagher's Taste (and Wilson had also been in Them with Van Morrison). Cregan had cut his rock teeth in Blossom Toes and Julian Covey and The Machine. John Weider joined from Family after the first album had been recorded.
Jazz was a major musical influence on the band whose first album was released to enthusiastic critical acclaim. Like so many albums of this type the playing was good but the material and vocals were very average. They had a large German following though, largely 'cos they toured there regularly, and after their manager Eddie Kennedy had rowed with Deram, it was the German-based BASF label who released their next album. Again, despite some fine playing, the material and vocals were weak. Soon after the release of their third album Cregan left to join Family (and later in the decade - Rod Stewart's band), Weider teamed up with Keith West in Moonrider and McCracken ended up in the reformed Spencer Davis Group (alongside Eddie Hardin and Pete York). Wilson tried to keep the band alive with the new line-up, which included former East Of Eden member Andrew Sneddon, but the iron was no longer hot for them and they quickly fizzled out. Guitarist Snowy White is possibly the same one that later joined Thin Lizzy, in the early 80s.
Taken from The Tapestry of Delights - The Comprehensive Guide to British Music of the Beat, R&B, Psychedelic and Progressive Eras 1963-1976, Vernon Joynson
ISBN 1 899855 04 1
---