The Ben Cramer Story
The Blue Rhythms from Amsterdam was the first backing group for Ben Cramer (before the Sparklings), who recorded an instrumental single, before Paul Guldenaar joined as their permanent singer. Earlier, Paul had been drumming in the Yellow Stars from 's-Hertogenbosch and later he came to prominence with duo Sacha & Paul. The rest of the band was comprised of: Ruud Koster (g), Ton Linschoten (g), Karel Alberink (dr) and Rob de Haan (b).

1964 Blue rhythm beat/Falling star Delta DS 1100
In 1965, an Amsterdam group The Sparklings was formed by former members of the Rhythm Boys. They mainly served as a backing band for Ben Cramer, at the time a rock & roller. In 1965 the line-up consisted of: Ben Cramer (v), Rori van Ark (dr, ex-Rhythm Boys), Ger Belmer (o, till 1966, released his own LP in 1975), Wim Timmer (g, ex-Rhythm Boys), Ton Vos (g, ex-Rhythm Boys, since 1966 also o, p) and Douwe van der Zee (b, ex-Rhythm Boys). In 1967 the line-up changed to: Ben, Wim (b, from 1968 till 1970 replaced by Wil Schoonenberg), Ton (till 1969), Peter Mulder (dr, ex-Rhythm Boys and Flying Hutto Brothers) and Ron Fens (g, ex-Trix & Paramounts). The Sparklings kept backing Ben Cramer until 1971. After that, Wil and Peter formed De Makkers (who recorded a hit, "Zomerzon"), Ron went to Millionaires and Wim Timmer to JosÚ Marcello.
1966 Barst/Weet dat ik je mis				CNR UH 9849
1967 Seven jump/Now it's your turn to cry		CNR UH 9870
Seven jump/Now it's your turn to cry [7 Up advertisement]	7 Up
LP And the Sparklings					Kritos 130046
1969 Green mellow hill/Running forwards [without Ben]	CNR UH 10067
1967 Zai zai zai/Now the song is over			Omega 35819
1968 M'lady/Don't leave me solitaire			Omega 35841
Dans met mij/Gina					Omega 35862
Dreams never come true/I can't let you go		Omega 35875
Mona Lisa/100.000 rozen					Omega 35886
LP Omega						Omega 333067
1969 In the night/Although you're gone			Omega 35895
Bon giorno mi amor/					Omega 35900
Schip van avontuur/Nu ik je vraag			Omega 35902
Lady of the night/World of music			Omega 35928
Lady of the night/So close				Omega 35929
The Paramounts from Amsterdam were founded in 1960 by Duco de Rijk (v, g, from 1964 till 1966, replaced by Ron Fens, to Sparklings), Cor Struyk (v, g), Wim Taarling (dr, to Zen) and Ad de Boer (b, went to Ernie Bender and to the Marquees for a while, was then replaced by Rob Gerrant). In 1962, the group recruited female vocalist Trix Boelen (v, ex-ZZ & Maskers). Together with Trix, they made a few records performed as one of the support acts for the Rolling Stones in the Scheveningen Kurhaus. In 1966, after his tour of duty, Duco returned to the Paramounts for a short while, but soon stepped out to join Graaf X & Klimax. The name of the band was then changed into Trix & Paramounts, featuring Trix, Cor, Wim, Ad and Fred Lusken (o, later in Telephone, replaced Hans Keijser, ex-Black Stones, to Otis Lee & High Priests).

Trix worked from 1968 till 1970 with Trix On The Hill, featuring: Trix Boelen (v, to Telephone), RenÚ Boelen (v, g, ex-Ei Ei & Klutsers, Roadrunners, Dinges and McGalaghan, to Telephone), Willem Nijveld (dr, later to JosÚ Marcello, in 1969 replaced by Arend Schoumans, ex-Upside Down and Breakout) and Edu van Heuven (b, ex-McGalaghan, to Telephone).
1965	EP Bread and butter/Let me make you smile/
	[+ 2 tracks from the Luckberries]		Lion Tops LEP 14
1966	Doe maar net als ik/Kan ik op je bouwen		Delta DS 1189
	A well respected man/So in love [flexi-disc]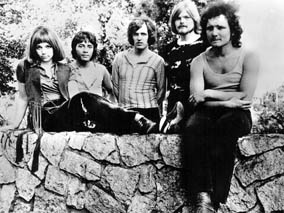 An Amsterdam group formed by ex-members of Trix On The Hill (a later version of Trix & Paramounts) in 1970. Line-up: Trix Boelen (v), Fred Lusken (o, p, fl, ex-Trix & Paramounts), RenÚ Boelen (v, g, to Gallery), Edu from Heuven (b, to Emily) and Arend Schouwmans (dr). This line-up remained unchanged until 1972.

After that, the group worked as nightclub house band without Trix and RenÚ, but with Jan Dekker (o, p, ex-Jigsaw, to Gamma) and Jan Zethof (s). Later, Jan Zethof took over the name Telephone for his later formations (see also Telephone II).
1970 Wondering/Bring back the good times		Ariola AT 14651
Search/It is good if I get it from you			Ariola AT 14768
A nightclub house band based in Amsterdam, existed from 1974 till 1981. The leader was Edu van Heuven (b, ex-Telephone). The ever-changing line-up contained Willem Nijveld (dr, 1974-1977), Willem Voorhaar (dr, ex-Debbie and Music Garden, to Robert Long, member from 1977 till 1979), Perry de Wildt (dr, 1979-1980), Richard Messeyer (dr, ex-Delight, 1980-1981), Aloys Vogel (o, p, trb) and Arie de Haas (v, g, ex-Campbell Lockers Band, to Fantasy, 1975-1981).
A band from Friesland, founded in 1974 by Jan Zethof (s, fl, tr), Klaas Boelens (b, ex-Starfighters and Atlantis), Bert Kromdijk (o,p, died in 1976 and replaced by Henk de Laat, ex-Torpedo's), Douwe Breeuwsma (dr, ex-Lemon Squash), Ton Klein (g), Fred van Vugt (v, g), and Marieke Klein (v). In 1977, Klaas, Henk, Douwe and Fred Boomerang formed a group that became Fantasy later on. Jan Zethof formed the new Telephone with members of a Groningen band Washing Machine.
1976 Woman/You're never gonna leave me			Ariola AT 16807
Dingadong Marie/Woman					Ariola AT 17623
1979 Dana my love/					Ariola AT 100057
This group featured Fred van Vugt (v, g, o, p, ex-Telephone and Two Of A Kind), Louise Vrieze (dr) and Joke Schaper (b).
1980 Blinded by the beauty of your eyes/Like a puppet RCA PB 4534
Dutch charts:
BEN CRAMER
4-11-67 SINGLE 7 12 ZAI ZAI ZAI
27-7-68 SINGLE 7 10 HELP YOURSELF
25-1-69 SINGLE 30 5 MONA LISA
6-12-69 SINGLE 31 3 JOFFY, JOFFY, JOFFY
29-8-70 SINGLE 29 4 AGATA
5-12-70 SINGLE 33 4 LADY OF THE NIGHT
31-7-71 SINGLE 15 7 DE CLOWN
18-12-71 SINGLE 16 13 VREDE
13-5-72 SINGLE 25 5 HOORT MIJ AAN PESSIMISTEN
2-12-72 SINGLE 25 5 SLAVIN VAN DE NACHT
17-3-73 SINGLE 13 9 DE OUDE MUZIKANT
14-4-73 SINGLE 14 6 VERONICA VRIJ [Alarmschijf @ 7-4-73]
8-12-73 SINGLE 30 4 GEEN SNEEUWVLOK
3-8-74 SINGLE tip LEVEN
30-11-74 SINGLE 14 10 WINTER
22-2-75 SINGLE tip JIJ HIELD NIET VAN MIJ
7-6-75 SINGLE 32 5 BARBARA
28-8-76 SINGLE tip SORROW
9-6-79 SINGLE 36 3 OH LUISTER TOCH
21-6-80 SINGLE 26 4 ALLES IS ANDERS
22-11-80 SINGLE tip WINTER
21-5-83 SINGLE tip LAAT ME
24-9-83 SINGLE tip DESIREE
14-1-84 SINGLE tip EEN VRIEND ALS JIJ
11-5-91 SINGLE tip VERGEET 'T MAAR
DE MAKKERS
19-6-71 SINGLE 31 3 KLEINE SONJA
20-11-71 SINGLE 33 2 BLIJ ALS EEN KIND
1-7-72 SINGLE 5 9 ZOMERZON
7-10-72 SINGLE 9 9 VERONICA 538 [Alarmschijf @ 30-9-72]
2-12-72 SINGLE tip WINTERTIJD
15-9-73 SINGLE 27 3 MARIANNE
4-1-75 SINGLE tip Q EN Q
TELEPHONE
19-9-70 SINGLE tip WONDERING
---
Submitted by: Adri Verhoef (a3@a3.xs4all.nl-removespam)
Back to Alex's Home Page
Back to the Nederpop index