Week of January 4, 1998
Colosseum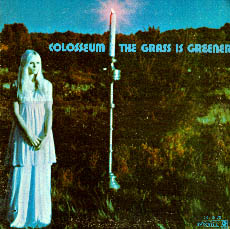 Personnel:
Dave Greenslade - Organ, Vocals
Dick Heckstall-Smith - Sax
John Hiseman - Drums
Tony Reeves - Bass
James Litherland - Guitar, Vocals
Jim Roche - Guitar
Mark Clarke - Bass, Vocals
Dave Clempson - Guitar, Vocals
Chris Farlowe - Vocals

Albums:
Those Who Are About To Die Salute You (Fontana STL 5510) 1969
Valentyne Suite (Vertigo VO 1) 1969
Those Who Are About To Die Salute You/
Valentyne Suite (Sequel NEXCD161 CD) 1990
Daughter Of Time (Vertigo 6360 017)
Daughter Of Time (Sequel, 1007-2 CD) 1996
Colosseum Live (Dbl.) (Bronze ICD 1) 1971
Colosseum Live (Sequel, 1006-2 CD) 1992
Collectors Colosseum (Bronze ILPS 9173) 1971
The Grass Is Greener (DS50079, US) 1971
The Reunion Concerts 1994 (Temple Music/IMM INT 3160 2 CD) 1995
Bread And Circuses (Cloud Nine Records, CLD 9190-2 CD) 1997
Colosseum Live Cologne 1994 (Angel Air SJPCD162) 2003
Tomorrow's Blues (Temple Music/Q-Rious Music QRM103-2) 2003

NB: These albums were also issued in Germany, where 'Live' (Club Issue), a double LP, was also issued on S&R International in 1970. Valentyne Suite reissued on Bronze (HELP 4) 1972 and again on Bronze (BRNA 214) in 1977. 'Live' reissued on Bronze (BRSP 2) in 1977. 'Collectors Colosseum' reissued on Bronze (BRON 173) in 1977. Two compilations worth checking out are 'Epitaph' (Raw Power RAWLP 014) in 1986 (also on CD) and 'The Golden Decade Of Colosseum' (CD) (Knight KNCD 1001 6) 1990. 'Live' also reissued on Sequel (NEX CD 201) in 1992, which included a previously unissued cut, 'Can't Live Without You', and 'Collectors Colosseum' - on Castle (CCSCD 287) in 1991. 'Daughter Of Time' and 'Collectors Colosseum' reissued on CD (Sequel NEX CD 256 and 255 respectively).
---
Colosseum were at the forefront of the fusion of progressive rock, jazz and blues in the late sixties and were in many respects one of the most ambitious groups of that era. Hiseman and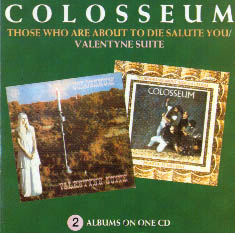 Heckstall-Smith had both previously been with the Graham Bond Organisation and they also played with John Mayall on his 'Bare Wires' album. Hiseman also played on Howard Riley's ultra-rare privately-pressed 'Discussions' album.

The original Colosseum line-up was gelled together in late 1968 and they signed to Fontana. Their debut album featured some pleasant organ work and effectively blended jazz, rock and the blues with some classical influences. It even climbed to No. 15 in the UK Album Charts. Their only 45 ever released, 'Walking In The Park', was an organ-led R&B effort, written by Graham Bond, which sank without trace. They really were more suited to the album market.

They developed a good live reputation, assisted by an appearance in the 'Supersession' rock film.

Their follow-up album, 'Valentyne Suite', is to my mind their magnum opus. It was also the first release on the then new Vertigo label which showcased so much good progressive rock. The title track was an ambitious 16-minute composition taking up the whole of side two.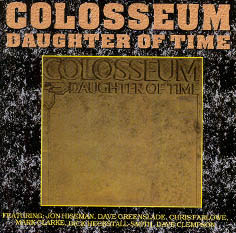 However, it's 'Elegy', 'Butty's Blues' and 'The Machine Demands A Sacrifice' on side one that really showcase the band at their best.
Not long after the release of 'Valentyne Suite', Litherland left to form Mogul Thrash whilst Tony Reeves left to do production work with various Danish bands. Newcomers were Mark Clarke (bass), Dave Clempson (ex-Bakerloo) and veteran R&B vocalist Chris Farlowe. This line-up produced 'Daughter Of Time', which was another strong album with the epic finale 'Time Machine' and 'Take Me Back To Doomsday' being the highlights. It climbed to No. 23 in the UK album charts but proved to be the band's last album for Vertigo as they signed up to the newly-established Bronze label.
Bronze almost immediately released a budget-priced double live album, 'Live', which consisted of six lengthy tracks recorded at Manchester University and the Big Apple, Brighton, in March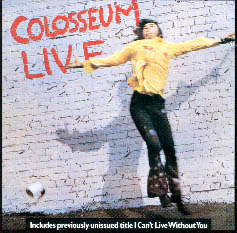 1971. They split at the end of 1971 without ever recording a studio album for Bronze, which perhaps explains why the label wasted little time in putting out a compilation, 'Collectors Colosseum', which included several previously unreleased cuts alongside many of their finest songs. The label later reissued all of their albums, except 'Daughter Of Time'. Upon their demise, Mark Clarke joined Uriah Heep; Clem Clempson replaced Peter Frampton in Humble Pie; Chris Farlowe's next stop was Atomic Rooster; Dick Heckstall-Smith went on to record a solo album and later played for many London pub bands and Dave Greenslade formed his own band, Greenslade. 'Elegy', one of their finest moments from the 'Valentyne Suite' album, can also be heard on Vertigo Annual 1970.
Jon Hiseman has for a number of years recently played in his wife's Barbara Thompson's various bands including Paraphenalia.
Taken from The Tapestry of Delights - The Comprehensive Guide to British Music of the Beat, R&B, Psychedelic and Progressive Eras 1963-1976, Vernon Joynson
ISBN 1 899855 04 1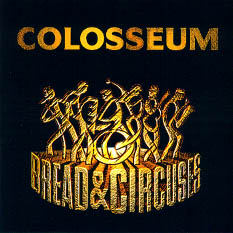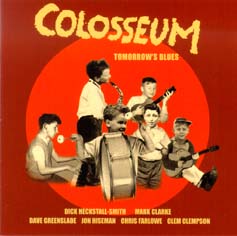 ---
Bread and Circuses, 1997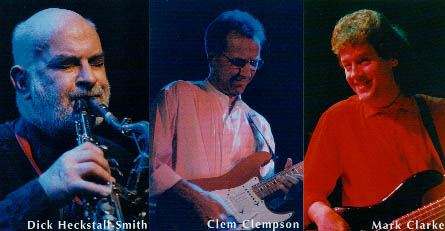 Colosseum released 5 albums between 1969 and 1971. The world's first ever jazz-rock group toured non-stop for nearly 3 years. With the albums having ridden high in the charts of several countries, when the band finally broke up, it seem to me like the end of a short but sweet story. Twenty three years later, in 1994, Colosseum literally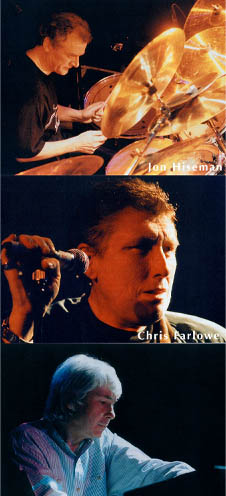 picked up where it had left off, went back on the road again, played more than 60 dates Europe-wide, and issued a live album and video of the first reunion concerts.
We had a great time doing those shows, playing our "Hits" and meeting old and new friends as we signed the CDs and records after the concerts. And with things going so well our thoughts turned to the recording of a new studio album. Riding high in our coach (the "womb with a view") criss-crossing the motorways of Europe, Dave Greenslade played demos of songs he had started to write for us. Soon they began to turn up as part of our sound checks, as we blew the dust of the road off our instruments.
Looking back on my memories of the '60s studio sessions, I seem to remember that it was luxury to record for a day without a gig at the end of it, for we often recorded by day and played a concert the same evening. And much of the music was dragged screaming off the road and thrust, still struggling, down the throats of the expensively dressed studio microphones.
We met several times through 1996 writing, rehearsing, and recording demos. Songs changed, floated away for a time, then returned, disguised, in typical Colosseum fashion. By March '97, we were ready to put together the 11 titles that had survived the music is still definitely Colosseum because the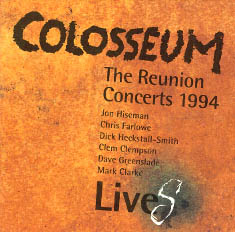 combination of our six talents just seems to come out like that, but it's different too. If you're looking for "Son of Valentyne Suite" you can forget it - those days are long gone, for us, as well as you, and as I write these notes, nobody is taking any giant leaps for mankind, but we are still here and we are still doing it… and doing it... and doing it!
Finally, and most importantly, my undying gratitude to Dave, Dick, Clem, Mark, and Chris for having such faith in the band and, as always, giving it their best shot; to Barney for staying so cool when the band got hot; to Miles for all the miles; to Mark O'K. for lighting our way; to Barry who's on his way; to Jochen for watching our every move; to Gerd and Elke for doing the business; to Pipsi and Norbert E. for all the years; and to Maria for following her heart!
Jon Hiseman, July '97
Taken from Jon's liner notes in 'Bread And Circuses' (Cloud Nine Records, CLD 9190-2 CD) 1997
---