Week of April 5, 1998
Kin Ping Meh
As far as I am aware, there were no other German bands like Kin Ping Meh, who chose their name in the Chinese language! In 1970, this quintet assembled in Mannheim: Werner Stephan (lead vocals), Joachim Schafer (guitar, piano, vocals), Fritz Schmitt (organ, piano), Torsten Herzog (bass) and Kalle Weber (drums). They played live extensively during their early years, performing a rough hard rock modeled on British bands like Deep Purple, Uriah Heep and Spooky Tooth. Soon, Kin Ping Meh were discovered by Polydor's talent scouts. Joachim Schafer left the band just before the recording of their first album. He was promptly replaced by Willie Wagner (guitar, harmonica, vocals), who joined the band in the Windrose Studio. Indeed, Wagner wrote the stand-out track of this album, the opening 11-minute 'Fairy-Tales', a haunting heavy rock song with long, 'progressive' guitar and organ solo parts. Even if you do not find this style attractive, you'll sense the great enthusiasm of the band. There were also some mellow, folky songs on the album, like 'Too Many People', recorded live and boasting an irresistible chorus. 'Kin Ping Meh' was produced by the experienced rock veterans Achim Reichel and Frank Dostal. The engineer was none other than Konrad Plank. The album is highly recommended for fans of groups like Epitaph, Zarathustra, Frame, etc. It's now quite rare (selling for more than 300 DM) as the first and only vinyl edition was only pressed at around 5,000 copies.
Torsten Herzog and Willie Wagner left Kin Ping Meh in 1972. The band had already been expanded with Alan Joe Wroe (bass), Uli Gross (guitar, although he left again within months) and Gagey Mrozeck (guitar, ex-2066 & Then). 'No. 2' (1972) followed the path of its predecessor - it was filled with great quality heavy progressive rock. Besides their self-written material, Kin Ping Meh were also bold enough to make an 11-minute version of 'Come Together', culminating in a long instrumental jam - a highlight of the album! Fans of early Kin Ping Meh should also check out the double album, 'Hazy Age On Stage' (1991), featuring great live tracks recorded in Sprendlingen in January 1973 and also some studio out-takes from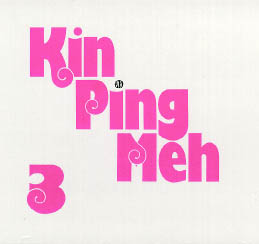 1972. When vocalist Werner Stephan left in May 1973, it marked the end of Kin Ping Meh's first phase. Regrettably, none of their following albums could match their first two. Gagey Mrozeck recommended Geff Harrison (his old friend from 2066 & Then) as a replacement for Werner Stephan. The quintet of Harrison, Mrozeck, Schmitt, Wroe and Weber recorded 'Kin Ping Meh III' (1973) with added choir and brass. Unfortunately, most people find their 'new' sound far less appealing than their previous one. 'Virtues And Sins' (1974) was a further slide towards a more standard Anglo-American influenced rock. Schmitt left in 1975, and was replaced by Chris Klober (keyboards, ex-Curly Curve). He only participated on the double live album, 'Concrete' (1976) before the band fell apart. Geff Harrison set out on a solo recording career, but only with moderate success. Mrozeck and Weber embarked on an ill-fated attempt to keep the band going with Michael Pozz (vocals), Ron Sheepmaker (keyboards) and Chuck Trevor (bass), resulting in the sixth and final Kin Ping Meh album for Bacillus - a superfluous affair!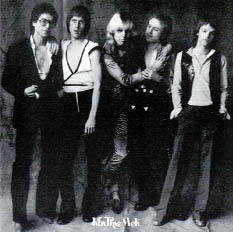 Albums:
Kin Ping Meh		1971 Polydor 2371 259
No. 2			1972 Zebra 2949 005
III			1973 Zebra 2949 O11
Virtues And Sins	1974 Nova 6.22613
Concrete (2LP)		1976 Nova 6.28370
Kin Ping Meh		1977 Bacillus BAC 2046
Hazy Age On Stage (2LP)	1991 Second Battle SBT 002

Taken from Cosmic Dreams at Play - A guide to German Progressive and Electronic Rock by Dag Erik Asbjørnsen, Borderline Productions, ISBN 1-899855-01-7
---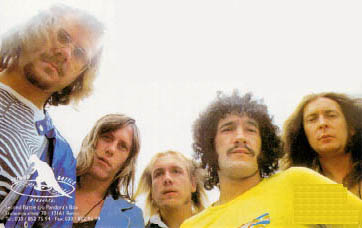 The career of rock band Kin Ping Meh from Mannheim lasted almost exactly seven years and reached quite a few heights. But it still left the band rather disillusioned in the end. Drummer Kalle Weber's resume from the Spring of 1977: "If you're not a pop star, you're still the asshole." Together with amateur musicians Werner Stephan (vocals), Joachim Schafer (guitar, piano), Frieder Schmitt (organ piano) and Torsten Herzog (bass), Weber had formed Kin Ping Meh in 1970. The name Kin Ping Meh (meaning "branch of a plum blossom in a golden vase") is taken from a Chinese 16th century novel depicting the life and customs of that time. On September 15, 1970 the band gave their first concert. Over the next months, they took part in seven important talent competitions. They won them all and were offered a recording contract from Polydor. From now on, everything went very quick - the important Sunday paper "Bild am Sonntag" had a two-page report about the band in January and their first single was released in February. 'Everything's My Way' made the Top 5 of various radio playlists and March saw the band tour with The Hollies. In May it was back to the studio to record the second single, 'Everyday'. After guitarist Willie Wagner replaced Joachim Schafer, the band from Mannheim recorded and produced their debut album in autumn 1971, and in December it hit the stores. The band was almost constantly touring at that time and supported acts like Uriah Heep.
1972 was a very good year for Kin Ping Meh. They wrote the music for a drug musical called 'Rausch', composed the soundtrack for ZDF series "Sechs unter Millionen" (Weber said in an interview: "We tried to make good rock music because for us, this job is an important milestone, a big step ahead in our career") and thus joined the short list of German rock bands who had achieved something similar, e.g. Can with 'Spoon', their song for a Durbridge crime movie, or Popol Vuh for the Herzog movie 'Aguirre, der Zom Gottes'. Almost simultaneously, they opened the Sailing Olympics in Kiel, went on tour with Rory Gallagher and Golden
Earring, and released their second album, 'No. 2'. In their annual vote, the readers of magazine "Popfoto" voted them among the Top 5 in the category, 'Most Promising Band'. But they had to pay a high price for constantly being on the road - 1972 saw a drastic change in the line-up. Willie Wagner, Werner Stephan and Torsten Herzog left the band to be replaced by Gerhard "Gagey" Mrozeck, Uli Gross, British bass player Alan Joe Wroe and his fellow countryman Geff Harrison. With this line-up, Kin Ping Meh recorded 'III', the band's third album, in the Summer of 1973. The album featured a wind section and a female choir. It was mainly because of singer Geff Harrison's influence that the band developed a hard rock image. "The people mainly want to really rock, to be happy and to get to see something. And that's all true in our case", the band explained in a 1973 "Musik Express" interview and added: "There is not much demand for space and cosmic rock right now." Kin Ping Meh played concerts with hard rock superstars like Deep Purple and Slade and appeared on a couple of television shows.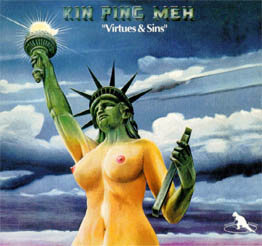 Their fourth album, 'Virtues & Sins' (1974), earned them comparisons to the Rolling Stones, Free, The Faces and Spooky Tooth. 1976 saw the release of 'Concrete', a live album that was the last LP under their old recording contract. After the end of the recording contract, Harrison and Wroe left the band. The remaining band members tried a new beginning. With new band members and a new contract with Bellaphon, they recorded 'Kin Ping Meh' (1977), but were unable to continue their success story, mainly because of weak vocal performances. In the Summer of 1977, the band finally disbanded.
Gerhard Mrozeck at first joined a funk rock formation called Ooh La La and later on played very successfully in the bands of Edo Zanki and Herbert Gronemeyer. Geff Harrison started a solo career. He even made two very successful tours through the GDR. November 1982 saw a Kin Ping Meh revival concert at Berlin University, but the new Kin Ping Meh mainly consisted of members of the Harrison Band. Mrozeck and Weber did not take part. Drummer Kalle Weber died of a heart attack in 1995.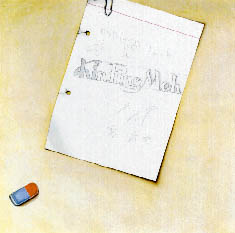 ---
'Kin Ping Meh' (1971, Polydor 2371 259)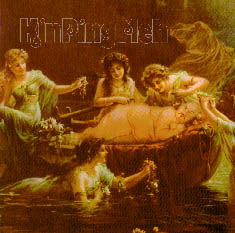 The debut album of the Mannheim band was released in December 1971. Producers were Rattles musicians Frank Dostal and Achim Reichel, recording took place in Hamburg's Windrose Dumont Time studio and mixing was done at the Star Studio. Conny Plank, who just made himself a name as a brilliant producer at that time, was the sound engineer. The band had previously released two singles that caused a nation-wide splash. On 'Kin Ping Meh', the band used traditional instruments and line-up and presented eight straight-forward blues-rock songs. The 11-minute opener, 'Fairy Tales', with its excellent long instrumental part, was followed by 'Too Many People', a straight rock number. 'Sometimes' and 'My Dove' show the musicians in a calmer mood. 'Everything' is a new version of the first single, 'Everything's My Way', and has different lyrics. In its usual critical manner, music magazine "Sounds" looked for reasons "why the record is so mediocre", but had to admit that "the band's musical talents and the palpable enthusiasm actually are a good basis for a solid and catchy down-to-earth sound..." "Pop" magazine, on the other hand, liked all of the "eight melodious, catchy tunes… The band plays together perfectly, and the production is without flaw. Kin Ping Meh undoubtedly will be celebrate another commercial success with this LP." That forecast was correct - the album paved the road to success over the coming years. Apart from the eight songs of the original release, this CD offers as bonus tracks the singles 'Everything's My Way'/'Woman' (1970, Polydor 2041126), 'Every Day'/'Alexandra' (1971, Polydor 2041172) plus the single A-side 'Too Many People' (1972, Polydor 2041247). The flip side of that single was the album version of 'My Dove' and can be found on the regular album.
Matthias Mineur
Taken from the CD reissue of 'Kin Ping Meh', Repertoire 1998, PMS 7066-WP
---
'No. 2' (1972, Zebra 2949 005)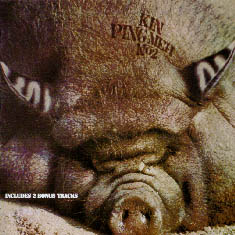 Just like the debut album of the Mannheim band, 'No. 2' was produced by the Hamburg team of Achim Reichel/Frank Dostal (Rattles) and recorded in the Windrose Dumont Time studios. Once again, Conny Plank was the sound engineer. One year later, Plank set up his own studio near Cologne and built his own monument by producing the first four Kraftwerk records. On 'No. 2', Kin Ping Meh followed down the path they had taken the year before - straight rock with no experiments, resulting in unspectacular, but highly powerful rock music. All in all, the second Kin Ping Meh album seems to show them in an even more relaxed mood and offers not only catchy rhythms, but almost pop-like elements. The first two songs ('Come Down To The Riverside' and 'Don't Force Your Horse' are typical Kin Ping Meh rock. The next song, a cover version of the Beatles' 'Come together', ends on a well-done jam (the 'Together Jam'). And just like the debut album, 'No. 2' has its calmer moments as well ('Livable Ways' and 'Day Dreams'). The LP ends with the lively 'Very Long Ago' and 'I Wonna Be Lazy', written by Reichel and Dostal. As bonus tracks, this CD contains the single B-side version of 'Sometime' (1973, Zebra 2047002; the original version can be found on the debut album) plus the single A-side 'Sunday Morning Eve' (1973, Zebra 2047004)
Matthias Mineur
Taken from the CD reissue of 'No.2', Repertoire 1998, PMS 7067-WP
---