Week of January 30, 2000
Andromeda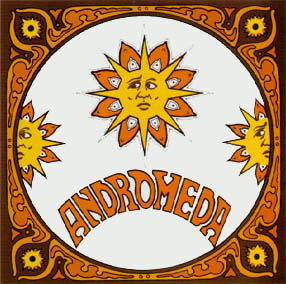 Personnel:
John Cann - guitar, vocals
Mick Hawksworth - bass, vocals
Ian Mcshane - drums
Albums:
Andromeda (RCA SF 8031) 1969
7 Lonely Street (Reflection/Music Mixture MM 026) 1990
Anthology (Kissing Spell KSCD 9492) 1994
Live At Middle Earth (Kissing Spell KSLP 9497) 1994
BBC Top Gear Session '68 / Live At Middle Earth '67 (Kissing Spell KSCD 9594) 1995

NB: The first, self-titled album was re-pressed (Eclipse 88) in the late eighties and reissued on CD (Repertoire GTR 024) with eight bonus tracks. "7 Lonely Street" is an album of previously unreleased material. Just 450 copies were issued. "Anthology" is a CD release which includes material from their early years including eight previously unreleased tracks. The "BBC Top Gear Session '68 / Live At Middle Earth '67" set includes a BBC session from November '68, and a live rehearsal which had earlier been released as "Live At Middle Earth".
45:
Go Your Way/Keep Out 'Cos I'm Dying (RCA 1854) 1969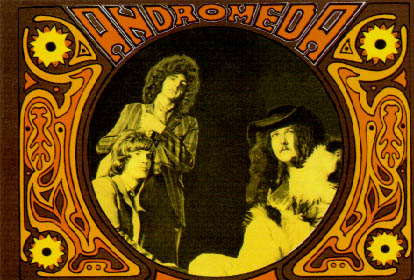 This is a crossover band which transcends the psychedelic and progressive era. The band was formed by John (Du) Cann, who'd earlier been in The Attack. Originals of the album are not easily come by but you'll notice it has been re-issued. The album's finest moments are "Day Of The Change", which features some fine discordant guitar work and great vocals, and "Return To Sanity", which opens with a guitar-driven instrumental passage similar to "Mars" from Holst's "Planets" suite and contains some fine guitar work throughout. By contrast, there are a couple of more mellow, laid-back numbers of note: "And Now The Sun Shines" and "The Reason", but most of the remaining tracks are expendable.

After they disbanded at the end of 1969, Cann went on to co-found Atomic Rooster playing on their "Tomorrow Night" and "Devil's Answer" 45s. He later formed Daemon (one album released) and Hard Stuff (two albums released). Hawksworth formed Fuzzy Duck and was later in Ten Years Later with Alvin Lee. John Cann used his original name John Du Cann for a minor hit, "Don't Be A Dummy" in 1979 and later was involved in reforming Atomic Rooster with organist Vincent Crane.

"Day Of The Change" can also be heard on "Broken Dreams, Vol. 3" and "Go Your Way", a later version of their rare 45, can be heard on "Circus Days, Vol. 4". This is a really punchy number with some great guitar work which wasn't on their album and it's well worth a spin.
Taken from The Tapestry of Delights - The Comprehensive Guide to British Music of the Beat, R&B, Psychedelic and Progressive Eras 1963-1976, Vernon Joynson
ISBN 1 899855 04 1
---