Week of September 19, 2004
Flamengo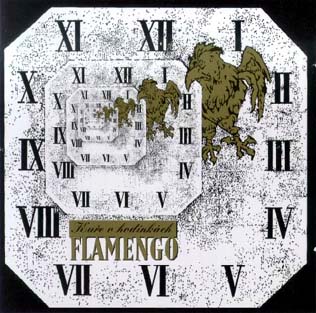 Vladimír Mišík - vocals, congas
Jan Kubík - sax, flute, clarinet, vocals
Pavel Fořt - guitars, vocals
Ivan Khunt - keyboards, vocals
Vladimir Kulhánek-bass, vocals
Jaroslav Šedivý - drums

Album:
Kure v hodinkách 1972 Supraphon 11131291
Reissued in 1990 on Supraphon (101287-1) in a different cover.
CD: Bonton Bon 491053 2, 1998

Flamengo were among the leading late sixties beat bands in Prague. They released seven singles between 1967 and 1969. Frantisek Francl was their eminent guitar player at the time, gracing their material (most of which was self-written, although they also made a great cover version of John Mayall's "No Reply") with stinging fuzztone passages. The second part of their history started with the arrival of woodwind player Jan Kubík and Vladimír Mišík, who was previously vocalist and lyricist for Blue Effect. 'Kure v hodinkách' (1972) contained energetic progressive jazz-rock somewhere between Jethro Tull, Colosseum, Traffic and Cream. For some reason the Czech authorities found the lyrics too provocative and subsequently the record was banned.
Taken from Scented Gardens of the Mind - A guide to the Golden Era of Progressive Rock (1968-1980) in more than 20 European Countries, by Dag Erik Asbjřrnsen, Borderline Productions, ISBN 1-899855-12-2, edited by Alex Gitlin
---