Week of April 2, 2000
Love Sculpture
Personnel:
Tommy Riley - drums, vocals
Dave Edmunds - guitar, keyboards, vocals
John Williams - vocals, bass, keyboards
Bob Jones - drums, vocals
Terry Williams - drums
Mickey Gee - guitar
Albums:
Blues Helping (Parlophone PMC/PCS 7059) 1968
(reissued on CD, EMI 7243 4 99416 2 5, 1999)
Forms And Feelings (Parlophone PCS 7090) 1969
(reissued on CD, EMI 7243 4 99768 2 5, 1999)
Classic Tracks (One Up 2047) 1974
NB: Both albums released in the US on Rare and Parrot respectively. Both reissued in UK on Parlophone in 1970. Both released in Germany on EMI Odeon. A later compilation is The Singles A's and B's (Harvest SHSM 2032) 1980. The Dave Edmunds Story, Vol. 1: The Love Sculpture Years (EMI EMS 1127) 1986 is a repackage of the Forms And Feelings album with three bonus tracks. The two-set CD, The Early Years (EMI CDS 7 96717 2) 1991 documents his period with Human Beans, Love Sculpture and Rockpile.
45s:
River To Another Day/Brand New Woman (Parlophone R 5664) 1968
Wang-Dang-Doodle/The Stumble (Parlophone R 5731) 1968
Sabre Dance/Think Of Love (Parlophone R 5744) 1968
Seagull/Farandole (Parlophone R 5807) 1969
In The Land Of The Few/People People (Parlophone R 5831) 1970
Reissues:
Sabre Dance/My White Bicycle (By Tomorrow + By Dave Edmunds) (Old Gold OG 9368) 1983
Sabre Dance/I Hear You Knocking + (EMI G 452) 1984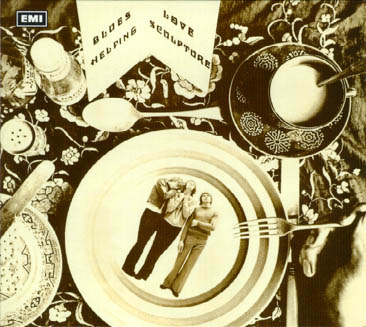 This Cardiff outfit had evolved out of Human Beans in 1968. Having put out "River To Another Day" on 45, Tommy Riley left to be replaced by Bob Jones. They were urged by EMI to record "Blues Helping" in an attempt to cash in on the UK late sixties blues boom, but neither this nor their next 45, a cover of Willie Dixon's "Wang Dang Doodle", both sides of which were also included on the album, sold at all well. They will always be best remembered for their Top Ten instrumental hit with their seven-minute breakneck version of Khachaturian's Russian classical piece "Sabre Dance", which was originally recorded for John Peel's 'Top Gear' radio show.
Their second album, "Forms And Feelings", included an eleven-minute version of "Sabre Dance", but the 45's flip side, "Think Of Love", which featured some distinctive guitar work from Edmunds, wasn't featured on the album which was hastily put together to cash in on the singles success. Another album track, "Farandole", another classic set to rock, was released as a 45 - a bad mistake, because it was too similar to "Sabre Dance". A further track from the album, "In The Land Of The Few", which Edmunds wrote with Mike Finesilver and Pete Ker, who'd helped him produce the album, was then released as a 45. This was a string-based number with an acoustic guitar intro more in the mould of Electric Light Orchestra. Again it flopped and it proved to be their final release. The band departed on a six-week US tour with a new line-up. Bob Jones was ousted but later appeared in Sassafras. He was replaced by former Dream drummer Terry Williams, and Mickey Gee, who'd briefly appeared in Joe Cocker's Grease Band in 1968, came in as a second guitarist. When they returned from America they split. Terry Williams was later in Man. Love Sculpture's first drummer Tommy Riley formed The Memphis Band in the mid-seventies. They put out an album in 1972.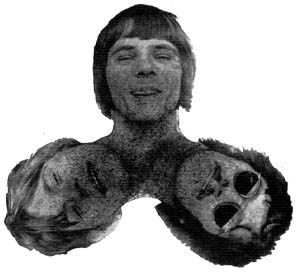 The US release of "Forms And Feelings" includes a version of Gustav Holst's "Mars" from "The Planets Suite", which the Holst estate had prevented from being included on the British pressing. It was not available elsewhere.
Dave Edmunds subsequently enjoyed a successful solo career. The 1974 "Classic Tracks 1968-72" compilation also included four tracks from Edmunds' Rockpile era. "The Singles A's And B's" compiles all the Love Sculpture and Rockpile 45s as well as the Human Beans one. In addition, "In The Land Of The Few" can also be heard on "Not Just Beat Music 1965-70" and "The British Psychedelic Trip, Vol. 2" (or "Vol. 1" of the corresponding CD series). See For Miles' "20 One Hit Wonders" compilation gave a further airing to "Sabre Dance" and the same label's "Sixties Lost And Found 1964-69" included "Seagull". Finally, "In The Land of The Few" and "Sabre Dance" appear on "The Great British Psychedelic Trip Vol. 3" CD.
Taken from The Tapestry of Delights - The Comprehensive Guide to British Music of the Beat, R&B, Psychedelic and Progressive Eras 1963-1976, Vernon Joynson
ISBN 1 899855 04 1
---