Week of March 4, 2001
Pazop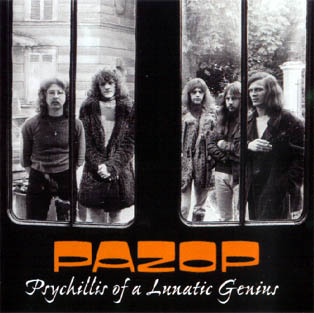 The roots of Pazop can be traced back to the story of three different Belgian groups, Wallace Collection, Waterloo and Arkham. Founded in '68, Wallace Collection, which was so called after a famous London Museum exhibiting masterpieces of various Flemish painters, included jazz man Marc Herouet on keyboards, Christian Janssens on bass, Freddy Nieuland on vocals and drums, both hailing from rock bands; guitarist and singer Sylvain Vanholme, from blues-rock band Sylvester Team and two classical musicians, violinist Raymond Vincent and cellist Jacques Namotte who both amplified their instruments. Sylvain had persuaded these two musicians from the Brussels Opera Orchestra to join the crossover band he was putting together. He wanted to play a kind of rock-meets-classical mixture which would subtly fit the beauty of classical themes as well as the sheer energy and typical rhythms of rock, in the vein of then-current groups such as The Nice, Ekseption and early Procol Harum. The group achieved an interesting synthesis of pop and classical, using real string instruments (violin, cello), yet amplified, instead of using electronic substitutes (such as mellotron) to reproduce orchestral sounds.

Raymond Vincent composed "Daydream", a classical-sounding melody inspired, for its main theme, by the second movement of a Tchaikovsky string quartet, and, for the second part of the piece, by the melody of the same composer's "Dance of the Swan Lake". "Daydream" was first released in Belgium in February 1969 and become a worldwide hit. Thanks to its phenomenal success, Wallace Collection gained an international star status and toured around the world, recording several albums and singles. The group was managed by Jean Martin. However, Christian Janssens left the group and was replaced by John Valcke. Back from a Brazilian tour, disagreement between some members provoked the departure of John Valcke, Marc Herouet, Jacques Namotte and Raymond Vincent. Nick Roland and American Scott Bradford replaced Valcke and Herouet respectively. Serge Ghazarian replaced Jacques Namotte but played violin. Freddy Nieuland and Sylvain Vanholme searched for a second violinist to replace Vincent, who had by then joined Esperanto, a big band comprised of musicians from several countries (England, New Zealand, Belgium, etc.)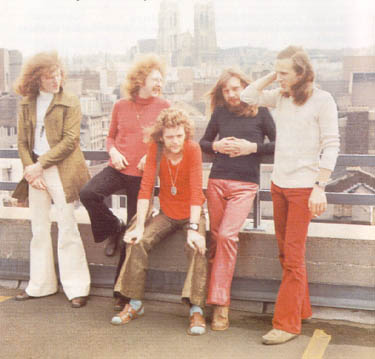 In January 1970, Freddy and Sylvain returned to the Brussels Opera where they met Raymond Vincent. They also approached another member of the orchestra, Jan Jakub (nicknamed "Kuba") Szczepanski (b. 6.5.38 in Poland) and offered him to join the band. Kuba, who was curious about the lifestyle of a rock group (quite a step from the rigorous musical world in which he was living), showed interest for such an adventure and accepted their proposal despite his doubts about being able to adapt enough to be able to play this kind of music, which was a totally new experience for him.

As a child, Kuba grew up in an artistic family - he began to study violin at the age of 7. He then pursued musical studies at the Conservatoire till 1962. Since 1959, he played in a famous Polish folk orchestra. In 1962, he moved to Brussels in order to follow his musical studies under the tutorage of his mentor Andre Gertler. In 1968, he became a member of the Brussels Opera Philharmonic Orchestra.

Kuba joined Wallace Collection in March '70. Some time later, Sylvain Vanholme left the group to form Two Men Sound with Francis Lou De Pryck (Deprijck), then Two Man Sound with the latter and Yvan "Pipou" Lacomblez and to pursue a career as a producer. Nick Roland replaced him on guitar, and Freddy Deronde joined the group as a bassist. Shortly afterwards, the group performed at the San Remo festival in Italy where foreign groups were primarily engaged to support songs composed in Italian by Italian composers (Il Sorriso, Il Paradiso, 02/1971). In 1971, Scott also left the group and was replaced by Guido Dello, who, in turn, left just after a handful of concerts. Freddy looked for a new keyboard player and discussed the situation with Dirk Bogaert, flautist and singer with Waterloo, a progressive group also managed by Jean Martin and considered at the time as the Belgian answer to Jethro Tull. Dirk had written lyrics to some of Wallace Collection's songs. He suggested to Freddy to contact Waterloo's keyboardist Francois Louis (nicknamed "Frank") Wuyts (b. 8.6.51 in Brussels). Frank accepted and, after a successful audition, assumed Dello's former seat within the band.

Frank had learned music theory and piano by himself and had played in ballroom orchestras since the age of 16. In 1968, members of Wallace Collection, who were sharing the same rehearsal room, had already proposed that he joins the band but he preferred to stay with his own group at the time. Later he was contacted by Waterloo who were searching for a replacement for their former keyboardist Marc Malyster. He accepted and joined the group which had previously released an album. He toured with them in Belgium and France and also recorded a single with this band before they split up in early 1970.

Freddy Deronde left Wallace Collection a little after Frank's arrival. Roland Kert, a bass-player and singer with a deep voice, replaced Freddy who went on to become an acclaimed acoustic jazz player. In late '71, Wallace Collection was booked to record the soundtrack for "Les Intrus", a French movie showcasing famous French singer Charles Aznavour. The group arranged the theme song, "Baby Love", which had been written by Aznavour's composer, Georges Garvarentz. This song was released as a single.

Due to some new conflicts, Frank, Kuba and Nick left the group in April '72. Meanwhile, the band was supposed to play "Baby Love" at the opening show of the film's official premiere but Garvarentz was so upset about the departure of the said three Wallace Collection members just prior to this event that he decided to rearrange the song in order for it to be performed by a symphonic orchestra fronted by variety singer David Alexandre Winter.

Meanwhile, Frank, Nick and Kuba decided to start their own group. Being professional musicians, they were looking to make a living from it, and, therefore, aimed to compose commercial songs. In parallel to that, they wanted to ploy an original progressive music project. Frank called upon his old friends from Waterloo, flautist-singer Dirk Bogaert (b. 26.10.48 in Ghent) and drummer Jacky Mauer (b. 14.5.46 in Liege) to complete the band. For bass duties, Jacky suggested Patrick Cogneaux (b. 6.8.48 in Mons). Nick Roland left the group when Wallace Collection contacted him again about playing some more gigs. The group decided to keep this "guitarless" formula, being satisfied with their original line-up and the harmonic possibilities offered by three solo instruments (flute, violin, keyboards).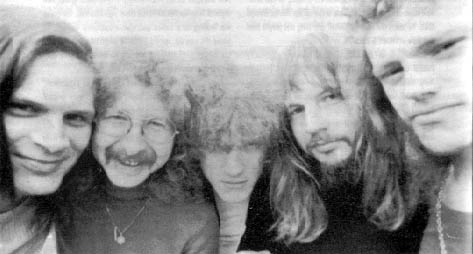 Jacky was a fanatic of all kinds of percussion. As a child, he taught himself the drums and started his musical career in '62 by joining a rock'n'roll band, Les Partisans, then from '64 till '66 - a salsa combo Les Tcha Ka Tchas/The Chakachas, (who had a #1 hit in Belgium with "Eso Es El Amor", sung in Spanish, in 1958). In '66, he moved on to the psychedelic Hendrix-inspired trio Adam's Recital with whom he recorded a single and toured in the U.K. playing at the famous Marquee club in London as well as the equally renowned Windsor festival alongside Zoot Money and Marmalade. In '68, he founded a new progressive band, Waterloo, with Dirk and guitarist Gus Roan. Dirk started his musical career at the age of 12 as a boy soloist in Verdi's "Nabuchodonosor" at the Brussels opera, after being picked out from his school's choir. In '62, he discovered the Anglo-Saxon rock music, especially The Beatles and later The Animals. At 12, he bought his first guitar and learned to play the instrument by himself. In '63, he was an art school student and at the same time founded his first group called The Wrong. He acquired a bass guitar and became the band's bassist before switching to vocal duties. The Wrong played cover versions of The Animals and The Beatles hit songs. In '66, he formed a blues-rock group called The Act, together with guitarist Gus Roan and keyboardist Marc Malyster. In '67, the group changed its name into Today's Version, and was joined by a new drummer. Today's Version played covers as well as original compositions in the vein of E.L.P. At that time, Dirk discovered jazz and became a fan of flautist Roland Kirk. He learned to play flute by himself, and assumed the role of the vocalist and bassist/flautist in Today's Version.

In '68, Dirk, Gus and Marc met Jacky Mauer and Jean-Paul Janssen, both ex-Adam's Recital. They decided to form a new group which they called Waterloo. Jean Martin showed interest in the group and decided to manage it. He produced their first (and only) album, "First Battle", and also several singles. Then, Jean-Paul and Marc left the band and were replaced, respectively, by Rick Brunel and Frank Wuyts. Soon Rick also left the hand and was replaced by Jean-Paul Musette. The arrival of saxophonist John Van Rymenant reinforced the band but eventually Waterloo split up for good.

Patrick was also a self-taught musician; he discovered rock in '63 via The Beatles and decided to learn guitar by himself. At 15, he played with a succession of ballroom bands in the area of Mons, near the French border. His elder brother played the guitar, so he switched to bass. After this dance-hall period, in '68, he joined Knives And Axis, the group which included Alain Pierre on vocals, Michel Rovive on organ, Dino Lionardi on guitar and the 14-year old Daniel Denis on drums. The group played cover versions of The Doors, Pink Floyd, Cream and Jimi Hendrix numbers with a psychedelic touch. On 16th May, 1969, the group performed at the "Le Tremplin" (the "Golf-Drouot" contest) and won first prize. Later on, Patrick played for two seasons, first one in '69, in Corsica, and the second in Martinique in '70, for Club Med. Back in Belgium, he heard that Daniel Denis (later with Univers Zero) was forming a three-piece group with organist Jean-Luc Manderlier (later with Magma). The group was looking for a bassist, so after a conclusive audition, he joined this new act, Arkham. Arkham was considered to be the Belgian answer to Soft Machine; however, they split up way too soon, in '71, after playing several legendary concerts.

Following these varying experiences, the musicians thought they were ready to produce original material. The group's instrumental diversity was manifested by their use of flute and violin as both rhythm and solo instruments. Moreover, the group included five musicians from different geographical, cultural and linguistic origins: a Flemish, Dirk from Ghent, a Walloon, Patrick, Frank, a Belgian of Polish origin, Jacky from Brussels and a Pole, Kuba.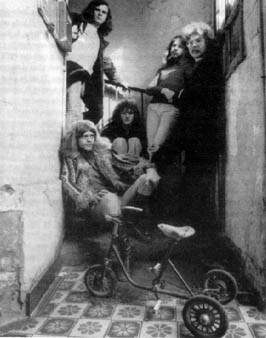 Frank played a Hohner organ which he had skilfully modified to produce unique sounds. The group, still nameless at this time, conjured up a few tracks. They contacted EMI, Wallace Collection's record company, and presented them with a demo featuring some classically influenced rock themes. EMI were not interested as they didn't want to sign a group playing in the same exact style as Wallace Collection. However, the record company offered the group a two-day recording session for the purpose of recording a brand new demo in their studios in Boulogne. The group recorded four commercial pop songs, amongst which an English adaptation of the famous French bawdy song "Le cure de Camaret", renamed, "Captain Black", with completely different lyrics, and only retaining the original melody. They also recorded "Morning", inspired by a Teleman composition (a slow classically flavoured pop ballad called "Try to understand").

With this demo in hand, now as their calling card, Kuba and Jacky visited all of Paris's record companies - without any success. On their way out of Polydor's offices, they bumped into a man wearing green overalls; he turned out to be famous French humorist and iconoclast Coluche, yet unknown and also looking for a record deal at the time!

Nevertheless, the group's lack of success trying to land a record deal did not affect their enthusiasm for musical creativity and overall perseverance. They always shared the same joy of playing together, and they soon left those commercial mistakes behind them, and gave free reign to their creativity. The group rehearsed intensively in the former sewing workshop of Jacky's father, a tailor nicknamed Boba. Thanks to Boba's patience and generosity, they were able to rehearse almost every day for six months. They mixed their musical ideas together in order to create very original music, inspired by a variety of sources, from modern electric jazz of Miles Davis, 20th century classics, progressive rock of English groups such as King Crimson or Caravan, as well as eccentric and technically involved music of Frank Zappa. Dirk was very fond of Zappa's output. The group, in fact, produced complex themes with many rhythmical breaks, time changes, sound collages, riffs and interwoven themes, atonal harmonies, intricate collaborations between keyboards, violin and flute. Frank and Dirk were responsible for the band's musical direction, and composed all of the material. At the beginning, the duo brought forth melodic patterns while other musicians in the band worked together on arranging them, bringing in their ideas in the process on how to improve upon the initial melody. Later, Dirk and Frank proposed completely structured, pre-arranged themes. All of the musicians had kept their day jobs and rehearsed in the evenings. Dirk who possessed a powerful, harsh voice, took on vocal duties, writing ironic sketch-like lyrics, stories about particular characters or phenomena, such as schizophrenia, drugs and madness.

They were still searching for a name for their group, having tried about forty, before Kuba suggested they choose a name which would sound typically Belgian and would be easy to understand and pronounce in any language as well as easy to remember. Dirk proposed Pas Op which means Warning in Flemish. They all thought that it sounded good, and its short and sharp impact would gain the band much-needed publicity. They changed its spelling into Pazop, however, in order to give it a more original and memorable sound. Now, at last, with the name decided upon, the band could start searching for bookings as well as a record company.

A female press agent, whom the band met at EMI's office, started to work for them and also contacted independent Parisian producer Luigi Ogival. He listened to the demo tape made at the Boulogne Studios and was interested in the band's sound. They proceeded to sign a 3 year contract with him on March 9, 1972, which granted them the opportunity to record several singles and an album - all within that period. Ogival presented the demo in March to Barclay label's artistic director Jean Fernandez, and the latter signed the group to CBS in April '72 after listening to the demo which was not representative of their true musical style. He had actually signed them up for a single which was to feature only those particular (demo) tracks.

The group performed at the famous Gibus Club in Paris (one of the two Paris cult clubs featuring Golf-Drouot). The audience appreciated their music very much, and the band was booked to play there again on June 26, 1972. On stage, due to the financial constraints, they didn't use any stage props, light show or any other such gimmicks. They were concentrating on playing their instruments instead, and Jacky only brought visual impact into their show with his dynamic, irrepressible gesticulation, as well as by hanging numerous percussion instruments around him. The group didn't have a manager yet, nor roadies or sound technician. Kuba was carrying about the mixing desk installed directly on the stage; he was manning the sound in between his violin solos. The group's repertoire comprised all compositions they had written since the inception of the band, with the exception of their 4 commercial tunes recorded for the demo; they didn't perform any covers.

Ogival booked Michel Magne's studio at Herouville for 7 days in early July in order for the band to record an album and a single. They played "Captain Black" with a more powerful rhythm than the demo version produced at the EMI studio. The recording was made on 24 tracks under the direction of renowned sound engineer Dominique Blanc-Franquard. The group recorded 18 tracks, all chain-linked together, giving the impression of a suite rather than 18 disjointed pieces. The recording sessions ended on 7th July, thanks to the group's rigorous prior preparation, resulting in the immaculate studio performance, which had required a great deal of technique and skill due to the melodic and rhythmic complexity. Michel Magne become friendly with the group and asked them to play music of his own for his upcoming wedding. The ceremony was to include a pagan mass at a church in the nearby village. The said ceremony was conducted by a friend of Michel's, an ex-blues singer who'd become a priest. Michel Magne also used a choir and a local brass band for this rather eccentric event. For the occasion, Michel and his young bride were dressed in traditional Russian clothes. Actor and producer Jean Yanne, another friend of Michel's, filmed this event which ended with pom-pom girls entering the church.

Thanks to their performance at the Gibus, the group got excellent press reviews in music magazines such as Maxipop, Superhebdo, Salut Les Copains (SLC). They even performed at Patrice (Dominique's brother) Blanc-Franquard's TV show, "Pop 2" in July '72. The group played live in front of a TV studio audience. After the gig, they met famous classical violinist Ivry Gitilis, who had liked their material and offered them to play at his musical "marathon" in Vence. The latter consisted of a series of performances by violinists who improvised on various Beethoven pieces. Pazop performed there on July 23rd and also gave a concert on the 30th of the same month, playing their original material to a very enthusiastic audience.

On September 24th 1972, Pazop took part in the Presseux festival in Belgium sharing the bill with such English groups as Atomic Rooster and Caravan. Between 16th and 21st October, they once again performed at the Gibus, and Luigi Ogival organised a free concert at the Salle Pleyel in Paris, in order to introduce the group's forthcoming album to the audience and press critics. The concert was sponsored by radio RTL and Pop Music magazine. However, only 80 people showed up. Pazop played their entire repertoire for an hour and a half without any breaks in between the pieces. The group had decided to go along with Dirk's suggestion to entitle the new album, "Psychillis of a Lunatic Genius", but when Barclay's artistic director heard this title, he thought it was too "uncommercial"; he decided to release only the single. Luigi Ogival was quite upset as he had expected to be able to sell the album's master tapes to Barclay, in order to pay for the services rendered to the band at the Herouville Studio. As a result, as he was unable to raise the money to cover the studio costs, Michel Magne kept the master tapes for himself. In the end, only the commercial single was ever released by Barclay. By chance, Jacky Mauer was able to borrow one of the master tapes for a weekend back in Brussels, and listened to it together with Alain Pierre who owned a small home studio. Alain made a copy of this tape for himself. Despite several legal steps in January '73 and the use of a lawyer who tried to force Ogival to keep to his commitments, the latter attempts proved unreliable, and the contract was cancelled.

This disappointment did not affect Pazop who next performed in Brussels on 24th November. They played once again at the Gibus on 26-28th February, 1973. On 12th March, the group performed a live show for the Belgian TV programme, "Pop Shop". Early in '73, Sylvain Vanholme who had founded commercial pop group Two Man Sound, contacted Pazop. He had a request from a producer to record an album of pop adaptations of classical themes. Pazop accepted his offer and recorded a demo in their rehearsal room using a Revox two-track recorder - the session which included "Little Swans' Dance" from Tchaikovsky's "Swan Lake", the finale of Dvorak's "New World Symphony", Mozart's "Eine Kleine Nachtmusik" and a theme taken from a Verdi opus. Sylvain obtained producer's agreement which enabled him to issue an album containing Pazop's pop adaptations of the classics. Two Man Sound was just a studio group, so Sylvain also asked Pazop to help him record two songs for Two Man Sound's own album, "Rubro Negro".

The group eventually entered the Start studio in Brussels, in June 1973, to record rock cover versions of classical pieces. They changed their name to Elektrik Konzert for the occasion and performed themes from Bizet's "L'Arlesienne" and "Carmen", Gounod's "Ave Maria" and some other classical favourites. The album garnered a lot of success in Belgium and Holland.

Sylvain, who liked Pazop's own music, subsequently offered the group to record an album of their own material. He booked the Start Studio again and decided to co-produce the new Pazop album partnering with the studio's owner. The recording sessions lasted 7 days, 27th August till 2nd September, and were made on 24 tracks under the direction of sound engineer Willy. This time, the group selected some numbers which had already been recorded at Herouville, and nearly all of the new compositions created since the Herouville sessions.

Pazop had by then evolved technically and were capable of playing more complex, sophisticated and powerful progressive rock music, adding more humour and irony to their lyrical themes as well. They were unafraid to borrow from other musical styles and genres, things like popular dances, traditional tunes, and so forth, and were, as always, fond of dynamic times changes, unexpected rhythmic accelerations, and fusions of several themes into one opus. Sylvain, like Ogival, asked the group to compose two commercial numbers in order to convince a record company to sign them. They proceeded to compose "Merry Jungo" and "Honey Honey". Sylvain contacted CBS, who, having listened to these two songs, promptly signed the group for a single but still refused to release the album, deeming it once again "uncommercial". Sylvain got in touch with many other record companies - without much success. Additionally, the owner of the Start Studio was having some troubles and was forced to close the studio. Once again, the album remained unreleased.

Pazop continued to gig sporadically in Belgium. During their show, the group played their entire repertoire, culled from their "second" album. In '74, they continued touring, notably in France, and on 2nd February, they played in Uckange, sharing the bill with Belgian rock trio Creative Craniums (from La Hestre) and local French progressive band Lykorn. The latter included singer/acoustic guitarist Frederic Joos and German guitarist Roger Weiler who later joined German progressive band Neuschwanstein. On July 3rd and 4th, they performed two shows at the American Theatre in Brussels which were filmed by Belgian TV (BRT) and broadcasted. Their last concerts took place on the 6th and 7th July in Ressaix, Belgium. The musicians felt burnt out and dispirited by their collective misfortunes and difficulties in trying to obtain bookings and a record deal, as well as by their numerous failures to release an album. They had to survive financially, and thus they decided to split up and end Pazop.

Kuba subsequently worked in the medical field for several years before taking up violin again, this time to join Belgian Radio's house orchestra. He also guest-starred on a ragtime album by Ragtime Cats (feat. Marc Herouet, John Valcke, ex-Wallace Collection and Bob Dartch, ex-Cos, plus two female singers) in '78.

Following the group's demise, Jacky, Dirk, Patrick and sax player Alexis Van Eeckhout founded Avena Sativa, a progressive jazz-rock outfit who, unfortunately, never released an album. This group split up in '76. Frank and Dirk then set up an 18-piece big-band named Karass Bulband. Also in '76, Jacky and Dirk founded another jazz-rock group, Abraxis, with ex-Cos keyboardist Charles Loos, ex-Waterloo and Cos bassist Jean-Paul Musette and guitarist Paul Elias. This outfit released an album in '77, featuring Tony Malisan from Esperanto on drums as guest on one track. They subsequently toured Belgium but due to the lack of success split up shortly thereafter. Later, Dirk set up a recording studio with Sylvain Vanholme. Jacky opened several record shops before opening his own restaurant and a studio called Le Shiva, in Pazop's old rehearsal room. Frank worked as a back-up musician for American R&B singer Arthur Conley during one of his European tours and accompanied several Belgian singers before joining the backing band of French variety singer Pierre Vassiliu, thanks to his friend cellist Denis Van Hecke. Frank later joined Jacques Higelin's backing band and also played with the experimental Belgian band, Aksak Maboul, led by another ex-Cos keyboardist, Marc Hollander. Frank composed many commercial jingles before returning to rock scene as part of the trio, Musique Flexible, featuring Denis Van Hecke on cello and Michel Berckmans (ex-Univers Zero) on bassoon and oboe. The group fused many musical styles, also adding humour to the mix. Frank Wuyts also made an interesting album in the mid-eighties, together with Geoff Leigh (ex-Henry Cow); it features Phil Miller (ex-Matching Mole) as a special guest.

Patrick Cogneaux, besides playing in Avena Sativa, accompanied Belgian singer Andre Bialek, with Frank Wuyts playing keyboards (later replaced by Jean-Luc Manderlier). From '74 to '78, he worked as a sound technician for several Belgian artists such as Cos, Kleptomania, Univers Zero, Present and also foreign acts, Allan Holdsworth and Terje Rypdal. Between '77 and '88, he also worked at Jacky's studio as sound engineer and assisted in the recording of "Babel", the third Cos LP. Nowadays, he is a technician at a free radio station in Brussels.

Pazop offers very original, complex progressive rock with continuous rhythmic and melodic changes. Their music is reminiscent of the most innovative works from Jethro Tull, Hatfield And The North, Frank Zappa, Van Der Graaf Generator, Weather Report and King Crimson.

After many years of having been presumed lost, the original master tapes of the first album have now been discovered in a desk! This CD is a testimony to the great value, longevity and originality of Pazop's music.

Acknowledgements: Kuba, Frank Wuyts, Jacky Mauer, Patrick Cogneaux, Dirk Bogaert, Alain Pierre, Daniel Schell.

Taken from the CD reissue of "Psychillis of a Lunatic Genius" Musea FGBG 4191.AR
---