Week of June 27, 2004
Rufus Zuphall
Personnel:
Klaus Gülden - Flute, Percussion
Günter Krause - Guitars, Keyboards, Vocals
Helmut Lieblang - Bass
Udo Dahmen - Drums, Tablas, Percussion
Thomas Kittel - Guitar, Clavinet
Manfred Spangenberg - Bass
Erich Engels - Percussion

Albums:
Weiß Der Teufel (Good Will 10001) 1971
Reissued on Little Wing (LW 1009) in 1989 with a different cover on LP and CD.
CD Reissue: Long Hair LHC00029 - includes Live Aachen 1972 - Part 1

Phallobst (Pilz 20 21099-5) 1971
Reissue with the original fold-out cover, but with the "Pop Import" mark circa 1981.
CD Reissue: Long Hair LHC00030 - includes Live Aachen 1972 - Part 2
CD: Avalon And On, Long Hair LHC00031, 2005
CD: Colder Than Hell - Live 2000, Fünfundvierzig 120, 2005
CD: Outside The Gates Of Eden, 2007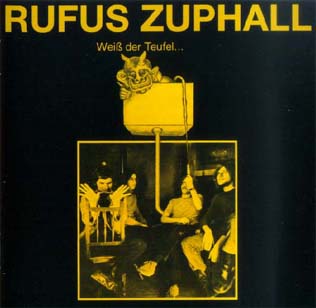 An experienced progressive rock collector will know about this excellent group from Aachen, which can arguably be dubbed the German Jethro Tull. Rufus Zuphall's first album, "Weiß Der Teufel", has gradually gained legendary status. It was recorded in the Netherlands and released as a private pressing in 1971. All five tracks were recorded live in the studio, resulting in a raw and unpolished sound. Just like Jethro Tull, Rufus Zuphall drew influences from both folk and the blues. The side-long title track, "Weiß Der Teufel", incorporated the old Gerschwin-standard "Summertime". This developed into a very twisted and frenetic flute solo! Some people regard this track as one of the finest moments of German rock. (Note: two other interesting versions of "Summertime" have been recorded. The Zombies did a charming, jazzy beat version in 1966, and the Dutch group Brainbox, featuring Jan Akkerman on guitar, released a more progressive interpretation in 1969.) Other great tracks were "Knight Of Third Degree", in a peaceful, folky mood with massive percussion, and "Freitag", featuring one of the most raucious guitar breaks of German rock! "Weiß Der Teufel" is a great album, typifying the raw-edged, largely instrumental early progressive rock.
Their next album, "Phallobst" (recorded in the Dierks Studio between July and August 1971) featured new members Thomas Kittel and Manfred Spangenberg. This album was more polished and had a wider dynamic and instrumental range (mellotron, clavinet and acoustic guitars were added). Particularly strong was the album's second side with two fine instrumentals: "Prickel Prit", strongly flavoured by the blues, and "Makrojel" electric folk-rock with flute to the fore. "I'm On My Way" closed the album in a quiet way.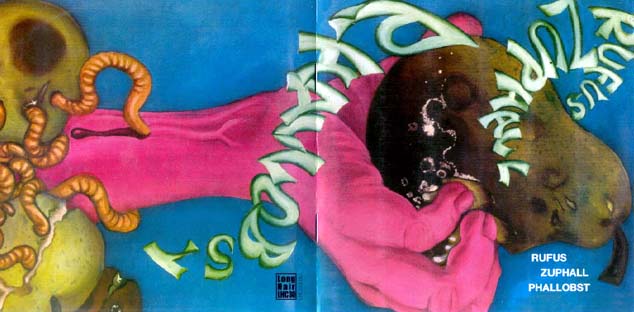 In 1989, Little Wing reissued the first Rufus Zuphall album in a magnificent new cover design. But still more exciting was their 4 LP box (+ large booklet and a bonus single) of 1994 with "Phallobst" and lots of previously unreleased material, comprising a complete concert from June 1972, demos for their unreleased third album and a couple of tracks recorded prior to "Weiß Der Teufel". The quality of the recordings were generally good, and this set is indispensable for Rufus Zuphall fans!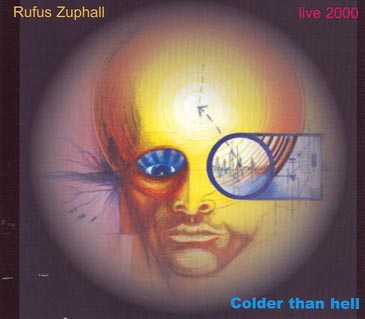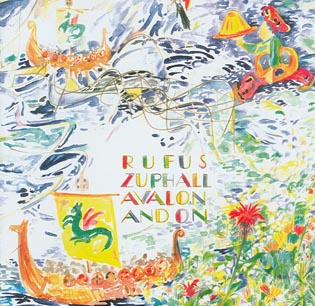 Taken from Cosmic Dreams at Play - A guide to German Progressive and Electronic Rock by Dag Erik Asbjørnsen, Borderline Productions, ISBN 1-899855-01-7
---
Bringing things up to date...
The legendary prog rock group from Aachen (Germany), formed in 1969, are celebrating their 40th anniversary in 2009. They will perform open-air during the Aachen September Special on the Katschhof (next to the Cathedral) on September 30, starting at 20:15. The members of the band are Klaus Gülden (flute), Roland Hegel (drums), Gero Körner (hammond, keybs), Günter Krause (guitar, vocals), Helmut Lieblang (bass) and American singer Cassie Sagraves who will be making her debut with the band at the event.

Some guests will also be there – Prof. Udo Dahmen (first drummer of the band, today head of the Mannheim Pop Academy and vice president of the German Music Council) and Josef 'Jupp' Ebert, Aachen's big voice.

The group has been characterised as "one of the most important German bands along with Can" (German Rock Encyclopedia). Anglo-American folk-rock had a large impact on their style. Even today typical attributes to their music are hard rock, quiet ballads, elements from classical music and jazz, long improvisations and a lot of joy in playing their stuff.

In 1970, the musicians had their breakthrough at the legendary Bilzen Jazz Festival (Belgium) where they were celebrated by thousands of listeners. In the same year they produced their first LP, Weiss der Teufel, on their own, the second LP, Phallobst, was released by Ohr/Pilz – both rare and sought after collectibles. Since the 1980s, the band's records have been re-released by different labels (Little Wings of Refugees, 45/Indigo, Longhair Music).

In 1973, the band broke up due to the pressure of commercialization, but the boys kept in touch with each other. Since their reunion in 1999, they have been playing at different locations and festivals, e.g. Burg Wilhelmstein, Burg Altenburg, Herzberg Open Air Festival, WDR Rockpalast. Up to now, two new CDs have been released – Colder Than Hell (2000) and Outside The Gates Of Eden (2007).
---
To the Official Rufus Zuphall Web Site