Week of July 11, 1999
Sahara
Sahara developed out of Subject Esq. After some line-up changes in 1973, this Munich group was signed to Pan (an Ariola subsidiary) and changed their name to Sahara: Hennes Hering (keyboards, ex-Out Of Focus), Michael Hoffmann (moog, mellotron, vocals), Alex Pittwohn (harmonica, sax, vocals), Stefan Wissnet (bass, vocals), Harry Rosenkind (drums) and Nick Woodland (guitar, ex-Gift). The album Sunrise (1974) was recorded in the Autumn of 1973 at the Musicland Studios, Munich. This was an excellent example of complex German symphonic rock, clearly influenced by British bands such as King Crimson, Yes, Emerson, Lake & Palmer, Curved Air, Jethro Tull and others. Sunrise was nonetheless of an international quality, combining haunting melody lines with complex arrangements. The Sunrise suite filled the whole of side two. The album was also granted a British release on the Dawn label.
Sahara were never a stable unit. At the time of recording of "For All The Clowns" two years later, only Hering, Hoffmann and Wissnet remained from the 1974 line-up. The new members were: Gunther Moll (guitar, vocals) and Holger Brandt (drums, ex-Missing Link). The resulting album was another great effort - more polished and melodic with long, memorable songs like "The Mountain King" and the title track. Sadly, the band wasn't able to cope with more line-up changes when Brandt and Moll decided to leave, and consequently disintegrated in 1977. Sahara's legacy is two really great albums recommended for all fans of symphonic rock.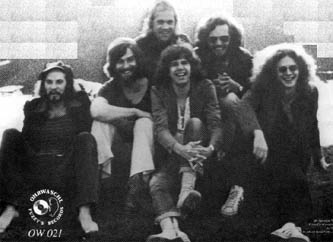 Albums:
Sunrise
Germany: 1974 PAN 87.306
UK: Dawn DNLS 3068
US: Peters Int. PILPS 9006
For All The Clowns
Germany: 1976 Ariola 89.377
US: Peters Int. PILPS 9017
Both albums were recently reissued on CD by Ohrwaschl: OW 021 (For All The Clowns) and 022
(Sunrise).
Taken from Cosmic Dreams at Play - A guide to German Progressive and Electronic Rock by Dag Erik Asbjørnsen, Borderline Productions, ISBN 1-899855-01-7
---