Week of March 24, 2002
T2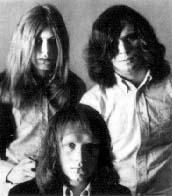 Personnel:
Keith Cross - keyboards, guitar, vocals
Peter Dunton - drums, vocals
Bernard Jinks - bass, vocals
Mick Foster - guitars
Alex Friedman - guitars
Gordon Crump - keyboards

Album:
It'll All Work Out In Boomland (Decca SKL 5050) 1970
(Reissued on CD, World Wide Records SPM-WWR-CD-0032, 1991 with additional cuts, along with "Second Bite", World Wide Records SPM-WWR-CD-0033, 1991, which was the product of a reformed line-up some years later. "It'll All Work Out In Boomland" also officially reissued on vinyl in Korea (Si-Wan SRML 0022). Fans of the band will also be interested in "T2", Essex 1019 LP, 1997, which contains material originally intended for a second album and originally scrapped when the band split.)
An obscure but now rare and quite sought-after album by a short-lived progressive rock trio. Formed in 1970, drummer Peter Dunton had previously been with Gun, and Keith Cross and Bernard Jinks had been in Bulldog Breed. Some likened Cross to Eric Clapton, and the group made a successful appearance at the 1970 Isle Of Wight Festival and had a residency at the Marquee for a while. Their album contained an epic, 21-minute power rock cut, "Morning", and is certainly one of the better early seventies progressive rock efforts. Another of its cuts, "No More White Horses", had a great freaky ending.

In 1991, the album was reissued on CD with three bonus cuts that were recorded live for the BBC in October 1970. Of these, "CD" and "In Circles" are good power rock offerings in the style of Hendrix and Cream. The second CD, "Second Bite", was recorded by a reformed line-up put together by Dunton some years later, but it suffers from the absence of Cross's dynamic guitar playing.

After T2, Cross teamed up with Peter Ross in Cross and Ross.
Taken from The Tapestry of Delights - The Comprehensive Guide to British Music of the Beat, R&B, Psychedelic and Progressive Eras 1963-1976, Vernon Joynson
ISBN 1 899855 04 1
---

T2 was formed in early 1970 when Peter Dunton (drums, lead vocals and songs) left the Gun to join up with Keith Cross (guitar and keyboards) and Bernard Jinks (bass), both from Bulldog Breed. They soon found a strong musical rapport and, after less than a week of rehearsals, they started a residency at a club in London's West End.

By their third gig, the club was packed, and the producers from four major record companies and three TV and Radio programmes were there to check them out. This led to a recording deal with Decca Records, the release of "It'll All Work Out In Boomland" and several TV and radio appearances later in the year.

Their rise continued throughout the year, with appearances at several important open-air festivals, including the Isle of Wight and Plumpton. They headlined a series of residencies at the Marquee Club, and appeared at virtually every major rock venue in the London area before branching out onto the university circuit. They were constantly in the music press - indeed Keith, still only seventeen, was being hailed as the new Eric Clapton! In the end, the pressures grew too great and first Keith and then Bernard left the band.

After a short break, Peter put the band back on the road with new musicians, and T2 toured the UK continuously throughout 1971 and 1972. Finally, a settled line-up was achieved - including Mike Foster, who had been a friend of the band since the early lays. However, the UK music scene had changed considerably by then. The band found that to resume their recording career, they would have to compromise their musical policy. Rather than do this, they decided to stop altogether.

Essentially, T2 were an exceptional live band with a unique blend of musical styles. The three musicians played as one, with great emotional intensity, and sounded like no one else. Their music went through constant changes of light and shade, from wistful acoustic whispers to thunderous roars of anger, creating great musical tension on the way. Their concerts were not just a series of favourite songs, they were emotional experiences, which somehow triggered feelings and memories in their audiences. In some ways it was fitting that they should end too soon - a promise unfulfilled, a question unanswered. But the dream did not die.

Taken from the CD reissue of "It'll all work out in Boomland", SPM/World Wide Records, 1991, SPM-WWR-CD-0032).
---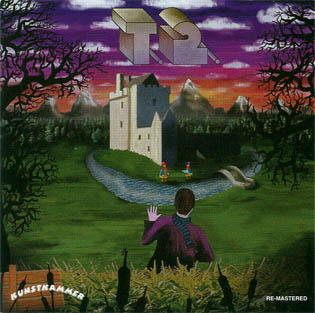 Following Alex's departure, Mike continued to work with Pete for a few years recording several tracks that were never released. After a break, the two teamed up again in 1989 for some recordings, as well as organizing a covers band just for fun. They gigged with this band until 3 days before Mike's move to Thailand in October 2002. Over that period, they also did a few T2 gigs and recorded the last three albums.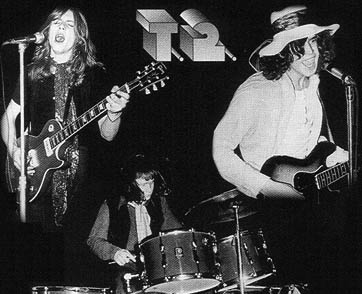 "Second Bite" was recorded with just Pete and Mike playing all the instruments, the latter handling all the guitar work as well. "Waiting for the Band" was a part-studio, part-live album, the latter having been recorded at International Two in Manchester. Ray Lee was drafted in for the live work and also played guitar on two studio tracks, 'Waiting for the Band' and 'Drifting By'. Once again, Mike handled the guitar parts on all the other tracks. Ray Lee also did a few gigs with T2 prior the recording. "On the Frontline" was again just Pete and Mike, although both played guitar on this album, as well as all the other instruments.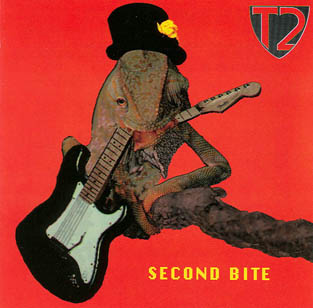 A couple of bootleg albums have surfaced in Korea and Japan, which were compilations of the original and later work. There was one more set of recordings completed to mixed master stage which was going to be called "Flying", but unfortunately this was never released.

Keith Cross and Bernie Jinks never played with T2 again after their original departure.
Addition by Mike Foster, 2006
---