A Groningen rock'n'roll group, featuring, a.o., Dick Beekman (dr, later in Rodijs). (Presumably, Eelco Gelling and Harry Muskee were also members of this group).
1962	Autumn leaves/Red sails in the sunset
	EP Black rock/Breaking and shaking/Rockin' strings/Tombola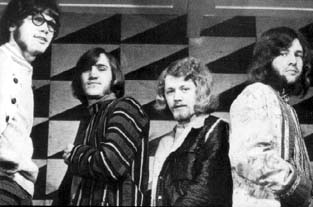 There were bandnames like Rowdies and Rowdy's in Arnhem, Beverwijk, Enschede, Winschoten and Belgium. That's why the group from Groningen changed its name into Ro-d-ys, when the group from Enschede started to get some attention. The Ro-d-ys existed from 1966 'til 1969 and arose from a schoolband called Popular Pipers Boys Band, a Shadows soundalike.

Members included: Harry Rijnbergen (v,g, to Zen and Harley Jay), Ben Groen (g, also to Zen), Wigger Kenter (b,tr), Joop Hulzebos (keys,g) and Dick Beekman (dr, ex-Rocking Strings, see above, Sharks and Cuby).

In 1967, Dick went back to Cuby and was replaced by Wim van Meegen (ex-Just Me). For commercial reasons, in 1969, singer Annet Hesterman was added (also solo and later in Sacha & Paul). After that, the group soon fell apart.
1966	You'd better take care of yourself/Wheels wheels wheels Philips JF 333645
1967	Take her home/Only one week Philips JF 333830
	Just fancy/Gods of evil Philips JF 333855
	Nothing to change a mind/Stop looking on a deadlock Philips JF 333885
	To morrow [op LP Best beat] Fontana QL 626357
	LP Just fancy Philips XPY 855034
1968	Sleep sleep sleep/Show me by candle light Philips JF 333921
	Anytime/Dr. Sipher Philips JF 333963
	Unforgettable girl/Everytime a second Philips JF 333977
	Earnest vocation/Isn't it a good time Philips JF 334554
	LP Earnest vocation Philips XPY 855075
1969	Winter woman/Looking for something better Philips JF 334690
In 1966, she ended up second in the Cabaret Der Onbekenden, behind Ellie Nieman. Alongside some Dutch records, in 1968, she recorded an outstanding English pop single and in 1969, she could be heard on a single by the Rodijs (1969). In the seventies, she was part of the duo Sacha & Paul, with Paul "King" Guldenaar (to Album).
1966	Draag schoenen om te lopen/Johnny ik bel je Philips JF 327989
	Het leven is een hitparade/I don't understand Philips JF ??????
	Waar op de wereldbol/De wereld is leeg zonder jou Philips JF 333593
1967	Ik wacht op de zomer/ Philips JF 333693
	'k Ben zo vaak alleen/Je lijkt op ma Philips JF 333888
1968	Something's gotten hold of my heart/Surrounded by a ray of sunshine
	Philips JF 334556
1969	Winter woman/Looking for something better [& Rodijs] Philips JF 334690
	Zoek 't niet te ver/Ons laatste afscheid Philips JF 334697
	Ik ben gekker dan je denkt/Zou het waar zijn Philips JF 336050
---
Dutch charts:
RO-D-YS
6-5-67 SINGLE 3 11 TAKE HER HOME
15-7-67 SINGLE 8 8 JUST FANCY
28-10-67 SINGLE tip NOTHING TO CHANGE A MIND
25-11-67 SINGLE 34 2 NOTHING TO CHANGE A MIND
6-1-68 SINGLE tip SLEEP SLEEP SLEEP
27-1-68 SINGLE 40 2 SLEEP SLEEP SLEEP
9-3-68 SINGLE tip ANY TIME
RO-D-YS & Annet Hesterman
1-3-69 SINGLE tip WINTER WOMAN
---
Submitted by: Adri Verhoef (a3@a3.xs4all.nl-removespam)
Back to Alex's Home Page
Back to the Nederpop index