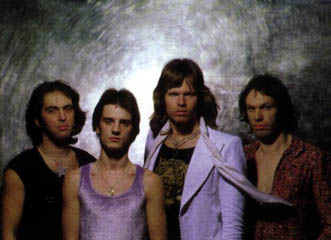 Teaser originated from Enschede, a major industrial town in the East of the Netherlands. Having moved there in his teens, Adrian began by playing in bands like Mother of Pearl (with Jos Zoomer, later to become the drummer in a later version of Teaser and Vandenberg). Darling (the group with whom Adrian recorded his first single), the Jaap Dekker Boogie Set and Magic Box, both bands featuring well-known Dutch pianists.

At every opportunity, Adrian tried to go and see a band called Maddogs who had in their ranks a singer with an incredible voice; Jos Veldhuizen. Adrian was several years younger than Jos, whose band even owned their own P.A., making him slightly reluctant to approach him. However, when Maddogs recruited a new bass player Adrian realized that he'd have to act fast: "I've got to act now otherwise they may find an amazing guitarist and ruin all my plans". His imagination and aspirations were endless; gold albums, world tours, beautiful women, fast cars, caviars and champagne, to name but a few. To cut a long story short, it was an offer no one would have dared refuse. The reality of course was slightly different: long car drives through Germany to play at some military bases in the middle of nowhere, and not enough cash to go round.

Eventually, Adrian's connections in the music business rewarded Teaser with a recording contract, the result was a self-titled first (and only album); a self-produced, rough edged blues rock album featuring Adrian's melodic, direct approach to guitar playing, his own sleeve art-work and Veldhuizen's soulful rock 'n' roll voice, a voice reminiscent of Paul Rodgers' early work. The combination of these two musical forces, backed by such talents as bass player Peter van Eyk and drummer Nico de Gooyer, resulted in the writing of songs which are as memorable as they are accessible. However, it's very unlikely that anyone outside The Netherlands, except for a few old soldiers, has ever heard of Teaser. Mention the name Vandenberg and you'll get a different reaction of course. Rumour has it that around this time Adrian auditioned for a guitarist-spot in Thin Lizzy, but that never worked out. Adrian instigated a number of changes in Teaser's line-up. Enlisting the help of Jos Zoomer, former Turbo (another Dutch rock-band) bass-player Dick Kemper, and singer Bert Heerink. The new band rallied together and started creating their own brand of classically orientated melodic blues rock.. Jos Veldhuizen opted for a bluesier approach and became the lead singer in Flavium, an excellent Dutch blues band.

Teaser's very first demo out-takes got them an American recording deal, and the band's name was changed to Vandenberg. Their first album was recorded at Jimmy Page's Sol studios in England. It was at the end of 1982 that the band went nervously to a Whitesnake concert to present David Coverdale with a copy of their album. Although Coverdale later claimed that it was Adrian's girlfriend who he was interested in, he told them at that time that he was impressed by them, and asked for Adrian's phone number. The Dutch Windmill would be the first guitarist Coverdale phoned after the firing of Micky Moody. Due to the massive chart success of Vandenberg's single "Burning Heart", the timing wasn't exactly perfect. A number of years later the perfect opportunity presented itself when Coverdale needed musicians to help promote the Whitesnake "1987" album. Joining Whitesnake gave Adrian an opportunity to work with one of his all time heroes and to meet many other idols on the way. The Teaser album started it all.
Discography
1978 7" Do it to me / Don't tease me Philips 6012779
1978 7" What you need is love / It's gonna be alright Vertigo 6012959
1979 7" Oh Theresa / I need love Vertigo 6012964
1980 7" Now I need you more than ever / Roll thru' the night CBS 8398 
(note: 1980 single in Vandenberg style, but still with Veldhuizen as vocalist
Roll thru' the night still played at Vandenberg live gigs)

1978 LP Teaser Vertigo 6413506
1. What you need is love
2. I've sold my soul to rock 'n' roll
3. Ride on train
4. Don't break my heart
5. Don't try to change me
6. I need love
7. Leave me if you want to
8. I'm a bad man
9. It's gonna be alright
10. Do it to me

1977 CD Teaser Pseudonym CDP-1045-DD
bonus tracks:
1. Don't tease me
2. Oh Theresa (single mix)
3. Oh Theresa (old mix)
The band's biography was taken from the Teaser CD reissue, written by Hans van den Heuvel, chief editor of "The Heavy and Hard Rock encyclopedia", editor of Dutch "Oor" music magazine.
---
The line-up of Vandenberg on their first album was: Dick Kemper (bass, background vocals), Bert Heerink (lead vocals), Adrian Vandenberg (guitars, keyboards, background vocals), Jos Zoomer (drums, background vocals).

Peter Struyk replaced Bert Heerink after the Japanese part of the "Alibi" tour. Bert, meantime, joined Picture.

Later, Ad van den Berg was invited to play in Whitesnake and Vandenberg was history. Peter and Jos moved to Avalon (with guitarist Jack Pisters). Peter moved on to creating his own outfit, First Avenue. Dick emerged in No Exqze. In the mid-nineties, Bert started a solo-career.
1982	LP Vandenberg ATCO ATCK 50904
1983	Burning heart/ ATCO
	Friday night/This is war ATCO 799781-7
	Different worlds/Too late (live) ATCO 799814-7
	LP Heading for a storm ATCO
1985	Once in a lifetime/This is war (live) ATCO 799616-7
	LP Alibi ATCO
1988	LP Best of ATCO
---
Hard rock band from The Hague, formed in 1976. In 1978, the line-up was: Jan "Jay" van Veggelen (v, ex-Park Lane, solo as Solomon Cane), Rheno Xeros (aka Rene Rijsdijk, g), Armand van der Hoff (b), Gerard Haitsma (dr, ex-Lava).

In 1982, Jan was replaced by "Madman" Axel Joseph Langemeyer (v) and Arjen "Iron Anthony" Lucassen (g, ex-Pythagoras). Later, Van der Hoff devoted his life to religion, so Rheno and Arjen took up bass guitar duties (at live performances, bass guitar was played by Jeronimo (aka Jeroen Bos, ex-Roberto Q & Boppers)).

In 1984, Arjen moved on to a new formation, Vengeance. Later, Rheno also abandoned rock music for religion and Oscar Holleman (ex-Vengeance) joined the group.
1981	Rock Rosetta/Oh wee baby WEA WEAN 18463
	On the lookout/Back street crawler WEA WEAN 18718
	LP Bodine WEA WEAN 58278
1982	LP Bold as brass WEA
1983	LP Three times running WEA
Dutch charts:
VANDENBERG
28-8-82 ALBUM 14 8 VANDENBERG [Album v/d week op 21-8-82]
26-3-83 SINGLE 19 8 BURNING HEART
5-11-83 SINGLE 18 7 DIFFERENT WORLDS
10-12-83 ALBUM 10 9 HEADING FOR A STORM [Album v/d week op 3-12-83] 14-9-85 ALBUM 18 8 ALIBI
14-9-85 SINGLE tip ONCE IN A LIFETIME
BERT HEERINK
8-7-95 ALBUM 3 27 STORM NA DE STILTE
8-7-95 SINGLE 9 11 JULIE JULY (brother louie)
2-9-95 SINGLE tip WORDT HET GEEN TIJD (isn't it time)
4-11-95 SINGLE tip NAJAARSZON (burning heart)
---
Teaser info submitted by Ad van Alphen (k.sizelove@worldonline.nl)
Vandenberg and Bodine info submitted by Adri Verhoef (a3@a3.xs4all.nl-removespam)
Back to Alex's Home Page
Back to the Nederpop index