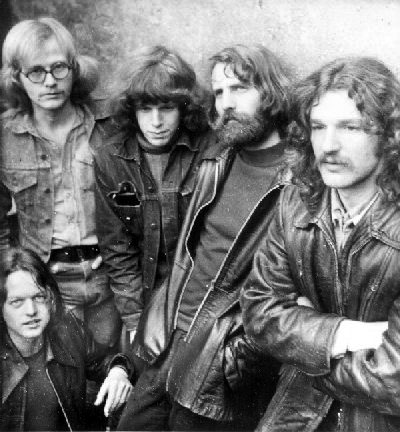 The 1974 unrecorded line-up of Flavium:
Top L-R: Hans Driesten, Herman Driesten, Fontain, Peter Beemsterboer, Eric Bagchus; bottom: Anne Geert Bonder
Since 1969, this group from the Apeldoorn area has been one of the leading blues bands in The Netherlands. They were founded by Peter Beemsterboer (drums, ex-So & So) and Anne Geert Bonder (guitar). Other founder members were Michiel Goedkoop (v) and Doewe Munk (b, to Plain Dust), in 1971 replaced by Luc Steensma (to Electric Air), followed in 1972 by Rob de Vrij. In 1974, they settled on Eric Bagchus (also ex-So & So).

In 1971, Hans Driesten (vocals, guitar, piano, harp, ex-So & So) became the front man. Other members in the formative years were Herman Driesten (g, Hans's brother, back to Devils Jump) and Rob Fontain (kb, ex-Bobby's Children).

In 1975, they landed a recording contract with a small record label, Ivory Tower. In 1977, the band was augmented by Peter Dijksterhuis (organ, piano, to The Sherman Brothers). After "Pluggin' In Your Socket", Beemsterboer (to Shakey Sam's Blues Band) was replaced by Nico Groen (ex-Speedtwins). After one more album recorded for Ivory Tower, the band (minus Dijksterhuis) got a contract with the major label Polydor and was assigned Pim Koopman (ex-Kayak, then in Diesel) as producer. Koopman had the band record Willie Nelson's "Nightlife" and arranged it not unlike Fleetwood Mac's "Need Your Love So Bad". It would prove to be Flavium's only sizeable hit and boosted the sales of the well-produced 1979 "No Kiddin'" album. To everyone's surprise, the band recruited ex-Teaser lead singer Jos Veldhuizen the following year, who would take away much of the limelight from Hans Driesten. Driesten was ousted in 1982, just after the release of "Against The Grain", due to "eccentric behaviour". He would continue with bands like Flavor, The Höfners and, more recently, The Bleaching Bones. He was replaced by Rob Goedkoop (ex-Railway). As someone who admired Driesten's talent, Pim Koopman didn't agree with the changes within the band. Cees Schrama took over as producer, but in late 1984 Polydor dropped the band. They recorded another live album for the ambitious BONI label (who at the time also had The Cats and Diesel under contracts). Next they went back to Ivory Tower for the album "Backdoor Man". On this LP they were joined by a new drummer, Otto van Riggelen, as longtime member Nico Groen had left to join No Exqze. In 1988, Flavium recruited Hans Lafaille (ex-Cuby + Blizzards and Sweet d'Buster) and were asked to record a 20th anniversary album for Polydor comprising blues standards, but the highlight of the album was the Driesten-sung old hit "Nightlife".

For the next Polydor album, "Slowburn" (produced by Golden Earring guitarist George Kooymans), Lafaille was replaced by Arno Willemsen. Jan-Willem Berkhout came in as an extra guitar player. Then Frank Pistorius joined on keyboards, making the band a six-piece, but in 1993 Bonder and Bagchus pulled a coup by continuing the band with former members Hans Lafaille and Rob Goedkoop (who took over the lead vocals). Veldhuizen felt betrayed, but continued on with Berkhout, Pistorius, Willemsen and new bass player André de Boer as Free & Easy. In 1996, Flavium was more or less history when Hans Lafaille left to join the reformed Cuby + Blizzards. But Bonder & Bagchus had another trick up their sleeves when the following year they returned with Gerton Eykelkamp on drums and the multi-talented founder member Hans Driesten back on guitar, piano and lead vocals. But gigs were few and far between.

In 2001, Bagchus started playing in the reformed Brainbox, whose drummer Pierre van der Linden joined Flavium. Flavium, featuring Jos Veldhuizen, Anne Geert Bonder and Rob Geboers on keyboards, then became the opening act for Brainbox.

Brainbox played their farewell concert in September 2005, but Flavium continued with Gover van de Kolm replacing Geboers. When van der Linden went back to his old band Focus, the drum stool was taken over by Hans Waterman (ex-Cuby + Blizzards, Solution and Q'65). However, now the band had no management and no booking agent.

Although Flavium never officially disbanded, Anne Geert Bonder started playing smaller gigs with a backing band called The Blueshop, together with his old musical partner Peter Beemsterboer (1969-1978) on drums. This band slowly started getting more and more ex-Flavium members on board as Erik Bagchus and Jos Veldhuizen joined in. The sextet was completed by Eddy van de Bunte (g) and Kees Luijendijk (kb/g). Beemsterboer quit in 2008 as things got "too serious again". Nico Groen deputised for him, but The Blueshop then decided to take a sabbatical. In early 2009, Flavium went on a 40th anniversary tour with the line-up of Anne Geert Bonder, Eric Bagchus, Jos Veldhuizen, Nico Groen, Rob Goedkoop (from the 1982-1985 line-up) and Rob's son Emiel on keyboards.
1975

	

LP Bad Luck Ivory Tower ITL 7509
1976

	

LP Chalk Farm Ivory Tower ITL 7615
1977

	

Come on/Dealin' Scramble SRS 510050


	

LP Pluggin' In Your Socket Ivory Tower ITL 7724
1978

	

LP Flavium (phonetic symbols) Ivory Tower ELF 2536
1979

	

Save Me From Sorrow/Easy Lovin' Ivory Tower ELF 65161


	

LP No kiddin' Polydor 2925096


	

Rock & Roll In Your Car/Nightlife Polydor 2050601
1980

	

Nightlife/New Love Polydor 2050609


	

LP A Night Live Polydor 2925110


	

LP The Best (comp.) Ivory Tower ELF 9586
1981

	

Snowball (live)/Be careful Polydor 2050644


	

LP Decade Polydor 2441129


	

Nobody Knows You When You're Down And Out/You Just Can't Close The Door Polydor 2050664


	

Love In My Bones/Home Cooked Polydor 2050684


	

Put the music on/Hey you Polydor 2050723
1982

	

What Am I Living For/What Can A Poor Man Do Polydor 2050747


	

LP Against The Grain Polydor 2925138


	

The rockin' pneumonia and the boogie woogie flu/Oh Sweet Mama Polydor 30571
1983

	

LP Closer To You Polydor 815500-1


	

Shilene/Feelin'fine Polydor 815543-7
19

8

5

	

LP Live Eighty Five BONI 2850431


	

Framed/Jack's Drugstore BONI 285091-7
1986

	

Resurrection shuffle/Daisy-Daisy BONI 285117-7


	

Nightlife (with Jody Pijper)/Night life (instr.) Corduroy CS 6118
1987

	

LP Backdoor Man Ivory Tower ITL 25196
1988

	

CD Bad Luck Ivory Tower CDSP 25109


	

CD Chalkfarm Ivory Tower CDSP 26109


	

CD Plugging' in your socet Ivory Tower CDSP 27109


	

CD Flavium (phonetic symbols) Ivory Tower CDSP 28109


	

CD Backdoor Man Ivory Tower CDSP 29109
1989

	

CD 20 Years Of Blues Power Polydor 841 717-2


	

Night life/First love (re) Polydor 877690-7
1991

	

Night life/Walking the blues Arcade 01595901


	

CDs Nightlife/Walkin' the blues Arcade 01595002
1992

	

CD Slowburn Polydor 517 464-2 (producer George Kooymans)


	

CDs Slowburn/All your love Polydor 861406-2
1993

	

CDs Southside Of The City Polydor 8617142
1998	CD Nightlife (comp.) Rotation 5577822
A beat group from Apeldoorn, formed by Ton Hauwer (v, dr, to Railway), Rob Goedkoop (v, g, to Railway), Hans Driesten (g, p, to Flavium) and Wim Feddema (b, to Album). The band was active around 1966.
Apeldoorn based hard rock group, founded in 1972. Line-up: Rob Goedkoop (v, g, ex-Channels), Nico Groen (dr, to Specs Hildebrand and Splinterfunk, replacing Ton Hauwer in 1974, ex-Channels) and Doeuwe Munk (v, b, ex-Flavium). By the end of 1975, the group broke up following plans for a new trio consisting of Rob, Doeuwe and Hans Lafaille.
1974 Witchy woman/Full of sorrow                Basf 05-15321-6
Dutch charts:
FLAVIUM
8-3-80 SINGLE tip NIGHTLIFE
21-3-81 SINGLE tip NOBODY KNOWS YOU WHEN YOU'RE DOWN AND OUT
---
Please send corrections, additions and comments to: uheep2 at comcast dot net
Back to the Nederpop index