FOCUS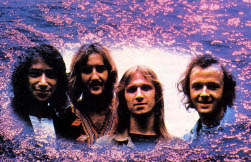 Of all the groups in the 1970s that combined elements of rock and classical music, Focus is, without a doubt, the most notable Dutch group widely known outside the Netherlands.
Thijs van Leer founded Focus, following his conservatory studies, alongside bassist Martin Dresden and drummer Hans Cleuver. This initial line up received most of its work on the cabaret circuit, and in 1969 - also as the backing group for the Dutch cast of "Hair".
In 1970, the unique and talented guitarist, one Jan Akkerman (ex-Brainbox, Hans Dulfer), joined the group, and their first album release, "In and Out of Focus" followed one year later. At this early stage, the musical style of Focus had not yet completely crystallised, which is evidenced by this album. With the exception of "Anonymous" and "House of the King" (the latter released as a single), the album did not amount to much, compared to its followers.
In 1971, Akkerman introduced Brainbox drummer Pierre van der Linden to the group's lineup. Also, subsequently, bass player Cyrill Havermans (ex-Big Wheel) joined the group; Cleuver and Dresden were asked to leave as a result. This new lineup recorded the much-acclaimed "Moving Waves" album. This true Dutch rock classic contains the mega-selling hit single, "Hocus Pocus", written by Akkerman; side two consists entirely of the 23 min. 04 sec. conceptual piece, "Eruption", written by Thijs van Leer. In this opus, he was venturing into the work of three classical composers.
Later that same year, Havermans left to pursue a career as a solo artist. He was replaced by Bert Ruiter (ex-Angelflight Railways). This line up proceeded to record "Focus 3", almost live, in the studio - a worthy followup to "Moving Waves", and almost as successful. The single, "Sylvia" was culled from this album.
Now Focus were on top, and in high demand in their home land, and abroad, as a hot live act. The albums and singles had generated huge popularity both in England and in the U.S. It was at their peak that "Focus Live At The Rainbow" was recorded in London, a living testament to the lasting power of the group's live sound from the period, as well as Akkerman's phenomenal fretboard virtuosity, released May 5th, 1973.
In 1973, Van der Linden left to join Rick van der Linden (ex-Ekseption) in the creation of Trace, and was replaced by ex-Stone the Crows drummer Collin Allen (also previously with Zoot Money and John Mayall). This lineup recorded a somewhat less successful and weaker "Hamburger Concerto".
1975 was a hectic year for Focus. There was trouble looming ahead... First, Collin departed, and persistent rumours suggested that Akkerman was to follow his suit himself very soon. Thus, "Mother Focus" was recorded, in this state of turmoil, with the American drummer David Kemper, stepping in. However, Allen still played on one track. This album also indicated the change of the group's style towards a more funky end of the spectrum, and Akkerman, who had been rowing with Van Leer for quite some time about musical direction, openly distanced himself from the end-product. According to Akkerman it was "…typical American music, has nothing to do with Focus."
Early 1976 finally saw the two egos clash heavily, which resulted in Akkerman's departure from the band. He was replaced by the Belgian jazz-rock guitarist Philip Catherine. From that moment on, Focus no longer had any impact on the scene, and subsequently lost all the gumption and the success, especially compared to the classic, Akkerman lineup.
Come 1977, Eef Albers and P.J. Proby joined the group, to record its weakest and the most confused offering to date, "Focus Con Proby", which contained old recordings, not used over a period of the previous few years, now remixed by English producer Mike Vernon, with Proby's vocals added. Steve Smith (ex-Jean-Luc Ponty's Pegasus) was featured on drums, and Jons Pistoor (ex-Maggie McNeal) on keyboards.
In 1978, the group finally split up, without making too much noise - the media didn't even notice.
---
Discography:
1970 Why dream/Happy nightmare				  Imperial 5C 006-24220
     House of the king/Focus						  24250
     LP In and out of Focus					      054-24192
1971 Hocus pocus/Janis						      006-24415
     LP Focus II						      054-24385
1972 Sylvia/Love remembered					      006-24607
     Tommy/Focus II							  24629
     2LP Moving waves						   180-24572/73
     2LP Focus III						   180-24753/54
1973 Hocus pocus/Sylvia						      006-24697
     LP At the Rainbow						      054-24939
1974 Harem scarem/Early bird					Polydor 2058466
     LP Masters of rock					  Imperial 5C 054-25130
1975 LP Mother Focus						Polydor 2344053
1976 P's march/Focus II						     EMI PRH 14
     LP Focus II (re)					  Imperial 5C 038-24385
     LP House of the king				    EMI Emigold DAG 102
     LP Ship of memories					   5C 050-25610
1977 LP Hamburger Concerto (re)					      064-25693
     LP Mother Focus (re)						  25694
     LP Focus con Proby							  25713
Aanvulling:
1974 LP Hamburger Concerto					Polydor 2460228

---
To Focus Home Page
Discography by: Adri Verhoef (a3@a3.xs4all.nl-removespam)
Article translated by: Louis Rentrop (uriahboz@zeelandnet.nl)
Back to Alex's Home Page
Back to the Nederpop index