EKSEPTION

Rick van der Linden
1946 - 2006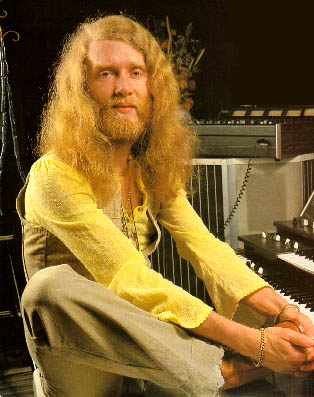 The base for the legendary neo-classical Dutch rock group from Haarlem Ekseption had already formed in 1958 when bass-player Hans Alta, saxophonist-guitarist Huib van Kampen and trumpetist/organist Rein van den Broek formed the Jokers. In the next few years, they were joined by drummer Tim Griek and multi-instrumentalist Rob Kruisman.
In 1965, the band name was changed to Incrowd, but that lasted only for a year, when another group named Incrowd from The Hague became famous in The Netherlands. During their first year together, with Ton Heydenrijk (sax) and Hans Timmer (organ) in the lineup, they played mostly jazz and R&B at small clubs such as the ABC Societeit in Beverwijk and Club '66 in Amsterdam. In 1967, Tim (later producer for Brainbox, etc.), Ton (ex-Hottletts) and both Hanses left the group.
New recruits were: Cor Dekker (bass, ex-Hottletts), Peter de Leeuwe (drums, ex-Cuby & The Blizzards) and the group's later leader Rick van der Linden (keyboards; prior to this busy playing classical music and jazz with the Occasional Swingcombo and the Ferdinand Povel Quartet). But it was only after Ekseption won the Loosdrecht Jazzconcours competition in 1968 and Rob Kruisman left the group (he went to Island) that the band's own versions of famous classical pieces, played with rock arrangements, started getting them much-deserved attention.
English group Nice (featuring the fledgling future E.L.P. stalwart Keith Emerson) set a clear example for Ekseption.
Following some years of international success, Rick left the group in 1973 to form his own Trace; still the group plodded on without him for another two albums, but due to the lack of success, ceased to exist in 1975 (just a little bit later regrouping as Spin).
The line-up had changed numerous times by then:
1969: Rick van der Linden (keyboards), Michel van Dijk (v, ex-Les Baroques and Island), Cor Dekker (bass), Dick Remelink (sax, flute, ex-Pocomania), Huib van Kampen (sax, guitar), Rein van den Broek (trumpet) and Peter de Leeuwe (drums, from 1969 to 1970 temporarily replaced by Dennis Whitbread, ex-Het and Profession).
Michel was replaced in 1970 by Steve Allet, ex-Ginger Ale. Huib left the group in 1970, but didn't get replaced. 1973: Hans Jansen (keyb, ex-Think Tank), Pieter Voogt (drums, ex-Continental Uptight Band and also often with Rosa King), John Vennik (sax, fl, ex-Original City Machine), Rein, Cor and since 1974 Hans Hollestelle (guitar, ex-Toreros).
In 1975, the name of the group was changed into Spin. Rick van der Linden went to Trace, Michel van Dijk to Amsterdam, Cor Dekker also to Trace, Dick Remelink to Galaxy Lin, Rob Kruisman to Island, Peter de Leeuwe to Lion and Carlsberg, Dennis Whitbread to September, Steve Allet to Antilope, Pieter Voogt to Water.
---
1964	Think about tomorrow/      (as the Jokers)
1966 	ABC blues/Land of thousand dances
	EP Ekseption at ABC: Tune NA 4/ABC blues/Avilla at the Teguila
						ABC-Productions RC 162
1967 	Talk about tomorrow/Mojo Ann       	Imperial IH 720
1968 	From Africa with love/Laura        	767
1969 	The fifth/Sabre dance      		Philips JF 334686
	Rhapsody in blue/Ritual fire dance      336035
	Air/Concerto    			336047
	LP Ekseption    			UBY 873003
1970 	Italian concerto/Feelings  		JF 336094
	Adagio/Julia    			6012013
	Another history/Rondo   		6012030
	Peace planet/On Sunday they will kill the world 
						6012068
	LP Beggar Julia's time trip     	LCY 861821
	LP 3    				6413007
1971 	Ave Maria/Body party       		6012150
	Bank Ekseptional pt.1/Pt.2      	ABN LB 2608
	LP 00.04        			Philips 6423019
1972 	A la Turka/Virginal        		6012255
	My son/Jesus joy        		6012290
	LP Fifth        			6423042
1973 	Persian market/Bingo bingo 		6012412
	Flight of the bumble bee/Smile  	6832068
	LP Ekseptional classics 		6410044
	LP Trinity      			6423056
1974 	De fietser/Sunny revival   		6012450
	LP Bingo        			6413501
	LP From Ekseption with love     	6677025
1975 	LP Greatest hits   			6410079
	LP Mind mirror  			6423082
1977 	LP Back to the classics    		6010129
---
Jazz-rock group Spin was a continuation of then-defunct Ekseption. Spin existed in 1976-77 and released two LPs with the following line-up: John Vennik (sax, flute), Hans Jansen (keyboards), Rein van de Broek (trumpet), Hans Hollestelle (guitar, to Rainbow Train), completed with Kees Kranenburg (drums, ex-Jayjays) and Jan Hollestelle (bass, ex-Toreros, to Beuk Brothers and Geo).
1976	Grasshopper/Little bitch		Ariola AT 16338
	LP Spin					Ariola XOT 27021
1977	LP Whirlwind				Ariola XOT 28210
---
Dutch singles by Ekseption:
[5-4-1969]      THE 5TH
[21-6-1969]     RHAPSODY IN BLUE
[4-10-1969]     AIR
[24-1-1970]     ITALIAN CONCERTO
[18-4-1970]     ADAGIO
[8-8-1970]      ANOTHER HISTORY
[2-1-1971]      PEACE PLANET
[9-10-1971]     AVE MARIA
		A LA TURKA
[7-9-1974]      DE FIETSER
---
Submitted by: Adri Verhoef (a3@a3.xs4all.nl-removespam)
Back to Alex's Home Page
Back to the Nederpop index