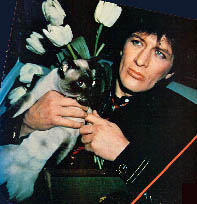 1946 - 2001
Herman Brood was born in Zwolle on November 5, 1946. In the early years, his influences included Fats Domino and Little Richard. He always liked to paint and play piano. Upon turning 17, he entered an art school. In 1964, Brood started his music career, The Moans becoming his first group (later to become Long Tall Ernie And The Shakers). But his stint with the group didn't prove to be long-lived, as Harry Muskee asked him to join his group Cuby And The Blizzards shortly thereafter.
After a short lull, which lasted just a few years, Brood bounced back on the scene in 1974. His next group was Stud, but its span was also very short, and in 1975 he launched his own Flash & Dance Band; one LP, Showbiz Blues (Universe - 1975) got recorded and released as a result. He subsequently teamed up with Herman van Boeyen in the creation of Vitesse. Their first LP, Vitesse (Reprise - 1976) was released shortly after this new partnership was forged.
Following a meeting with Koos van Dijk, who became his manager, Herman started working on the creation of yet another group, his own Wild Romance. The first line-up included: Ferdi Karmelk (guitar), Gerrit Veen (bass), Peter Walrecht (drums). After numerous club gigs, their first LP, Street (Bubble - 1977) was released, followed by Shpritsz (Bubble -1978), and the hit single, Saturday Night. Brood became a star virtually overnight. By that time, however, the line-up has changed: Danny Lademacher (guitar), Freddie Cavalli (real name: Van Kampen) (bass) and Ani Meerman (real name: Cees Meerman) (drums) replaced their respective predecessors in the group. After Cha Cha (Ariola - 1978) and another smash single, Still Believe, Brood's popularity rapidly spread outside his homeland, particularly into Germany and France. He starred in his first movie, Cha Cha, with Lena Lovich and Nina Hagen.
In July 1979, the Wild Romance left for the USA. Slowly but surely, Brood was establishing himself as a worldwide rock sensation, as his singles kept steadily creeping up the Top 100 charts. However, too much publicity can sometimes kill an artist; due to the media overkill, Brood career unexpectedly took a plunge, and the fortunes reversed, in the typical Brood fashion, once again, overnight... One of Brood's best albums to date, the U.S.-recorded Go Nutz (Ariola -1980) was torn apart by vicious reviews in the music press, although Wait A Minute (Ariola - 1980), Modern Times Revive (Ariola - 1981) and Frisz & Sympatisz (Ariola - 1982) did much better, critical acclaim and sales-wise.
His next move was to team up once again with Lademacher, whose own band The Innersleeve Flops was off to a good start at that time. David Hollestelle became the new guitarist in Brood's band. With The Brood (Sky - 1984) and Buhnensucht Live (Sky - 1985), he was once again on his way to success. Herman is often in the public eye, and the media loves to put him right in the spotlight, as the Netherlands' own "Rock'n'Roll Junkie". (What with hit songs such as "Rock'n'Roll Junkie", "Dope Sucks", et. al., not to mention his notorious reputation as a heavy druggie - hardly surprising). In 1986, he made his debute as a theatrical actor in the play called Kamikaze. 1988 proved to be another one of the most successful years in Brood's career, featuring his appearance at the famous Pinkpop Festival, and the release of the very well-received Yada Yada (CBS - 1988), along with another hit single, Sleeping Bird. Brood marked his 25th anniversary as a rock artist, by continuing to record new albums, Hooks (CBS - 1989) and Freeze (CBS - 1990), on which he was backed by Clarence Clemons, and Flaco Jiminez. However, these releases proved to be less successful than he'd hoped they'd become, and in an emotional TV statement, he declared his clear intention to retire from the music scene. At this stage, he wanted to devote more of his time to his daughter Lola, as well as his second, third and fourth passions, respectively: drawing. painting and poetry. However, his absence was short-lived, as the man was simply born to be on stage, and in the spotlight, so he made a much-publicised comeback with a new compilation, Saturday Night - 1975-1984, and another live album, Saturday Night Live (Arcade - 1992).
1994 was to become yet another great year for Brood. With the release of a new book, a new CD, Fresh Poison (Sony - 1994), and a new movie, Rock'n'Roll Junkie, Brood once again was revelling in the long-awaited exposure and publicity. His 50th Anniversary in 1996 was a simulcast event which the entire country was watching via the television and the World Wide Web! Another album was also released, featuring an all-star anniversary single, performed by the Netherlands' "who's who" of rock and pop music - as a gift and a token of appreciation and recognition to Herman Brood.
Herman Brood jumped to his death from the rooftop of Amsterdam's prestigious Hilton hotel in July 2001.
Article taken from OOR's Eerste Nederlandse Pop Encyclopedie (OOR's First Dutch Pop Encyclopedia), 10th Anniversery Edition". ISBN 90-6882-237-3

DISCOGRAPHY 1
ALBUMS:
With Cuby And The Blizzards:
Groeten Uit Grollo		1967
Cuby And The Blizzards Live	1968
Trippin' Thru A Midnight Blues	1968

With Flash & Dance Band
Showbiz Blues			1975

With Vitesse:
Vitesse				1976

With Wild Romance and Solo:
Street				1977
Shpritsz			1978
Cha Cha				1978
Go Nutz				1980
Wait A Minute			1980
Modern Times Revive		1981
Frisz & Sympatisz		1982
The Brood			1984
Buhnensucht Live		1985
Hooks				1989
Freeze				1990
Saturday Night			1975-1984 (compilation)
Saturday Night Live		1992
Fresh Poison			1994

ASSORTED SINGLES:

[19-08-1978]^23*6	SATURDAY NIGHT  herman brood & his wild romance
[23-12-1978]^30*6	STILL BELIEVE   herman brood & his wild romance
[03-02-1979]^17*7	MAAKT VAN UW SCHEET EEN DONDERSLAG   
					de breedbekkikkers
[19-05-1979]^9*9	NEVER BE CLEVER herman brood & his wild romance
[03-11-1979]^13*6	I LOVE YOU LIKE I LOVE MYSELF  
					herman brood & his wild romance
[02-02-1980]^11*7	HOT SHOT   	herman brood and his wild romance
[10-05-1980]^33*3	I DON'T NEED YOU   
					herman brood and his wild romance
[21-01-1984]^10*6	ALS JE WINT   	henny vrienten en herman brood
[12-05-1984]^23*5	TATTOO SONG   	herman brood & the wild romance
[02-04-1988]^27*4	SLEEPIN' BIRD   herman brood

DISCOGRAPHY 2
Promos:
Sleepin' Bird - CBS 651 385 7 (one-sided, Spain)
Still Believe - Ariola (bubble promo, Holland)
What Becomes Of The Broken Hearted - CBS aric 2241 (one-sided, Spain)
Singles:
All The Girls Are Crazy/Voices - Ariola 102.457
Babies/Strange Delight - CBS 651600 7 
Blew My Cool Over You/1.000.000 Superstars - Ariola 102.263
Groovin'/Tough - CBS 652961 7
Hot Shot/Old Memories - Ariola 101.258 
Hot Shot/Old Memories - Aves Int'l 111.537
I Don't Need You/Laurie - Ariola 101.823
I Love You Like I Love Myself / Hit - Ariola 101.085
Lady Killer/Burn  -  Sky 4213 SS
Legal In Amsterdam/Beefin It Up  -  CBS 656519 7
My Girl/Price  -  Sky 4167 SS
Never Be Clever/You Can't Beat Me  -  Ariola 100.598
(No More) Dancing In The Street  -  Ariola 103 409 (Holland)
Proud/Too Much Grace  -  Ariola 103.830
Saturday Night/Doin'it  -  Ariola 15.739 AT
Saturday Night/Phony/Pop  -  Ariola Aro 173 Green Vinyl(UK)
Sleepin' Bird/Cut Me Loose  -  CBS 651385 7
Something Is Wrong/Get Married  -  SKY TSI 4321
Still Believe/Jilted  -  Ariola 100.054
Tattoo Song/Answer As A Man  -  Sky 4111 SS
Then She Kissed Me/Don't Do It  -  Sky Tsi 4357
Weep/Weep (Instrumental Version)  -  Touch Down Rec. 221.057
What Becomes Of The Broken Hearted/Dum Dum Hole  -  CBS 654638 7
Will You Still Love Me Tommorow/Great Balls Of Fire  -  CBS 655255 7
12":
Saturday Night (Special US Disco Mix)/Never Be Clever/You Can't Beat Me
*Sleepin' Bird/Cut Me Loose/Cut Me Loose(Remix)/Street Flower  -  CBS 651385 7
Picture Disc:
Saturday Night/Doin' It
Singles:
Another Day Another Road/Feeling Like A Suit Case  -  
Philips JF 333 856 (Holland) 1967

Back Home/Sweet Mary  -  
Philips JF 333.586 (Holland) 1966

Distant Smile/Don't Know Which Way To Go  -  
Philips JF 333 902 (Holland) 1967

Groeten Uit Grollo (Another Land/Somebody Will Know Someday  -  
113381 W Premieplaat Nederlandse Jeugdherbergen Centrale (Holland)

Just For Fun/Things I Remeber  -  
Philips JF 333 684(Holland) 1967

Kid Blue/Perfect Song  -  
CNR 141.361 (Holland) 1976

The Sunsnine Of Your Shadow/Crying Tears  -  
Philips Jf333 958(Holland)1967 (Met Foto Op De Hoes)

The Sunsnine Of Your Shadow/Crying Tears  -  
Philips Jf 333 958(Holland)1967 (Met Tekening Op De Hoes)

Window Of My Eyes/Checkin'up On My Baby  -  
Philips Jf 334 543 (Holland) 1968
EP:
Window Of My Eyes/Appleknockers Flophouse/Downhearted Woman/Another Day Another Road  -  
Philips 6208 021

Sjefke Van Oekel & HB Nooit Meer Terug Naar Die Rotschool/Schoolpijn  -  
Ariola 100 600 (Holland)
Brood & Vrienten:
Single:
Als Je Wint/Amstelhotel 13.00 Uur  -  Sky 4050
Breedbek Kikkers:
Singles:
Hou D'r Mee Op/Hor Da Mit Auf  -  Ariola 102.857
Maakt Van Uw Scheet Een Donderslag/Hete Tranen, Vissersvet  -  Ariola 100.291
Nur Ein Wunsch (Met Johnny The Selfkicker)/Hou Kontakt  -  Sky 36.004253.00
LPs:
*Showbiz Blues  -  Universe Productions Hot 1.08 (DOLL COVER) (Holland)1975
*Showbiz Blues  -  Ariola 200.231 (Holland) 1975
Herman Brood (& His Wild Romance):
LPs:
Best Of  -  Aves Int 146.537 (Germany) 1981
Best Of  -  Ariola 206.291 (Holland) 1984
Brood Fur Die Welt  -  Chamelion Records Bootleg (France)
The Brood  -  Sky 21056 (Holland) 1984
Buhnensucht(Live)  -  Sky TLP 24011 (Holland) 1985
Cha Cha  -  Ariola 200.230 (Holland) 1978
Cha Cha  -  Ariola 200.230 (Holland) 1978 (Cover Misprint)
Cha Cha  -  Aves Int 146.507 (Germany) 1978
Freeze  -  CBS 467539.1 (Holland) 1990
Frisz & Sympatisz  -  Ariola 204.9959 (Holland) 1982
Go Nutz  -  Ariola 201.724 (Holland) 1980
Go Nutz  -  Aves Int 146.527 (Germany) 1980
Go Nutz  -  Ariola OL 1500 (USA) 1980
Herman Brood & His Wild Romance  -  Ariola Sw 50059 (USA)
Herman Brood & His Wild Romance  -  Ariola Sw 50059 (USA)(Diff Cov)
Herman Brood & His Wild Romance  -  Ariola Arl 5029 (UK) Green Vinyl
Herman Brood & His Wild Romance  -  Ariola Arl 5029 Green Vinyl & Free Live Album(UK)
Herman Brood & His Wild Romance  -  Ariola 50059 (Canada)
Modern Times Revive  -  Ariola 204.206 (Holland) 1981
Modern Times Revive  -  Avon Int 146.539 (Germany)
*Shpritsz  -  Eurodisc 913.222 (France) 1978
Shpritsz  -  Aves Int 146.503 (Germany) 1978
Shpritsz  -  Ariola 26122 XOT (Holland) 1978
Shpritsz  -  Ariola(Bubble)26122 XOT (Holland) 1978
Street  -  Ariola 28711 XOT (Holland) 1977
Street  -  Ariola(Bubble) 28711 XOT (Holland) 1977
Wait A Minute  -  Ariola 202.791 (Holland) 1980
Wait A Minute  -  Aves Int'l 146 532 (Germany) 1980
Yada Yada  -  CBS 460746.1 (Holland) 1988
Cassettes:
Cha Cha  -  Ariola 400 230 (Germany)
Cuby + Blizzards (Met Herman Brood Of HB Nummers):
LPs:
Afscheidsconcert  -  Varagram 0028 Mono (Holland) 1974
Afscheidsconcert  -  Philips 6343.229 (Holland) 1974
Afscheidsconcert  -  Philips 6343.229 (Holland) Cover Misprint 1974
Cuby's Blues(Best Of)  -  Philips 6677.023 (Holland) 1969
Cuby's Blues(Best Of Boxset)  -  Philips 845.040 PPY (Holland) 1969
Forgotten Tapes  -  Philips 6401.107 (Holland) 1979
Groeten Uit Grollo  -  Philips 6343 227 (Holland)
Groeten Uit Grollo  -  Philips XPY855040 (Holland) 1967
Groeten Uit Grollo/Desolation 2 Lp  -  Philips 6677 039 (Holland)
Groeten Uit Grollo/Desolation 2 Lp  -  Philips 6677 039 (Holland)
(Different Cover On Desolation)
Kid Blue  -  Universe Productions SP 8792 Different Cover (Holland) 1976
*Kid Blue  -  CNR 660.002 (Holland) 1976
King Of The World  -  Philips 6413.010 (Holland) 1970
Live (In Dusseldorf)  -  Philips 6440.091 (Holland) 1968
Live (In Dusseldorf)  -  Universe Productions SP3 (Limited Edition Diff.Cover) (Holland) 1968
Live  -  Melody Express 1(Yellow Striped Cover) (Holland) 1979
Live  -  Melody Express 1(Red Striped Cover) (Holland) 1979
Live  -  Melody Express 1(Different Cover) (Holland) 1979
Old Times Good Times  -  Philips 6416.111 (Holland) 1977
Old Times Good Times  -  Universe Productions LS 42 (Holland) 1984
*On The Road(Boek En Plaat)  -  Philips K  -  101/4 (Holland) 1968
Praise The Blues (With Eddy Boyd)  -  Philips XPL 655.033 (Holland) 1967
Praise The Blues (With Eddy Boyd)  -  Philips 6440.308 (Holland) 1967 (Pop Legends) 
Trippin' Thru' A Midnight Blues  -  Philips 6343.228 (Holland) 1968
Trippin' Thru' A Midnight Blues (Foldout Cover+8 Page Book)  -  Philips  -  PY 844 060 (Holland)
*Harry(Cuby)Muskee & Eelco Gelling Ballads  -  Philips 6440 117 (Holland) 1988
Desolation (HB Not In The Band Only On The Cover)  -  Philips SBL 7874 (England) 1966
Cassettes:
Old Times  -  Good Times  -  Philips 7260 002 (Holland)1977
Vitesse:
LPs:
Herman Brood In Vitesse  -  Reprise Records Repn 54058 (Holland) 1975
Vitesse  -  Reprise Records Repn 54058 (Holland) 1975
Rendez Vous  -  Negram 5N 058N  -  25754 (Holland) 1977
Rendez Vous  -  Bovema Negram 5N 058  -  25754 (Diff Cover) (Holland) 1977
Verzamel LPs Met Herman Brood:
V.A. (Not Included The Smurfsong)  -  OP  -  9(Green Vinyl) (England)
V.A. (Not Included The Smurfsong)  -  OP  -  9(Red Vinyl) (England)
V.A. Cha Cha (The Soundtrack)  -  Ariola 200.649 (Holland)
V.A. Cha Cha (The Soudtrack)  -  Ariola Eurodisc ARL 5039 (England)
V.A. Live In Concert  -  Arrival Records AN 8011 (Holland)
V.A. Alive And Kickin'  -  Ariola 200648 (Holland)
V.A. Zwart Wit En 13 Andere Stukken  -  SKY 19065 SL (Holland)
V.A. Een Gebaar  -  Ariola 302.222 (Holland)
V.A. 30 Nederpophits Uit De Jaren '60 (Hitsouvenirs) Philips 6677 044 (Holland)
V.A. Nederpop  -  Philips 6816.063 (Holland)
V.A. Remember The 60's  -  Arcade Crown Adeh/C 154 (Holland)
V.A. Downbeat  -  Discofoon 7035 (Holland)
V.A. The Heavy Dozen  -  Philips 6440.064 (Holland)
V.A. The Heavy Dozen Vol 2  -  Philips 6436.013 (Holland)
V.A. Beat Here(Boek En Plaat)  -  Philips DS 011 (Holland)
V.A. Dutch Pop Giants  -  Philips 88509 DY (Holland)
V.A. 32 Nederpophits Uit De Jaren 60  -  Philips 836.586  -  1 (Holland)
LPs Met Medewerking Van Herman Brood:
*Andre Hazes  -  Dit Is Wat Ik Wil  -  EMI 068.7925651
(Track 1/Side 1 Piano By HB,Track 4/Side 1 Duet With HB) (Holland)

Henny Vrienten  -  Geen Ballade  -  Sky 24004
(Track 2/Side 2 Duet With HB & Cover By HB) (Holland)

Hitkillers By...  -  Claw Boys Claw  -  Megadisc MD 7894
(HB On Piano Track 2/Side 1 & Track 4/Side2 (Holland)
Herman Brood (& His Wild Romance):
3" CD Singles:
Somethin' Else/That's The Way Love Is  -  CBS 6550551 (Holland)
Legal In Amsterdam/Beefin' It Up  -  CBS 656519.1 (Holland)
Blue Ice Moon/Kick The Bucket (Kick Ass)  -  CBS 656382.1 (Holland)
Sleepin' Bird/Cut Me Loose(Remix)/Street Flower(Remix)  -  CBS 651385.2 (Holland)
Groovin'(Extended Remix)/Tough(Extended Remix)/Groovin'  -  CBS 652961 2
CD Singles:
Rainbow/Wild Ladies/Blow Job/Touch/Forever  -  Columbia Col 660730 2 (Holland)
Saturday Night/Saturday Night (Live)/Still Believe  -  Ariola 665 306
Saturday Night(Live)/Sleepin' Bird (Live)/Master Song (Live & Not Available On Any Album)  -  
Col 657952 2 (Holland)
Vision/Bodyguard  -  Columbia 660263 1
Oh Kut/Kidstuff  -  Ariola 74321497842 (Oh Kut Plus Jules Deelder)
De Breedbekkikkers:
Oh God (Hou D'r Mee Op)/Maak Van Uw Scheet Een Donderslag  -  Ariola 74321 552172
HB & Van Dik Hout:
CD Single:
Pijn/Cocaine  -  Ariola 74321.452662 (Holland)
CD:
Cuby's Blues (Best Of)  -  Philips 834.088  -  2 (Holland)
Herman Brood & The Flash And Dance Band:
CD:
Showbiz Blues  -  Philips 834 088  -  02 (Germany)
Herman Brood (& His Wild Romance):
CD's:
The Brood  -  Bellaphon 288.07.073 (Holland)
Fresh Poison  -  Columbia Col 476583.2 (Holland)
Frisz & Sympatisz  -  Ariola 74321.236582 (Holland)
Go Nutz  -  Ariola 74321.236602 (Holland)
Modern Times Revive  -  Ariola 74321.236562 (Holland)
Yada Yada  -  CBS 467418 2
Wait A Minute  -   Ariola 74321.236572 (Holland)
20 Years Of Rock & Roll  -  Ariola 74321  -  519682 (Holland)
50 The Soundtrack  -  Ariola 74321.424932 (Holland)
Video:
Rock'n Roll Junkie  -  Movies Select Video 2952 (Holland)
Boeken/Books:
Stil Daar Is Ie....  -  SP
Herman Brood  -  Theo Stokkink Gooise Uitgeverij Bussum
Hollandse Rock Geschiedenis Herman Brood 1980  -  1990
(Plakboek Door S Zeitzen & Gerrie Jonkman)
Rock 'N Roll Junkie  -  Jan Eilander  -  Uitgeverij Prometheus
Broodje Gezond  -  Bart Chabot   -  Uitgeverij Nijgh & Van Ditmar
---
Discography 1 submitted by: Adri Verhoef (a3@a3.xs4all.nl-removespam)
Discography 2 submitted by: Roel Goudkamp (rogo@telekabel.nl)
Photos by Christoph Mischke
Article translated by: Louis Rentrop (uriahboz@zeelandnet.nl)
Back to Alex's Home Page
Back to the Nederpop index