VITESSE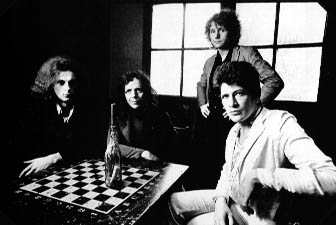 In mid-1975, Herman van Boeyen (ex-Carlsberg) abandoned his group Red White & Blue for several reasons (see: Cuby & The Blizzards). While Cesar Zuyderwijk (Golden Earring) replaced him temporarily, the Amsterdam-born Van Boeyen launched a new band, Vitesse, and thus surprised many people with the announcement that Herman Brood (ex-Flash & Dance Band, later Cuby & The Blizzards and then solo 'till present) would also join! And in fact, Van Boeyen and Brood stayed together for much longer than most people had expected! On the other hand, other group members came and went frequently. When Vitesse was just a few weeks old, guitarist Peter Smid (later Houseband) left the band. His successor Ferdy Karmelk (ex-Tee Set and Stud, later Himalaya) also stayed for only a short while. It was the third line-up that recorded their very strong self-titled debut album. This line-up consisted of Van Boeyen, Brood, Paul Bagmeijer (bass, ex-Carlsberg, later Scope), Rob Ten Bokum (guitar/bass, ex-Blue Eyed Bluesband, later Alquin) and Rob van Donselaar (clavinet, ex-Blue Eyed Bluesband, later Cake). When, after numerous delays, the record finally made it to the shops, Vitesse suddenly broke up.
With guitarist Ross Recardi (ex-Randy, later Uzi), later on replaced by Henry van Dijk, bass player Gerrit Veen (later Herman Brood And His Wild Romance), succeeded by Jaap van Eyk (ex-Trace) and Jan-Piet den Tex (guitar/piano, ex-Electric Tear, later Attraction and solo), 1976 was a turbulent year, with only Van Boeyen as a solid factor. Not surprisingly, none of the other musicians above made it onto the second album. Guitarist Rudy de Queljoe joined after working with Harry Muskee's band Cuby, André Versluys (bass, ex-Uzi, later Lucifer) and singer-guitarist Jan van der Mey (ex-Garden) did manage to get onto "Rendez-Vous", which showed further signs of the typical Vitesse-style, up-tempo swinging rock 'n roll.
Strangely enough, Van Boeyen kept Van der Mey and De Queljoe in the band 'till the next album, 1978's "Out In The Country". Just one change this time, André Versluys was substituted by Toeroe Leerdam (ex-Chain Of Fools and Footswitch). This line-up gained a lot of success in Germany, resulting even in a gig on well-known TV rock show Rockpalast. After recording "Rock Invader", the first album without any change in musicians whatsoever, Leerdam and De Queljoe left in late 1979 for Massada.
Van Boeyen decided he didn't need two guitar-players, especially with the joining of fabulous bass-player Peter van Straaten (ex-Valley Of Dolls). This line-up recorded a live-album, "Live 1980", one of the most dynamic of its kind. Then, in late 1980, a short reunion of sorts, with Herman Brood, took place, but this alliance also failed. Brood only wanted to win Van Straaten over for his Wild Romance. However, Van Straaten returned within two days. Van Boeyen was a bit perturbed by it all and decided to sack both Van Straaten and Van der Mey, who survived for almost four years in Vitesse! The latter two launched a formation called Powerplay with drummer Leon Klaasse (ex-Sweet d'Buster, later The Pilgrims). Van der Mey managed to maintain Powerplay until well within the nineties, with moderate success in Holland and, like his former boss, with many different musicians.
Vitesse continued on with Mark Boon (guitar, ex-Meike Touw's Tutti Frutti and Diesel, to which he later returned) and Freddy Cavalli (bass, ex-Wild Romance and Prostitutes, later to Jan-Piet den Tex). 1981 produced Vitesse's sixth album, entitled "Good News". That year, Peter Langerak (guitar, ex-Sfinx, Koos Cornelissen and Mark Foggo) and old friend André Versluys join briefly, but they are replaced by Carl Carlton (real name: Karl Buskohl, ex-Time Bandits and Hollander) on guitar and Rudy Englebert (ex-Hollander) on bass. With this new and most successful line-up, Vitesse built on their German success by releasing a live-double album in 1982, on which keyboard-player Otto Cooymans played a guest-role. Cooymans joined later that year as full member of the band, and another album was released. "Incomplete Works And Other Hits" includes Vitesse's first Dutch top ten hit single "Rosalyn", and the even more successful successor "Good Lookin'". By then, Vitesse had become a household name in the Dutch music scene, building first and foremost on their phenomenal live reputation. The band is very aware of this, and thus the b-side of "Incomplete Works" consists of side one of its predecessor "Live In Germany".
After this period, which is probably the highlight of Vitesse, Herman van Boeyen and company couldn't quite agree on their musical future. And thus, Carlton, Englebert and Cooymans decide to leave the band and they start The Raiders Of The Last Corvette, an energetic rock group, sadly not making it to an album. Carlton then joined his fellow countryman Peter Maffay, while Cooymans found his place in The Scene, scoring a few hit singles in Holland and Belgium. Rudy Englebert, like many other former Vitesse members, enjoys a stay in Herman Brood's Wild Romance.
Album number nine in Vitesse's history, like "Incomplete Works" has two very different sides. The a-side of "Vanity Islands" shows a softer rock-sound, still featuring Carlton, Englebert and Cooymans, resulting in two more modest hit singles: "Julia" and the title track. The b-side introduces the two new members of the band, Danny Lademacher (guitar, ex-Wild Romance) and Michel Legrand (bass), who had already auditioned with Van Boeyen a few years earlier. Inspired by Lademacher's rough guitar playing, the band come out heavier than ever before. This sound is slightly mainstreamed on the 1985 album "Keepin' Me Alive", produced by Nick Tauber. And surprise! This line-up falls apart, resulting in a short return of Lademacher to Wild Romance, before joining Belgian TV host Bart Peeters' band The Radios. This band has a huge number-one hit in Holland and Belgium with "She Goes Na Na".
Van Boeyen meanwhile is fighting major personal problems, including drugs. William van Eyk (bass) and Percino Dakota (real name: Persijn Joling) are part of the band for a short while, but then Vitesse, or rather Van Boeyen takes a break. Herman even has to take a factory job in Germany, where he resides for several years. In Germany, a recovering Van Boeyen starts a brand new Vitesse, with German musicians Marcus Wienstroër and Ralph Mutz (guitars), and Guido Ludwig (bass). Former Dutch DJ and current record company owner Willem van Kooten is willing to give the band another chance, resulting in 1992 in an album with the telling title "Back On Earth", the first CD in the seventeen year history of the band. Unfortunately, success eludes them, and Vitesse looks more dead than alive. Will fifty year old Van Boeyen rise from the ashes once again?
DISCOGRAPHY
1975:	LP: Vitesse (Reprise REPN 54058)
1976:	7": Do You Wanna Dance/Stay A Little Stranger (Reprise REPN14429)
	April Wind/Steady Rollin' Man (Negram NG 2183)
1977:	7": You Can't Beat Me/Sugar Baby (Negram NG 2215)
	LP: Rendez-Vous (Negram 5C 058-25754)
1978	7": We'll Do The Music Tomight/Give Me All You've Got (Negram 5C 006-25856)	
	Out In The Country/Last Boat (Negram 5C 006-26061)
	LP: Out In The Country (Negram 5C 062-26013)
	LP: Herman Brood In Vitesse (first album, Reprise REPN 54058)
1979:	7": Running And Hiding/Leaner's Song (Negram 5C 006-26185)
	Rock & Roll Band/Hot Shots (Negram 5C 006-26349)
	On The Run/Nightflight (Negram 5C 006-26415)
	LP: Rock Invader (Negram 5C 062-26378)
1980:	7": Whole Lot Of Travelin'/Nobody Knows (Harvest 5C 006-26442)
	Running And Hiding/Screwed, Blued & Tattooed (RCA PB4554)
	Goin' Up/Springtime Confusion (RCA PB 4564)
	LP: Live 1980 (RCA PL 44024)
1981:	7": Desire/Junior (WEA WEAN 18744)
	Generator Of Love/... (WEA WEAN 18817)
	Can't Keep A Promise (?)
	Herman van Boeyen's All Star Vitesse: 
	LP: Good News (WEA WEAN 58370)
1982:	7": Rosalyn/ Screwed, Blued & Tattooed (Philips 6017 361)
	Good Lookin'/Runnin' The Streets (Philips 6017 404)
	LP: Live In Germany ( Philips 6624 062)
	LP: Incomplete Works And Other Hits (Philips 6623 558)
1983:	7": Julia/... (?)
1984:	7": Vanity Islands/You (Philips 880 098-7)
	Highway Love/Dynamite (Philips 818 721-7)
	Keep Up (With The Joneses)/Nothing Better (Vertigo 800 292-7)
	LP: Vanity Islands (Vertigo 882 713-1)
1985:	7": Lights In The Air/High On Music (EMI 1A 006-12 7254 7)
	You Turn Me On/Junior (EMI 1A 006-12 7297 7)
	LP: Keepin' Me Alive (EMI 1A 068 127292 1)
1990:	7": Ever Since I Met You/I Don't Loose A Friend (Cloud NR 8027-7)
1992:	CDs: What Kind Of Man/... (?)
	CD: Back On Earth (Red Bullet RB 66.53)
1999:	CD: Live In Germany (Lost & Found 546 055-2)
Compilations:
	CD: Best Of Vitesse (Antilope ANTC 52038)
1999:	CD: Good Lookin' (Rotation 546 053-2)
	(including "Incomplete Works" and 6 songs from "Vanity Islands)
Dutch Charts:
VITESSE
    21-5-77     SINGLE  tip     YOU CAN'T BEAT ME
    6-10-79     SINGLE  29  4   ROCK AND ROLL BAND
    10-11-79    ALBUM   29  6   ROCK INVADER  [Album v/d week op 27-10-79]
    15-12-79    SINGLE  tip     ON THE RUN
    23-2-80     SINGLE  tip     WHOLE LOT OF TRAVELLIN'
    21-8-82     SINGLE  9   7   ROSALYN
    11-9-82     ALBUM   19  14  LIVE IN GERMANY
    13-11-82    SINGLE  4   9   GOOD LOOKIN'
    18-12-82    ALBUM   15  10  IN COMPLETE WORDS AND OTHER HITS
    14-5-83     SINGLE  30  3   JULIA
    7-7-84      SINGLE  tip     VANITY ISLANDS
---
Submitted by: Marco Miedema (rocknrollband@hotmail.com-removespam)
Dutch Chart info submitted by Adri Verhoef (a3@a3.xs4all.nl-removespam)
Back to Alex's Home Page
Back to the Nederpop index