BUFFOONS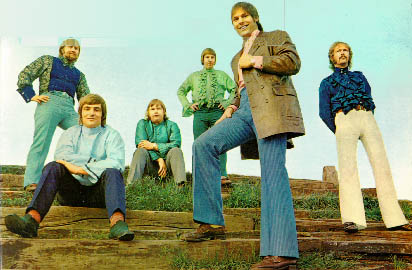 The Buffoons from Enschede were, without a doubt, one of the best Dutch 'vocal harmony' groups in a style that appeared to be particularly popular in the Eastern part of the country with bands like Geebros and Honest Men. They were heavily influenced by The Beach Boys and The Ivy League.

The band evolved from The White Rockets and in 1967 their line-up was: Ely van Tongeren (g/v), Gerard van Tongeren (v), Hilco ter Heide (v), Benny (i.r.l. Bjinse) de Groot (kb/v), Maarten Assink (d/v) and Bob Luiten (b/v). The band's first single "Tomorrow Is Another Day" (a cover of The Ivy League) immediately reached the Top 10 and the follow-up "It's The End" even made it to #4. The following singles sold less and less. In 1969, the first of a number of line-up changes took place: de Groot was replaced by Jack van Rossum (ex-Dick Scott & The Barons). The following year Maarten Assink went to join Liberty and was replaced by Boy Brostowski (also ex-Dick Scott & The Barons). Finally Luiten left to be replaced by Don Biesbroek (g, ex-Pee White & The Magic Strangers) with Ely van Tongeren switching to bass. Between 1973 and 1975, the line-up of Ely, Hilco, Gerard, Don, Boy and Jack had a few hits including the biggest hit in the history of The Buffoons, Ritchie Valens' "My Girl Donna" reaching #3.

Jack van Rossum left in 1975 to form Sweet Lake with Boy Brostowski. Their replacements were Skip van Rooy (o, p, ex-Galaxy Lin) and the reinstated Maarten Assink on drums. The latter stayed for less than 2 years and in his place came Eelco-Jan 'Koos' Wiekenkamp.

Early 1979, the Buffoons called it a day. Hilco ter Heide went to study English at a university. Skip van Rooy later recorded an instrumental solo album and then became a teacher at the Rotterdam Conservatory. The brothers van Tongeren continued playing in bands like Feeling and Albatross. In 1990, they decided to start a new band as The New Buffoons with Henk Bruinewoud (d/v, ex-Honest Men and Topaz) and Joop Walkot (kb/v, also ex-Topaz). In 1997, they dropped the "new" and became The Buffoons again. Around that time, Don Biesbroek started joining them for the bigger concerts. The next year, Koos Wiekenkamp returned as Henk Bruinewoud was unfit to play the drums and effectively became lead singer. The band released a few CDs through minor labels but had no hits.

In 2003, tragedy struck when during a tour with The Tremeloes and The Fortunes Gerard van Tongeren suffered a stroke. He would never be able to sing again. His replacement was Gerrit Visser. Line-up changes were frequent in the new millennium with Gert Timmerman Jr., John Gaasbeek (ex-Teach In), Harry Bartelink (ex-Honest Men) and Joop Kiewiet being members at one point.

Early 2005, Ely van Tongeren was forced to leave the band due to a heart attack. The remaining band members were allowed to continue using the name The Buffoons, but a few months later, Ely van Tongeren revoked his permission when the band sacked Don Biesbroek and started performing without any original members. Ely and Don then approached all members of the succesful 1970s line-up in order to blow life into the original Buffoons. Jack van Rossum and Boy Brostowski agreed, but Hilco ter Heide declined. His place was taken by Fokke Openty (v/g/b, ex-Free of "Keep In Touch" fame). In December 2006, they were joined by Henk Hager (v/g, ex-Diesel). The sextet started rehearsals, but just before the first concert in the Spring of 2007, Jack van Rossum opted out. Ely van Tongeren then cancelled the whole project, which was hampered by the existence of two Buffoons line-ups fighting over the rights to the band name: Ely's "original" band and Henk Bruinewoud's version that had evolved from The New Buffoons (who made sure they were often photographed in the presence of retired Gerard van Tongeren).

In November 2008, Ely van Tongeren, original lead singer Hilco ter Heide, original drummer Maarten Assink and German Bo Moelker did a one-off performance in their hometown of Enschede as a vocal quartet accompanied by a large orchestra, performing "My Girl Donna"and "Tomorrow Is Another Day".
1967 Tomorrow is another day/My world fell down			Imperial IH 744
1968 It's the end/Maria							    777
     Sister Theresa's east river orphanage/Sunday will never be the same    801
     LP Looking ahead						      SALI 8007
     Lovely Loretta/Here we go again					 IH 816
     Goodbye my love/I can't go on loving you				    835
1969 Radio song/Bye bye bye						    861
     Catharina baby/Nobody wants to be near me			   5C 006-24043
     The bus/Scarborough fair						  24113
     LP In perfect harmony					      054-24051
1970 My world is empty/Memories of Melinda			      006-24207
     (with Seth Gaaikema) Een popzanger/De klokken van het dorp		  24132
     Wie ein Himmel voller Sterne/Deine Sorgen mochte ich haben
							  Columbia 5C 006-28744
     LP Greatest					  Imperial    048-50649
     LP Greatest					   Emidisc	  50652
1971 Unga ueboyeh/Pretty madonna			  Imperial    006-24804
1972 The secret of you and I/Stickalee				       CBS 7744
     All good gifts/By my side/Day by day (with Bojoura)		   8176
1973 My girl Donna/Wait							   8391
     Arizona/I can't sleep						   8577
     Let it be me/In the evening of my lifetime				   1831
     It's the end/Tomorrow is another day/Sister Theresa  Imperial 5C 006-24816
     LP The best of the Buffoons				      CBS 65929
1974 To know you is to love you/Pack your bag				   2168
     I don't want to go on without you/Summertime has gone		   2617
     LP The hitsingles					     Embassey EMB 31089
1975 Listen to my song/Come on little honey			Ariola AT 16007
     Silver queen/Country wine						  16535
1976 Barbara Ann/Disco kid						  17055
1977 Because/Ma Belle Amour					     CNR 141397
1989 CD Original Hit Recordings (comp.)			      EMI cdm 7.92991.2
1999 CD Singles (comp.)					      BR Music BX 519-2
2004 CD Here we go again (comp.)				    EMI 5778222

Chart hits:
[14-10-1967]^8*12	TOMORROW IS ANOTHER DAY / MY WORLD FELL DOWN
			buffoons
[10-02-1968]^4*11	IT'S THE END   buffoons
[18-05-1968]^15*10	SISTER THERESA / SUNDAY WIL NEVER BE THE SAME
			buffoons
[14-09-1968]^13*7	LOVELY LORETTA   buffoons
[30-11-1968]^19*5	GOODBYE MY LOVE / I CAN'T GO ON LOVING YOU   buffoons
[28-06-1969]^40*1	CATARINA BABY   buffoons
    24-6-72	tip	THE SECRET OF YOU AND I
[10-03-1973]^3*10	MY GIRL DONNA   the buffoons
[14-07-1973]^15*8	ARIZONA   the buffoons
[03-11-1973]^11*6	LET IT BE ME   the buffoons
    1-6-74	tip	TO KNOW YOU IS TO LOVE YOU
    27-12-75	tip	SILVER QUEEN
---
Please send corrections, additions and comments to: uheep2 at comcast dot net