Week of January 3, 1999
Curly Curve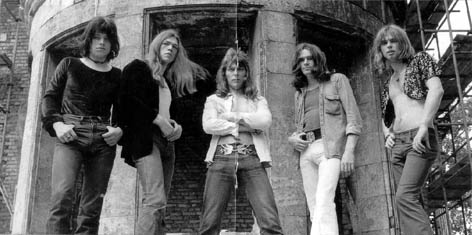 Inspired by the instructions for a four-part Indian low ring, singer and harmonica player Heiner Pudelko, and bass player Kurt Herkenberg, both from Berlin, decided to name their new blues band Curly Curve. Herkenberg had just come back from Britain, where he had played in a soul band and had jammed with Graham Bond and Jimmy Page. In 1967, he had also been a member, albeit briefly, of Tangerine Dream. In the Summer of 1969, guitarist Alex Conti joined Curly Curve, but the band broke up a couple of months later since they lacked a real concept and clear goals.
The following Spring saw the birth of the second Curly Curve in the line-up of Herkenberg and Conti plus drummer Hans Wallbaum, who had worked as a professional musician in the Netherlands before he joined the band. Together with Pudelko and a trumpet player, the band worked out a repertoire consisting mainly or songs they wrote themselves. They also produced a thirty-minute TV show. However, public never really warmed up to Curly Curve so the band fell apart again.
The third Curly Curve tried their hands at jazz-rock and consisted of Herkenberg, Wallbaum, guitarist Sandy Pikker, Axel Klober on keyboards, and a changing assembly of singers. But internal quarrels over what direction their music was to take led to another break-up in late 1971. The fourth Curly Curve came together in Spring 1972 and finally the band had the success they had been striving for. Apart from Herkenberg and Wallbaum, the two heads of the band, the line-up consisted of Pudelko, Conti, Axel Klober and guitarist Paul Fuhrmann. When Heiner Pudelko and Alex Conti left the band in May (Conti went to join Atlantis, the band fronted by Hamburg-based singer Inga Rumpf), they were replaced by Martin Knaden (guitar) and Hanno Bruhn (vocals, guitar). Hanno Bruhn had been singing in various bands with the likes of Tony Sheridan and Don Adams and had won a singing contest initiated by the infamous "Star Club". This was to become the longest-lasting Curly Curve line-up.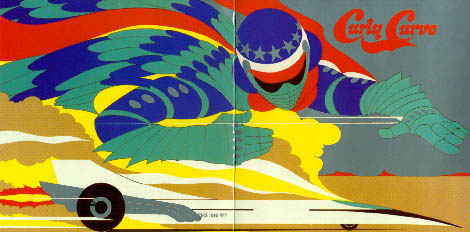 Curly Curve signed on to the Brain label and, produced by Frank Oeser, recorded their self-titled debut album (Brain 1040) in July 1973. The record shows the band playing a powerful, technically perfect blues rock with definite American influences. Even the usually most critical of all critics, the reviewers of Sounds music magazine, took a liking to the straightforward boogie rock of the Berlin band. Journalist Hermann Haring, who later on became chief editor of the magazine called Musik Express, wrote in his review: "A return to rock without any political ambitions. Curly Curve kick down the accelerator and speed off in a straightforward manner. They play a splendid kind of blues rock that for the future only needs a healthy dose of blackness for the soul." What he meant was such vital rock songs as "Queen Of Spades", "Shitkicker" with its psychedelic elements, and the impressive opener "Hell And Booze". Also worth a listen is the bluesy ballad "I'm Getting Better", which highlights Hanno Bruhn's smoky voice very well. The extremely colourful cover artwork caused a lot of curiosity as well - thanks to a shining high polish packaging, it definitely was an eyecatcher.
Even though the album was released to mainly positive reviews, it would be Curly Curve's only official release ever. Even though they now had a recording contract, they did not have much luck. Following a well-attended German tour that saw them on stage with Karthago and other bands, someone broke into their rehearsal room while the band was preparing to record the second album. Not only was almost the entire band's equipment stolen, but the car as well. Following another change in the line-up (Martin Knaden was replaced by Leo Lehr), and arguments about whether the band should switch to German lyrics, the band dissolved for good.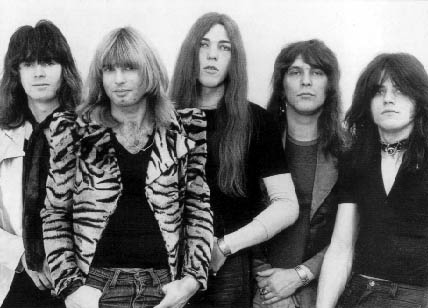 In 1981, a limited private edition called "The Forgotten Tapes" resurfaced. Curly Curve had recorded these tapes in 1974 on a TEAC tape recorder when they rehearsed for the second album. If you allow for the rather poor sound quality, these recordings show how passionately the band from Berlin could rock in their more ambitious moments. The years to come brought a number of personal tragedies as well as surprising hours of triumph. Hanno Bruhn founded the Hanno Bruhn Gang and released a self-titled album in 1982, followed by a single three years later that was a commercial flop. During the 1990s, he produced and wrote for, among others, Dr. Koch Ventilator, Mario Hene, Frank Zander ("Hier kommt Kurt") and Dieter Krebs ("Ich bin der Martin"). In early 1998, the Hanno Bruhn Gang was called to life again, and the band occasionally plays gigs in Berlin's clubs. Alex Conti resurfaced very successfully in 1975 with Lake. Between 1980 and 1982, he released two solo albums, then he went on to form a band called Rosebud. Pudelko, Lehr and Wallbaurn formed Interzone in 1979 and released three excellent records on WEA.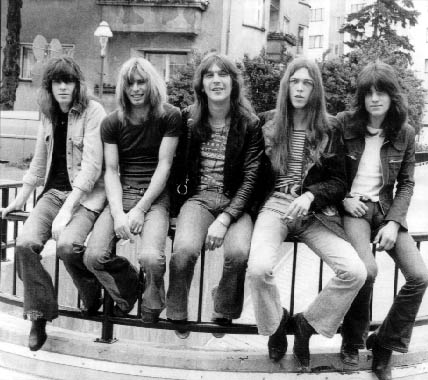 Leo Lehr died 1988 in Berlin after being run down by a car, Kurt Herkenberg died under mysterious circumstances in a Berlin waterway in 1983. Heiner Pudelko, who had launched a successful solo career in 1987 after the split-up of Interzone, died of cancer on January 11, 1995.
During the mid-eighties, Hans Wallbaum played with Julian Dawson and Westernhagen. From 1990 to 1996, he was a member of the backing band of Essen's rock poet Stoppok. He currently plays together with Alex Conti and Dick Heckstall-Smith (ex-Colosseum) in the Hamburg Blues Band.
Matthias Mineur
Taken from the liner notes to "Curly Curve", Repertoire CD reissue 1998, PMS 7080-WP
---