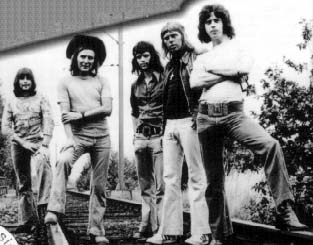 The Godfather of Dutch rock'n'roll was born and raised in Eindhoven as a son of a fish trader. In 1959, Peter formed his Rockets. The line up consisted of Harry van Hoof (organ/piano/guitar), Klaus Buchholz (sax), Karel Janssen (bass), and Peter van der Voort (drums). After a humble debut with the single "Jenny", the band scored a mega-hit in 1960 with the now-legendary single, "Kom Van Dat Dak Af" (Get Off The Roof), an innovative blend of clearly American style rock'n'roll with Dutch lyrics. Koelewijn's voice, instantly distinguishable from 1,000 voices, was to be heard on three more hit singles, "Laat Me Los", "Marijke", and "24000 Kussen", just before Holland was conquered and invaded by the Beatles and the "beat" music movement.
For the rest of the sixties, Peter en zijn Rockets were out of the picture. In 1966, Koelewijn tried his luck again with a band called 4PK, but made a fast return to his Rockets. However, he abandoned the band again in 1967, due to the lack of success. When "Kom Van Dat Dak Af" became a hit single in 1971 once again, he formed a new version of Rockets and launched a new series of successful singles, such as "Mij Oh Mij", "Angeline", "Robbie", and "Veronica Sorry". By this time, he preferred more and more to profile himself as a solo artist. At the end of 1974, Koelewijn retired from the hit singles market yet again! By this time he was also a successful producer, first at Phonogram, and then on his own. He earned credits as a producer by working with projects such as Bots, Babe, Bonnie St.Claire and Nico Haak. In late 1977, he made his second comeback as an artist with "Het Beste In Mij Is Niet Goed Genoeg Voor Jou", a semi-autobiographical album, which had some interesting moments. "Je Wordt Ouder Papa" a single track off the album became a big hit. "De Koel" also resumed his live performances in the late '70s, and 1981 saw the release of his second album, "Peter Live-Peter Koelewijn En Zijn Rockets", which proved that the man's ability as an ace live performer had not suffered one bit over the years. The single culled from this double album, entitled, "Klap Maar In Je Handen" became his biggest hit since "Kom Van Dat Dak Af". The latter also became a hit for the third time(!), picked up by a new generation of fans! Peter's revitalised career continued with successful best-selling singles, "De Tijger Is Los" and "Een Hete Zomer".
In 1995, 54 years of age, he was in the charts once again, as Gompie, with "Alice - Who The F*** Is Alice?", a perverse version of Smokie's "Living Next Door To Alice".
Album Discography:
Het Beste In Mij Is Niet Goed Genoeg Voor Jou (Philips'77)
Peter Live-Peter Koelewijn En Zijn Rockets (Philips '81)
De Beste Van Peter En Zijn Rockets (Compilation Philips '71)
Idem Volume 2. (Philips '76)
Submitted by: Louis Rentrop (uriahboz@zeelandnet.nl)
---
Hans van Hemert was mostly known as a composer and producer, but he also made a number of records himself. Before that, he had already sung in the Caps and on records by Q'65 and Big Wheel. With Peter Koelewijn he formed the duo You & Me.
1969	Donna darling/My little girlie Philips JF 334672
1970	Live your own life/I regret Decca 6100005
1972	Old dom is dead [& Cardinal Point]/I regret Philips 6012299
1973	Because of the cats/You have got to sing tonight Philips 6012324
	Don't go away/I gotta call mama Philips 6012368
Peter Koelewijn and Hans van Hemert.
1967	Take me or break me/Oh that way she held me tight Philips JF 333648
Dutch charts:
HANS VAN HEMERT
30-12-72 SINGLE tip OLD DOM IS DEAD
---
Freddy Haayen (boss of Polydor), Peter Koelewijn and Joost den Draayer.
1970	Comedy is over now/Heya Polydor 2050004
Dutch charts:
FREDDIES
18-4-70 SINGLE 40 1 COMEDY IS OVER NOW
---
Submitted by: Adri Verhoef (a3@a3.xs4all.nl-removespam)
Back to Alex's Home Page
Back to the Nederpop index