Week of October 31, 2004
Ache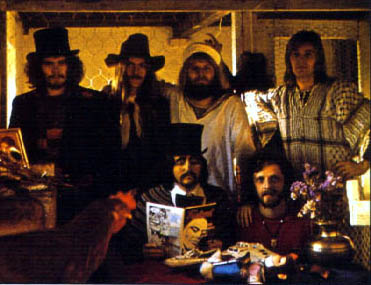 Peter Mellin - organ, piano
Finn Olafsson - guitar, vocals
Torsten Olafsson - bass, vocals
Glenn Fischer - drums, percussion

Albums:
De Homine Urbano, 1970 Philips PY 841 906
Green Man, 1971 Philips 6318 005
(De Homine Urbano/Green Man 2on1 CD: Philips/Universal Music 159 632-2, 2000)
Pictures Of Cyclus 7, 1976 CBS 81216
(CD: Green Tree/CMP GTR 621, 2004)
Blå Som Altid, 1977 KMF ROLP 6570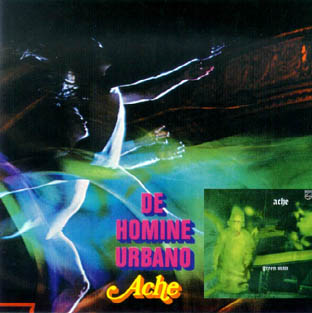 The title track of Ache's first album, "De Homine Urbano", was a 20-minute long instrumental ballet suite (the ballet itself was performed in Copenhagen and Moscow). The other side of the album had another track of equal length with some vocal parts. The ambitious music (all written by Mellin and Finn Olafsson) wasn't entirely successful as it relied too heavily on ideas similar to The Nice (the classically influenced keyboards), Vanilla Fudge (their melodramatic, long dynamic pieces), Pink Floyd (their atonal pieces), early Van Der Graaf Generator and the pastoral songs of Procol Harum. Even so, the album is excellent and recommended for those who enjoy the instrumental excesses so typical of the period.

"Green Man" (1971) was an improvement, displaying more personality and more discipline. Ache described their own performance as "a dramatic art form based upon the coordination of heavy rock music, psychedelic light, dancing and acting - the Ache Rock Theatre". A theatre performance to correspond with the music was indeed planned but cancelled due to lack of money. For the same reason, Ache disbanded in 1971.

Four years later, Finn Olafsson and Peter Mellin decided to have another go with Stig Kreutzfeldt, Steen Toft Andersen (these two operated earlier as the duo Stig & Steen) and Gert Smedegård (ex-Kashmir).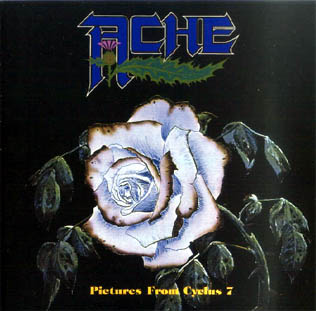 In true Ache tradition, a rock opera (with Bo Lillesøe writing the libretto) named, "Pictures From Cyclus 7", was soon recorded and released. This is another interesting effort, although their final album, "Blå Som Altid", wasn't up to the previous standards.
Taken from Scented Gardens of the Mind - A guide to the Golden Era of Progressive Rock (1968-1980) in more than 20 European Countries, by Dag Erik Asbjørnsen, Borderline Productions, ISBN 1-899855-12-2
---
"Pictures From Cyclus 7" is a nice surprise, and a drastic departure from the first two LPs (which were done in the typical for the era hard-psych style, with guitars fuzzed out and turned to 11, concocting bone-crunching, skull-crushing riffs to the slow-burning drone of the just as distorted Hammond organ). In contrast, it is a gentle, melodic and fragile symphonic rock effort resembling a lot of the German prog bands which were creating in the same genre around that time period (the mid-70s): Novalis, Hoelderlin, Satin Whale, Pell Mell, et.al. A must for all symph-prog fans!
Alex Gitlin
November 2004
---