Week of October 17, 2004
Raccomandata Ricevuta Ritorno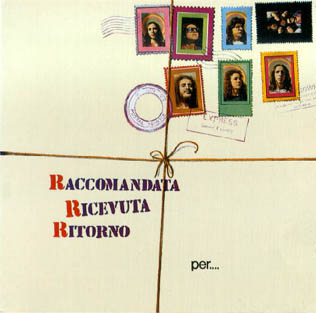 Line-up:
Luciano Regoli - vocals, acoustic guitar
Nanni Civitenga - guitars
Stefano Piermarioli - piano, Hammond organ, Celeste, electric piano
Francesco Froggio Francisca - drums
Manlio Zacchia - bass, double bass
Damaso Grassi - sax, flute
Album:
Per... Un Mondo Di Cristallo, 1972 Cetra LPX15
CD: Fonit Cetra (CDM 2026), 1989

This is another one of those excellent groups that showed so much promise but were far too short-lived. "Per... Un Mondo Di Cristallo" has a slightly anguished atmosphere somewhere near the mood of the Semiramis album. It's an album of limited commercial appeal, as inexperienced listeners will find this material too complex and inaccessible.

The variation between dense jazz-rock, breezy folk and aggressive guitar might recall King Crimson's "Lizard", but with additional characteristic romantic melody lines of Italian rock. The complex rhythms have an exotic, ethnic touch. If you get to know this album through repeated listenings, it will reward you well. The lack of recognition caused Civitenga and Regoli to leave RRR to form Samadhi. Attempts to keep a revamped group of seven members together failed, and we are unfortunately left with only one album - highly recommended for fans of complex progressive rock.
Taken from Scented Gardens of the Mind - A guide to the Golden Era of Progressive Rock (1968-1980) in more than 20 European Countries, by Dag Erik Asbjørnsen, Borderline Productions, ISBN 1-899855-12-2
---