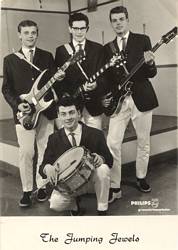 In the pre-Beatles era (the Fab Four visited The Netherlands in early June 1964), Johnny Lion & The Jumping Jewels were one of the Dutch top bands comparable to England's Cliff Richard & the Shadows. They got together in 1960 when singer Jan van Leeuwarden sat in with The Real Rhythm Rockers, who comprised Hans van Eijk on "bass" (actually a guitar with thick strings) and Frits Tamminga on drums. They decided to start a band together called Johnny & the Jewels. Joop Oonk became their bass player. After some time, Tjibbe Veeloo joined as rhythm guitarist. They came under the guidance of Herman Batelaan, who got The Jewels a recording contract with the mighty Phonogram organization, and released "Wheels" in early 1961 on the Philips label under a new name, The Jumping Jewels. As it later turned out, only lead guitarist Hans van Eijk played on the records, the backing was done by older professional studio musicians like Kees Kranenburg Sr., drummer of the well-known ballroom orchestra The Ramblers. The band mainly released covers or arrangements of existing songs: "Wheels" was a cover of American band The String-A-Longs and the B-side, "Ghost Riders In The Sky", had been recorded by The Ramrods. Other hits were the theme for the motion picture "Exodus", "Mexico" (a US hit by Bob Moore), the tango "Olé Guapa" (first recorded in 1937 by Malando) and "Guitar Tango", a French song first recorded by Dario Moreno & Tino Rossi, which was later also covered by The Shadows (albeit in an acoustic version).

In 1962, Jan van Leeuwarden (renamed Johnny Lion) also started recording and touring with The Jumping Jewels as his backing band. Incidentally, his first single was "My Bonnie" (in Germany a hit by Tony Sheridan & The Beatles). In late '62, drummer Frits Tamminga suffered a nervous breakdown and was temporarily replaced by Kees Kranenburg Jr., son of their studio drummer. In 1963, The Jumping Jewels released their first album, "Jumping High", a sign that facilities and recordings started getting more and more professional. The combo had a string of hits including "Zuyderzee Blues" (originally by The Ramblers), a South-African song called "Africa" and Eddy Christiani's "Wild Geese". Thanks to the parallel success of Johnny Lion, they became one of the Dutch top acts by mid-1963. Around that time, Kees Kranenburg Jr. replaced Tamminga permanently; he would also play on the following Jumping Jewels records. More hits followed, including "Dakota" (which they'd heard on a Shadows album), Allen Toussaint's "Java" and "Irish Washerwoman", an arrangment of an 18th century Irish tune. In early 1964, they recorded a live album with Johnny Lion at Les Galeries in Scheveningen. It included an instrumental version of The Beatles' "I Saw Her Standing There", a sign the times were changing. The Jumping Jewels had a number 1 hit in Peru - of all places - with this track! And more international success followed when in the spring they did a tour of the Far East, covering Singapore, Malaysia and Pakistan. The domestic success continued with two more hits, "Zambesi" and "Jumping Can Can". They recorded a 10-inch album with background music for DeWolfe Music in England, which since then has become a much sought-after collector's item.

In 1965, manager Batelaan got them into show business by booking them for a season at Circus Boltini. Johnny Lion then completely changed style and recorded a song in Dutch without The Jewels, "Sophietje", which went to Number 1. In the fall of 1965, The Jumping Jewels announced they would start backing Lion's biggest rival, Rob de Nijs, whose backing band The Lords had switched to beat music. However, manager Batelaan went to court for breach of contract, preventing the band from using the name The Jumping Jewels. Meanwhile, Hans van Eijk got an offer for a PR job from Koekoek Musical Instruments (importer of Fender) and accepted. The other Jewels then decided to continue as a beat group called The JayJays. Hans van Eijk played on their first single, but by January 1966, he'd been replaced by Frank Nodelijk (ex-Crescents, to Peter Andrew & the Sapphires) and later Leo Bennink (ex-Mack).

In 1971, a "Best Of The Jumping Jewels" album was released, enabling listeners to hear the band in true stereo for the first time. This LP was so successful that Phonogram decided to release a second volume, and so a "Best Of Johnny Lion & The Jumping Jewels" came out in 1973. It led to Herman Batelaan approaching the former band members to record a new album. However, Joop Oonk was too busy with his management company, Tjibbe Veeloo was not interested and Kees Kranenburg Jr. was recovering from a serious road accident. The resulting album, "Forever Yours" from 1975, was done by Hans van Eijk with Paranova members Ernst van Thiel (d) and Hanno Gerritse (b). Fred Brekelmans played keyboards. The album - produced by Hans van Eijck of The Tee Set, not to be confused with Jewel Hans van Eijk! – was, however, not an album in the old Jumping Jewels style, but a set of modern instrumentals with wah-wah effects and synthesizer sounds. Van Eijk then decided to go on the road on the back of the album (with Brekelmans, Rob Houdt on drums and Johan Korringa on bass). Under his own name Van Eijk released some singles and albums over the years.

In 1985, Johnny Lion and Hans van Eijk did a one-off reunion for a radio show. This led to a full-fledged reunion in 1991 of a line-up of Hans van Eijk, Joop Oonk, Kees Kranenburg Jr. and Leo Bennink (who had never been an actual Jewel, but had been in The JayJays with Oonk and Kranenburg) doing a revival TV show with Johnny Lion. It was then announced The Jumping Jewels would tour and record again, but after one single the project slowly petered out. From the mid-1990s, Johnny Lion & The Jumping Jewels performed at special events with Hans van Eijk, Joop Oonk, Tom op 't Hof (d) and Roy Soeriorosero (g, ex-F.B.I.). They even returned to Singapore in December 2003 (with Kees Kranenburg Jr. on drums again) to revive old times.

Hans van Eijk still tours with a band called The New Jumping Jewels, whose bass player is "Hoss" van Hardeveld (formerly of Unit Gloria). The other members are Ruud Jansen (g) and Henk Doove (d). Of the original members, Joop Oonk is a showbiz manager, Kees Kranenburg Jr. is a jazz drummer and Leo Bennink is still very active, playing with his old band The Black Albinos and a project with former Redbone drummer Peter DePoe. Tjibbe Veeloo left the music business in 1967 and claims he hasn't touched an electric guitar since.
1961	Wheels/Riders in the sky Philips PF 318539
	Theme from Exodus/Olé guapa Philips PF 318582
	EP Dans le coeur de ma blonde/Les cavaliers du ciel [+ 2 songs from Ladi Geisler] Philips PE 430035
1962	Mexico/Darktown strutters ball Philips PF 318637
	Parade tango/Zuyderzee blues Philips PF 318733
	Outlaw/Green leaves of summer Philips PF 318772
	Guitar tango/A hundred pounds of clay Philips PF 318800
	EP Avec une poignee de terre/Guitar tango/Darktown strutters ball/Mexico Philips PE 433089
1963	Africa/Twilight time Philips PF 318876
	More/Dakota [not released with this labelnummer] Philips JF 327512
	Wild geese/Zero zero Philips JF 327527
	More/Dakota Philips JF 327566
	Istanbul/Dream of the west Philips JF 327597
	EP Rumble/Africa/Smoke signals/Istanbul Philips PE 433182
	EP Africa/Twilight time/Zero zero/Wild geese Philips PE 433186
	EP Jumping high (Rumble/Smoke signals/Dream of the west/Istanbul)Philips PE 433226
	LP Jumping high Philips PL 08082
	LP Jump [Japan] Philips FL 5089
1964	Java/Irish washerwoman Philips JF 327633
	I saw her standing there/Cossack melodies (live in Scheveningen) Philips JF 327667
	Jumping can-can/Zambesi Philips JF 327712
	EP Irish washerwoman/Trek to Rome/Java/Blue skies Philips PE 433240
	EP Tribute to Malaysia (Nona nona zamang sekarang/Nina Bobo/Stambul bunga mawar/Kapal ladju) Philips PE 433248
	EP In Singapore (Nona nona zamang sekarang/Nina Bobo/Stambul bunga mawar/Kapal ladju Philips PE 433256
	EP More/I saw her standing there/The green leaves of summer/El choclo Philips PE 433264
	EP Johnny Lion & Jumping Jewels [2 instrumental tracks: Zambesi/Jumping can-can] Philips PE 433274
	LP Johnny Lion, Leddy Wessel & Jumping Jewels Live at the Galleries [a few instrumental tracks] Philips PL 12924
	LP Guitars about town [England and Singapore] De Wolfe DW 2821
1965	Espana cani/Hornpipe Philips JF 327815
	LP Johnny Lion & Jumping Jewels at the circus [partly instrumental tracks] Philips PL 12982
1971	LP Best Philips 6440037
1972	LP Best volume 2 Philips 6440104
1975	LP Forever yours Philips 6401088
1978	LP Guitars about town [re] CL Records 2005
1979	LP Best [re] Philips 6440812
1980	LP Forever yours [re] Philips 6423359
1981	LP Rock on [= Guitars about town] Dijk Sound Recording LSP 8112
	LP Best [re] Philips 6423488
1982	Irish washerwoman/Africa Philips 6017288
1989	CD Original tapes Philips 836.103-2 (same tracks as LP Philips 6440.812 - The Best Of The Jumping, but "Wheels" is the 1975 re-recording and not the 1961 original + 12 tracks by René & his Alligators
1991	Hot Samba / Dakota '91 CNR 142.437-7 
	CDs Hot Samba / Dakota '91 / Africa '91 CNR 142.437-3 
1993	2CD Jumping High Mercury 514.452-2
2002	2CD Ghostriders - 48 All Time Favourites Hunter HM 1327
1981	Heel bijzonder/ EMI 5C 006-26731
	LP Heel bijzonder EMI 5C 064-26730
1982	't Beest/De kater EMI 5C 006-26777
1965	Sophietje/Jij laat me koud [& Young Ones] Philips JF 327861
	EP Sophietje/Jij laat me koud/
	/Heb je alles vergeten/Meen je echt wat je zegt Philips PE 433320
	A gal in Calico/Idaho [on LP Tunes van toen] Philips PL 12971
1966	Tjingeling/Niemand weet Philips JF 327927
	Tijd komt en gaat voorbij/Wees niet bang Philips JF 333553
	Dandy/Conchita en Klaas Philips JF 333603
	LP Zeg maar John tegen Lion Philips PL 12707
1967	Stoommasjien/Piet Philips JF 333844
1968	Huil niet Mariska/ Philips JF 333919
1970	Janneke/Haar van boven [& Albert Mol] Polydor 2050008
1982	Sophietje/Jij laat me koud Philips 6017291
Jan van Leeuwarden from The Hague started singing in 1959 in Johnny & Jewels, the latter Jumping Jewels. When he left the military service in 1962, he embarked on a brief period of success: Grand Gala du Disque (1963), tours of the Far East (1964), etc. In 1965, he broke away from The Jumping Jewels and struck out on his own, accompanied by, a.o., the Jumping Pop-in. Between 1968 and 1979, Johnny was earning his keep as a boutique owner, photographer and actor. In 1979, he recorded a comeback LP, on which he persented himself as John Lion.
1962	Bonnie rock/C'mon everybody Philips PF 318688
	Ginny come lately/Dear one Philips PF 318732
	Teenage senorita/Judy Philips PF 318773
	Devil woman/Send me the pillow that you dream on Philips PF 318807
1963	Blame it on the bossa nova/I'll never go away Philips PF 318888
	Count on me/Break up Philips JF 327531
	Gipsy woman/I like it Philips JF 327555
	Let's make a habit of this/Sweets for my sweet Philips JF 327565
	Teeny/Shubidubi do the slop [Engelstalig] Philips JF 327580
	Teeny/Shubidubi doe de slop [Nederlandstalig] Philips JF 327592
	EP Devil woman/Send me the pillow that you dream on/
	/Teenage senorita/Judy Philips PE 433166
	LP Philips PL 12092
1964	Loddy lo/Tralalala Suzy Philips JF 327621
	On my mind/No particular place to go Philips JF 327711
	You've done it again/Do wah diddy diddy Philips JF 327713
	EP You've done it again/Zambesi/
	/Jumping can-can/Do wah diddy diddy Philips PE 433274
1965	I wanna dance with you/Everyday Philips JF 327807
	LP Johnny Lion, Leddy Wessel & Jumping Jewels live in Scheveningen Philips PL 12924
	LP At the circus Philips PL 12982
1973	LP De beste Philips 6440120
1982	LP De beste [re] Philips 6375412
In the short time of its existence (1966 'til early 1967), the group has delivered one single and accompanied Johnny Lion and Rob de Nijs at their performances in Circus Boltini. They can also be heard on "Mr. Bartender" by Frankie Franken. The line-up featured: Hans van Eijck (v, g, to Tee Set, After Tea), Pierre van der Linden (dr, ex-Don Mercedes, to Met & Zonder, After Tea), Jan-Pieter Boekhoorn (o, p, to Tee Set), Dick v.d. Loo (b) and (on and off) Allan Ellis (v, a.k.a. John van Doorn, to Daddy's Act).
1967	The silly chap/If you like Decca AT 10252
With a big advertising campain, the The Hague beat group the Young Ones was renamed into Chapter II in 1966. Since 1962, the group had already accompanied many Dutch and non-Dutch artists, like Cliff Richard on a Dutch tour, Johnny Lion (with Sophietje) and Trea Dobbs. Line-up: Fred Krens (dr, p), Ton Theyn (v, g), Cees Ball (b, v, ex-Peter & Blizzards), Wim Löhr (v, g) and a "featured vocalist" Ronnie Lake (a.k.a. Roel v.d. Meer). In 1968, Chapter II ceased to exist.
1966	East of my place/She sends me away Philips JF 333616
	LP Page one Philips XPL 655023
1967	We'll be friends again/Hey day Philips JF 333676
1965	EP Have I the right/Say you/It hurts to be in love/Singing the blues
	[w/Ronnie Lake & Rudi Seedorf] Lion Tops LEP 13/111203
	Have I the right/Say you/It hurts to be in love/Singing the blues
	[on LP Twaalf tienertoppers] Decca QL 625376
	Belinda/Oh lalala song Philips JF 327897
1966	Mini Minnie/She won't even let me in Philips JF 333558
1966	Higgledy piggledy/Don't you know Philips JF 333617
1968	Lalala/Thomas Jan Philips JF 333989
Rudi had a couple of songs on Lion Tops EPs.
1965	Say you/Singing the blues [& Young Ones] Lion Tops LEP 13/E 111203
1966	Mountain of love [& Jets] Lion Tops LEP 15/E 111246
1963	Casanova bacia mi/Tranen om jou Decca FM 264508
	Ik wou dat ik een prinses was/Je houdt je hart niet tegen Decca AT 10017
1964	Parel van de Zuidzee/Dit is de nacht Decca AT 10035
Teenage vocalist Trea Dobbs from Eindhoven began her singing career as Trea van der Schoot, but this name turned out to be too difficult to pronounce for her German fans. In 1963, she won the Cabaret der Onbekenden contest at the age of 15 and then took singing lessons from Annelies de Graaf, a teen idol herself just a few years before. In 1964, Trea was in the winning "Knokke" team. In 1968, her recording career ended, but Trea found herself to be the focus of the Snip & Snap Revue.
1964	Parel van de Zuidzee/Dit is de nacht [re] Decca AT 10035
	Achter de wolken is zonneschijn/Niemand zal mijn tranen zien Decca AT 10046
	Blonder Capitano/Am fernen Ufer Decca AT 10054
	Tennessee waltz/Move over darling Decca AT 10072
	Rita Petita Conchita/Die goldene Rose gabst du mir Decca AT 10073
	Altijd zal het zomer zijn/Hi lili hi lo [& Johnny & Cellarrockers] Decca AT 10081
	Jetzt dreht die Welt sich nur um dich/Du weisst ja so wenig von mir
	[& Rob de Nijs] Decca AT 10084
	Ik vraag 't aan de sterren/Ik hield van jou Decca AT 10093
	EP Trea (Niemand zal mijn tranen zien/Achter de wolken is zonneschijn/
	/Parel van de Zuidzee/Dit is de nacht) Decca V 63157
1965	Hé Rob, hé Trea/Ik droom de hele dag van jou
	[& Rob de Nijs, de Lords & de Fouryos] Decca AT 10094
	Secret love/It's for you Decca AT 10099
	You've lost that lovin' feelin'/The wedding Decca AT 10120
	De graaf van Monte Carlo/Kus me na middernacht Decca AT 10121
	Kijk maar niet om/Ploem ploem jenka Decca AT 10124
	Kijk maar niet om/Stad Decca AT 10125
	Ploem ploem jenka/Stad Decca AT 10126
	Een schaduw viel op het venster/Drie rode rozen Decca AT 10153
	Where are you now/In the chapel of the moonlight Decca AT 10158
	Kijk maar niet om/Tranen om jou Decca AT 10165
	Calling the stars [w/Marijke Merckens, Ria Valk and Rob de Nijs and de Lords]
	Decca AT 10174
	EP Secret love/It's for you/The wedding/You've lost that lovin' feelin' Decca BU 70005
	EP Ploem ploem jenka/Stad/Kijk maar niet om/Ik vraag 't aan de sterren Decca BU 70007
	LP De songwereld van Trea [mono] Decca DU 170006
	LP De songwereld van Trea [stereo] Decca DU 370006
	LP Rob & Trea [met Rob de Nijs] Decca QL 625365
1966	Marmer, staal en steen vergaan/Ik dacht dat ik je meisje was Decca AT 10180
	Love's just a broken heart/My love Decca AT 10193
	Kova tembel/In mijn agenda Decca AT 10222
	In mijn agenda/Mijn hand Decca AT 10225
1967	Donderdag/Leef Decca AT 10262
	Wolken boven land en zee/Kova tembel Decca AT 10276
1968	Het kerkje in de kerstnacht/Die ene ster [not released] Decca AT 10303
	Was jij maar in Lutjebroek gebleven/Viva el amor Decca AT 10343
1971	Kleine vogel/Hier in mijn hart Decca 6100035
1981	Laat 't niet verder meer gaan/Liefde Polydor 2050727
1982	Morgen dan gaat 't weer beter/Laat me liever maar alleen Polydor 2050749
In late 1965, popular instrumental combo The Jumping Jewels fell apart. Lead guitarist Hans van Eijk got an offer for a PR job at Koekoek Musical Instruments (who imported Fender guitars and amps) and announced he was going to quit being a full-time musician. The plan was for rhythm guitarist Tjibbe Veelo to become the lead guitarist and to augment the band with an organist and a saxophonist, as well as to start backing singer Rob de Nijs (the biggest rival of Johnny Lion with whom the Jewels had worked for the previous 6 years). There was a big row with Johnny Lion and manager Herman Batelaan over this, upon which Veeloo, bassist Joop Oonk and drummer Kees Kranenburg Jr. decided to find a replacement for van Eijk and continue as a "beatgroup". But Batelaan immediately sued them for breach of contract, preventing them from using the name Jumping Jewels - or it would cost them X-thousand per day. So the ex-Jewels decided to call themselves the JayJays (sometimes spelled Jay-Jays or Jay Jays) and recorded their first single containing two covers of songs from The Kinks' first album: "Baldheaded Woman" And "So Mystifying". Hans van Eijk played guitar on the single and did the first TV performance with the JayJays (so officially he was also a member of the JayJays), but he went to work for his new boss on 2 January 1966. The first batch of the single was released in an "art sleeve" without a picture. Then they found a new guitarist in Frank Nodelijk (brother of René Nodelijk of Alligators fame). So Frank is on the picture sleeve of the second batch of the single. But hardly had that hit the shops when it was announced that Leo Bennink (ex-Mack) had replaced Frank. Leo also played on the first album, which contained the immortal "Today I'm Gay" written by Tjibbe Veeloo (unaware of the double-entendre in that title as he just meant "Today I'm Happy"). "Baldheaded Woman" was a big success, reaching number 4 in the Dutch Top 40. The band had a few smaller hits in '66 with "Got Love If You Want It" (again from the first Kinks album and arguably the best freakbeat single Nederpop ever produced), "Come Back If You Dare"/"Don't Sell The Sun" (the B-side got a lot of airplay) and "Wauw!" (theme song of a TV show). After their last single as a four-piece ("Are You A Woman"), in early 1967 the band added Jan Vennik on organ and sax.

When Tjibbe left in the Spring of 1967 (to manage his own fashion boutique), Willem Duyn (ex-Marks, later famous as Big Mouth of Mouth & McNeal) came in as lead singer and the band switched to a more soul-oriented sound.

In late '67, Leo Bennink (and a little later Jan Vennik) joined The Motions, but by that time the JayJays were has-beens. They were replaced by Rudi Contini (i.r.l. Ruud Selier, g, in 1968 replaced by John Schuursma, ex-Rob Hoeke R&B Group) and Hans Janssen (o, also ex-Marks). By 1969, both remaining founder members had left: first Joop Oonk (replaced by Bert Ruiter, ex-Fullhouse, to Punky's Dilemma and then Focus) and finally drummer/manager Kees Kranenburg, who still appeared on band pictures but had already relegated the drum seat to Bart Terlaak (ex-Daddy's Act, to Les Baroques). Soon thereafter, the JayJays were history.
1966	Bald headed woman/So mystifying Philips JF 327968
	LP JayJays Philips QL 625819
	Got love if you want it/I keep tryin' Philips JF 333533
	Come back if you dare/Don't sell the sun Philips JF 333550
	Waauw/A distant place Philips JF 333607
	Are you a woman/'Cause you're mine baby Philips JF 333615
1967	Respect/Cool jerk Philips JF 333832
1968	Baby you know you ain't right/In my mind Philips JF 334523
1997	CD The complete story Mercury 526 733-2 
This Noordholland group was led by Hans Overmeer (v) and had many familiar faces in its line-up in its long period of existance (1957 'til 1967). E.g., the first line-up featured: Hans, Henk Homburg, Huub van Westen and Willem Duyn (dr, in 1967 to Marks and Jayjays). Latere line-ups contained, amongst others, Hans Jansen (o, p, ex-Marks, to Jayjays), Jan Vennik (s, ex-Marks, to Jayjays), Rudi Contini (g, to Jayjays), Chris Hinze (p, to Euson & Stax), Harry Verbeke (s, won Wessel Ilcken Prijs later), Joop Mastenbroek and Toon van Vliet (s, member of Ramblers and VARA Dansorkest, died in 1975) and Harry Piller (dr, ex-Jazz Prophets, to Cees Schrama). In 1967, Hans Overmeer renamed his group into Harland Kwintet. It featured, a.o., Willem Schoone (b, left Rob Hoeke temporarily in 1967), Dick Remelink (s, ex-Atlanta Kwartet, to Pocomania) and René van Kuykhoven (g, to Soft Pillow). In 1977, yet another Holland Kwartet was founded in Noordholland: Joost Schipper (s), Jan Jeltes (dr), Gerard Koedooder (o) and Michel Schutte (v, g, ex-Wips).
1962	Pieter van Daalen/Ciao amore [als Hans Overmeer & Holland Kwartet] Delta DS 1041
1963	Hippy hippy shake/Espana cani Delta DS 1083
Beat group the Marks came from Alkmaar and existed from 1965 'til 1967. After having accompanied Edwin Rutten for a while, they moved to Germany and Switzerland, where they became rather popular and made records. Line-up in 1965: Bavo Dekker (g, to Alleycats), Oscar Rexhauser (b, ex-Hot Jumpers), Huub Jansen (dr, ex-Cocktail Trio and Atlas Kwartet, to Dutch Swing College Band, replaced by Piet Esser), Hans Jansen (o, p, ex-Blue Stars, to Holland Kwartet) and Jan Vennik (s, ex-Atlas Kwartet, to Holland Kwartet). 1967: Bavo, Hans, Jan, Willem Schoone (b, ex-Peps, to Rob Hoeke), Englishman Ian Lucas (dr, ex-Scorpions) and Willem Duyn (v, ex-Holland Kwartet, to Jayjays).
1965	Een student werd de prins van haar dromen/Scarecrow
	[a-side w/Edwin Rutten] CNR UH 9760
	I'll never do/Come on baby CNR UH 9801
1966	Greensleeves/Now she cries Elite Special 9491
	Out of my mind/High heel sneakers Elite Special 9492
The Alkmaar beat group Peps came forth from Marsila Kwartet, which had already existed for 6 years, in 1966. Under the leadership of Cees 'Camp' Erkamp (v, g, o), in 1967, the group recorded their own self-pressed single, only 500 copies released. Other members included: Jacques Boots (b), Bert Verbeek (g, replaced Ruud Sweerman in 1966), Walther Risa (g) and Ad Wagemaker (dr, to Lights). Cees and Ad kept playing together for years in Duo/Trio Cees Erkamp. Willem Schoone (b, to Marks and Rob Hoeke) was a member of the Peps, too.
1967	Foolish day/I found out [eigen beheer]
A session group that worked as the house band for the Amsterdam student society Lanx between 1969 and 1972. The line-up changed from time to time. To name a few: Willem Voorhaar (dr, ex-Johnny Kendall, to Udell, replaced by Jos Hermeler, ex-Sammy Soul Set, to Joy, in turn replaced by Dick Baars, ex-Kingbees and Act Phase Organisation, to Haddock & Perch, Brave New World, Fifth Ball Gang, Stayers, Roy Rogers Band and Lee Roberts & Sweaters), Jaap Lenkeek (s, fl), Axel van Duin (b, s, ex-Gin Fizz and Pebbels), John Schuursma (g, ex-Jayjays, to Brainbox, replaced by Henk Zwerver, ex-Sammy Soul Set, to Bruno Basta), Rudi Contini (g, ex-Jayjays), Bert Ruiter (b, ex-Jayjays, to Focus) and Theo Deken (tr). The group also worked in 1969 under the name of Marsh Mallow.
Amsterdam soul group, existed around 1980/81 and contained amongst its members: Lee Roberts (v, a.k.a. American singer Arthur Conley), Dick Baars (dr, ex-Punky's Dilemma, Haddock & Perch, Brave New World, Fifth Ball Gang, Stayers and Roy Rogers Band, to Spektakel Theater Orkest), Cor Willems (o, p, ex-Tony Sherman), Theo Houtkoop (g, ex-Cicada, Stayers and Roy Rogers Band, to Cotton Brothers), Mark Zandveld (b, ex-Roy Rogers Band) and the horn section, featuring Rob v.d. Berg (tr, ex-Rockaway Boulevard and Mr. Max & Respect).
1977	Taverne/Pontos Negram NG 2205
1979	Yucatan/Mexican hat dance Polydor 2050561
	LP Sunny guitar Polydor 2441084
1981	LP Jewelry Dijk Sound Recording LSP 8115
1982	Everyday/ DSR 811545
Bill van Dijk (ex-Joy) became famous as an actor and singer in the musicals Hair and Godspell as well as various movies. In 1978, he formed rock group Bruno Basta. In 1982, he represented The Netherlands at the Eurovision Song Contest.
1973	Can't wait long/Route 99 Imperial 5C 006-24861
1982	Jij en ik/Leven is... Philips 6017344
Funk-rock band led by actor Bill van Dijk (v, ex-Joy), who had released a solo single in 1973. In 1978, he formed Bruno Basta. Line-up: René v.d. Graaf (b), Henk Zwerver (g, ex-Punky's Dilemma), Erik Karsemeyer (perc, ex-Spin), Jons Pistoor (o,p, ex-Maggie MacNeal, to Sweet d'Buster), Maarten van der Valk (dr, ex-Orfeo), Martha Pendleton (v, ex-solo, Joy, to Rainbow Train) and David Hollestelle (g, ex-Belinda, to Roberto Q & Boppers). In 1979, Jons en Martha left the band. In 1980, it featured the following line-up: Bill, Reneé, Henk, Erik, Maarten and Mac Sell (g, ex-Geo); in 1981, Maarten and Mac were replaced by Arno van Nieuwenhuizen (dr, ex-Blackout) and Bas Krumperman (g, ex-Delrose, also in Diesel). In 1982, after participating in the Eurovision Song Contest, Bill van Dijk retired. A new line-up was formed, containing: de Belg Rubeck (v), René v.d. Graaf (b, also in Say Cheese), Erik Karsemeyer (perc, also in Say Cheese), Mick Heine (g, ex-Delrose) and Nico de Gooyer (dr, ex-Captain Coke).
1980	Waitin'/Jim EMI 5C 006-26588
1981	Fingers/Piglet Sue EMI 5C 006-26631
	Louise/Fructification EMI 5C 006-26666
	LP Paperboys are millionaires EMI 5C 062-26637
Also known as Belinda Meuldijk, actress/songwriter.
1979	The last disco/Chico CNR 144672
	Snackbar nymphomania/
Amsterdam group featuring Lesley van der Lek (g), Maarten van der Valk (g, p, tr, dr, to Bruno Basta), Joop Thonhauser (v, fl) and Dick van de Graaf (b, in 1974 to Wally Tax).
1973	Hard to please/Forget about the past Ariola AT 12404
	LP Hard to please
Dutch charts:
Jumping Jewels
-4-61 SINGLE 1 8M WHEELS
-3-63 SINGLE 13 3M AFRICA
7-3-64 SINGLE 10 1 IRISH WASHERWOMAN/JAVA
21-3-64 SINGLE 9 18 IRISH WASHERWOMAN/JAVA
19-9-64 SINGLE 17 15 JUMPING CAN CAN
JAY-JAYS
5-2-66 SINGLE 6 13 BALD HEADED WOMAN
JOHNNY LION
3-10-64 SINGLE 44 6 YOU'VE DONE IT AGAIN
24-7-65 SINGLE 5 22 SOPHIETJE
5-2-66 SINGLE 14 9 TJINGELING
1-10-83 SINGLE tip BRANDENDE LIEFDE
21-5-88 SINGLE tip ALLEEN IN DALLAS
ARTHUR CONLEY
20-5-67 SINGLE 10 10 SWEET SOUL MUSIC
13-4-68 SINGLE 12 11 FUNKY STREET
13-7-68 SINGLE 21 7 PEOPLE SURE ACT FUNNY
TREA DOBBS
8-8-64 SINGLE 50 2 PAREL VAN DE ZUIDZEE
31-10-64 SINGLE 45 6 IK VRAAG 'T AAN DE STERREN
28-11-64 SINGLE 36 4 SECRET LOVE
9­1­65 SINGLE 32 1 IK VRAAG 'T AAN DE STERREN
27­2­65 SINGLE 8 4 YOU'VE LOST THAT LOVIN' FEELIN'
6­3­65 SINGLE 8 15 PLOEM PLOEM JENKA
1­1­66 SINGLE 7 15 MARMOR STEIN UND EISEN BRICHT
9-11-68 SINGLE tip WAS JIJ MAAR IN LUTJEBROEK GEBLEVEN
24­5­86 SINGLE tip 'N KUS VAN U MENEER
Bill van Dijk
24-4-82 SINGLE tip JIJ EN IK
---
Please send corrections, additions and comments to: uheep2 at comcast dot net